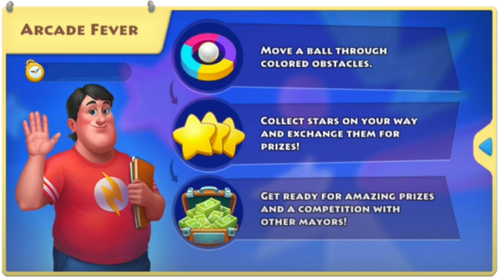 Move a ball through colored obstacles
Collect stars on your way and exchange them for prizes
Get ready for amazing prizes and a competition with other mayors
4 days
Event Guide
You need to take the colored ball through the obstacle course and reach the finish line.
Tap the screen to bounce the ball. Keep tapping to move the ball up the screen.
Move the ball through the section that matches the ball's color to get through the obstacle. The ball changes its color when it reaches the colored icon.
Collect stars on the track to receive prizes for personal goals and competitions.
On the left side of the screen there is a progress bar showing the number of collected stars and the remaining distance. Be careful! If the ball touches a section at the wrong color, you'll lose. You can continue playing for T-cash to keep the stars.
Hit this piece to make the ball change color
Event Tasks
The type of event tasks included in the Seasonal Adventure event:
Personal Event Goals
Please note: Rewards are being updated during gameplay. Shown below are possible rewards; keep in mind that prizes can vary among players and town levels.

Check the Comments section below for additional information.
Event Competition
The Competition unlocks when you have completed your personal goals.
Go to the Competition tab and compete against 29 players of the same level.
If you place in the top three by the end of the event, you will receive greater rewards.
For town levels above 100 you are grouped with players approx. +/- 10 levels.
You may get slightly different prizes depending on what is (still) available in your town and your level. Prizes known to be substituted include gems, boosters, zoo decks, train/factory/island upgrade coupons, land expansion coupons. The substitute prize is usually either T-cash or building/expansion materials.

For example lower level players who haven't restored the airport, yet, may receive building/expansion materials instead of gems.
Lower level players who don't have many zoo animals might also get boosters or materials instead of zoo decks. Higher level players with all zoo animals may receive boosters/coupons or mining/barn equipment.

If profile pictures are repeated, players who already have the profile picture may receive more T-cash instead. Not relevant for Mayor's Competitions ie Transport Magnate or Mine Time.
The amount of coins for the lower ranks depend on the town level and range from 270/220/45 coins for lowest levels to 6000/5500/1000 for levels 100 and higher.
Event History
November 4, 2021
December 13, 2021
Janary 13, 2022
February 12, 2022
February 28, 2022 : for some players, other players have Bubble Gum Festival Event or Sheeplechase Event
March 10, 2022
May 9, 2022
Previous Version
Win Streak: Beat levels consecutively to get 1.5, 2 or 3 times the stars you earned per level
Contributions to the Township Wiki
The Township Wiki is maintained and edited by players. We are all volunteers.
This Wiki and Discussions are not affiliated with Playrix. Please be respectful to all parties.
The Township Wiki grows due to the contributions and feedback from players.
Thank you to the players and editors of this wiki.