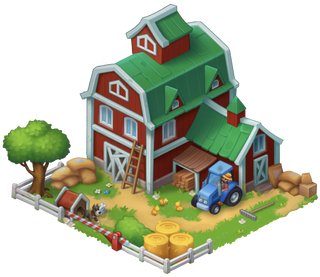 Barn Introduction
The barn is where most goods are stored such as factory products and construction materials. Mining tools, ores and clay are stored in the warehouse at the mine. Currency (i.e.coins, T-cash, gems), coupons, zoo cards and certain event items don't need a storage place.
Using the tabs in your barn your goods are categorized by all goods (ALL), crops, farm/factory goods, island goods, construction materials and ingots from the foundry. Tap a goods picture to view their values and sell your chosen quantity using the (-) and (+) buttons, but it is recommended to use transport to sell your goods.
Tapping the upgrade button shows how many hammers, nails, and paint you will need to increase your Barn Capacity to the next level. The barn's appearance will change as you upgrade capacity.
Storage Tips
Here are some tips to save space in your barn until the next upgrade:
Leave extra crops in fields. (See below)

Keep some crops unharvested on your fields, and harvest them when they're needed to save storage space. This is particularly efficient for crops with longer growing times, like silk, rubber, potatoes and pine trees.

Leave animal produce in farm buildings.

Example: Have pigs ready with bacon in the pig farm, rather than having it sit in your barn.

Leave factory goods on shelves.

Each factory can have up to 8 shelves when upgraded which you can use for storage. You can produce goods and leave them on shelves until you are ready to use them.

Buy market boxes in City Market with up to 30 T-cash each so that they can quickly offer goods as needed. (See below)
Keep about 6 of every commonly requested good, and 3 of every rarely requested good except crops.

Experiment with storing crop amounts in your barn until you find what works for you. An example guideline for a medium sized barn might be:

5 each of fast growing crops (t < 1h) like Wheat, Corn, and Sugar Cane.
10 each of medium growing crops (1h < t < 4h) like Strawberries, Tomatoes, and Pine.
15 each of slow growing crops (t > 4h) that are used often like Potatoes, Peppers, Peanuts and Rubber.
Silk and Cacao should be stored depending on need, 5-10 each usually works well.
Adjustments may be needed for Regatta Tasks, Events and as you Level Up.
Using Fields as Storage
With enough fields you can leave certain crops sitting on the fields to save barn space.
Here are some general amounts of crops you can leave on fields to save storage space:
50+ Fields: 10 Silk, Rubber Trees, Cacao, Potatoes, and Pine Trees.
40+ Fields: 10 Jasmine, Roses, Tomatoes, and Strawberries.
25+ Fields: The rest of your fields can be a mix of crops that grow faster when you're online.

Example: 10 Wheat, 5-10 Corn, and 5-10 Carrots.

Sugarcane and Cotton are okay to grow for airplane orders, but the market usually has plenty.
Overnight, it is best to clear fast growing crop fields and plant slower crops like Peppers, Cacao, Peanuts, Coffee and Potatoes that will be ready to harvest when you return.
If you don't have as many fields, or haven't unlocked certain crops you can find a balance by keeping fields with about 70-80% slow growing crops and 20-30% fast growing crops.
Using the City Market as Storage
Purchasing market boxes or hiring the dealer are the best ways to spend Tcash. Market boxes reach a fixed cost of 30 Tcash each, but an unlimited number of boxes can be purchased.
With enough market boxes, the City Market can function like a second barn - in that you can buy more of almost any good you need at the moment. For example, with 200 market boxes, you can select from 200 random goods every 6 hours when the market refreshes, and this way you can instantly supplement any goods you may be lacking. This can save you the time and trouble of growing or producing necessary goods.
Barn Full
If your barn is full which causes you cannot perform most of the in-game actions, you need to clear up some spaces.
Send transport (helicopter/train/airplane/zoo) to sell your goods with a higher income.
If you only need 1-2 materials to complete building/barn upgrade/expansion, use Tcash to buy them.
Sell fast-growing crops, rarely-requested goods and excessive building materials (details).

If you complete regatta tasks such as harvest crops, feed farm animals or collect farm/factory goods, there will be excess goods in your barn so you need to sell them.

Exchanging goods in the Tool Exchange (available for level 60 or above) reduces a lot of barn space, but it is not necessary for zoo enclosures.

If you need a lot of storage, you can use the booster Spacious Barn to increase your barn by 20% for 2 days. When it's over, you will not lose items, but you cannot add items until your storage is below barn limit again.
Spacious Barn booster can be acquired by Events only. It is a purple booster.
Barn Tools
The barn uses Hammers, Nails, and Paint to upgrade and gain more storage.
How to Obtain Barn Tools:
Filling train orders. The train brings back 3-5 random materials/tools.
Filling plane orders. A fully loaded airplane rewards a chest that can contain a tool.
Filling orders at the Zoo. Gift boxes earned from filling orders can contain a tool
Playing House of Luck. Treasure chests can reward tools.
Event Rewards. Reaching personal goals or participate in event tournaments in Community Events rewards tools.
Regatta Rewards. Chests and position rewards have a chance to contain 1-9 barn materials.
Chests. Daily free chest in your town and islands, chests costing 3 Tcash, experience chests, those in mine and chests got from sending ships with ingots may contain materials.
Special Sales and Market Boxes. In-app purchases or special City Market Boxes including tools.
Consecutive Login Rewards. Rewards for logging in X amount of days can reward tools.
Chests in general. Any chest you get can contain barn materials.
Barn Upgrades

The barn can be upgraded regardless of your level as long as you have enough upgrade materials in storage. An upgrade icon shows up when you get enough materials to make an upgrade.
| Barn Storage | Increased Storage per upgrade |
| --- | --- |
| 50 to 110 | Level 1: +20 |
| 110 to 1,010 | Level 3: +25 |
| 1,010 to 2,010 | Level 39: +50 |
| 2,010 and up | Level 59: +75 |
A barn upgrade coupon increases barn limit for free once. Once you have it, you must use it instantly for that level upgrade.
| Upgrade | Materials Required | Barn Storage |
| --- | --- | --- |
| 1 | 1 Hammer, Nail, and Paint | 70 |
| 2 | 2 Hammers, Nails, and Paint | 90 |
| 3 | 3 Hammers, Nails, and Paint | 110 (+25) |
| 4 | 4 Hammers, Nails, and Paint | 135 |
| 5 | 5 Hammers, Nails, and Paint | 160 |
| 6 | 6 Hammers, Nails, and Paint | 185 |
| 7 | 7 Hammers, Nails, and Paint | 210 |
| 8 | 8 Hammers, Nails, and Paint | 235 |
| 9 | 9 Hammers, Nails, and Paint | 260 |
| 10 | 10 Hammers, Nails, and Paint | 285 |
| 11 | 11 Hammers, Nails, and Paint | 310 |
| 12 | 12 Hammers, Nails, and Paint | 335 |
| 13 | 13 Hammers, Nails, and Paint | 360 |
| 14 | 14 Hammers, Nails, and Paint | 385 |
| 15 | 15 Hammers, Nails, and Paint | 410 |
| 16 | 16 Hammers, Nails, and Paint | 435 |
| 17 | 17 Hammers, Nails, and Paint | 460 |
| 18 | 18 Hammers, Nails, and Paint | 485 |
| 19 | 19 Hammers, Nails, and Paint | 510 |
| 20 | 20 Hammers, Nails, and Paint | 535 |
| 21 | 21 Hammers, Nails, and Paint | 560 |
| 22 | 22 Hammers, Nails, and Paint | 585 |
| 23 | 23 Hammers, Nails, and Paint | 610 |
| 24 | 24 Hammers, Nails, and Paint | 635 |
| 25 | 25 Hammers, Nails, and Paint | 660 |
| 26 | 26 Hammers, Nails, and Paint | 685 |
| 27 | 27 Hammers, Nails, and Paint | 710 |
| 28 | 28 Hammers, Nails, and Paint | 735 |
| 29 | 29 Hammers, Nails, and Paint | 760 |
| 30 | 30 Hammers, Nails, and Paint | 785 |
| 31 | 31 Hammers, Nails, and Paint | 810 |
| 32 | 32 Hammers, Nails, and Paint | 835 |
| 33 | 33 Hammers, Nails, and Paint | 860 |
| 34 | 34 Hammers, Nails, and Paint | 885 |
| 35 | 35 Hammers, Nails, and Paint | 910 |
| 36 | 36 Hammers, Nails, and Paint | 935 |
| 37 | 37 Hammers, Nails, and Paint | 960 |
| 38 | 38 Hammers, Nails, and Paint | 985 |
| 39 | 39 Hammers, Nails, and Paint | 1010 (+50) |
| 40 | 40 Hammers, Nails, and Paint | 1060 |
| 41 | 41 Hammers, Nails, and Paint | 1110 |
| 42 | 42 Hammers, Nails, and Paint | 1160 |
| 43 | 43 Hammers, Nails, and Paint | 1210 |
| 44 | 44 Hammers, Nails, and Paint | 1260 |
| 45 | 45 Hammers, Nails, and Paint | 1310 |
| 46 | 46 Hammers, Nails, and Paint | 1360 |
| 47 | 47 Hammers, Nails, and Paint | 1410 |
| 48 | 48 Hammers, Nails, and Paint | 1460 |
| 49 | 49 Hammers, Nails, and Paint | 1510 |
| 50 | 50 Hammers, Nails, and Paint | 1560 |
| 51 | 51 Hammers, Nails, and Paint | 1610 |
| 52 | 52 Hammers, Nails, and Paint | 1660 |
| 53 | 53 Hammers, Nails, and Paint | 1710 |
| 54 | 54 Hammers, Nails, and Paint | 1760 |
| 55 | 55 Hammers, Nails, and Paint | 1810 |
| 56 | 56 Hammers, Nails, and Paint | 1860 |
| 57 | 57 Hammers, Nails, and Paint | 1910 |
| 58 | 58 Hammers, Nails, and Paint | 1960 |
| 59 | 59 Hammers, Nails, and Paint | 2010 (+75) |
| 60 | 60 Hammers, Nails, and Paint | 2085 |
| 61 | 61 Hammers, Nails, and Paint | 2160 |
| 62 | 62 Hammers, Nails, and Paint | 2235 |
| 63 | 63 Hammers, Nails, and Paint | 2310 |
| 64 | 64 Hammers, Nails, and Paint | 2385 |
| 65 | 65 Hammers, Nails, and Paint | 2460 |
| 66 | 66 Hammers, Nails, and Paint | 2535 |
| 67 | 67 Hammers, Nails, and Paint | 2610 |
| 68 | 68 Hammers, Nails, and Paint | 2685 |
| 69 | 69 Hammers, Nails, and Paint | 2760 |
| 70 | 70 Hammers, Nails, and Paint | 2835 |
| 71 | 71 Hammers, Nails, and Paint | 2910 |
| 72 | 72 Hammers, Nails, and Paint | 2985 |
| 73 | 73 Hammers, Nails, and Paint | 3060 |
| 74 | 74 Hammers, Nails, and Paint | 3135 |
| 75 | 75 Hammers, Nails, and Paint | 3210 |
| 76 | 76 Hammers, Nails, and Paint | 3285 |
| 77 | 77 Hammers, Nails, and Paint | 3360 |
| 78 | 78 Hammers, Nails, and Paint | 3435 |
| 79 | 79 Hammers, Nails, and Paint | 3510 |
| 80 | 80 Hammers, Nails, and Paint | 3585 |
| 81 | 81 Hammers, Nails, and Paint | 3660 |
| 82 | 82 Hammers, Nails, and Paint | 3735 |
| 83 | 83 Hammers, Nails, and Paint | 3810 |
| 84 | 84 Hammers, Nails, and Paint | 3885 |
| 85 | 85 Hammers, Nails, and Paint | 3960 |
| 86 | 86 Hammers, Nails, and Paint | 4035 |
| 87 | 87 Hammers, Nails, and Paint | 4110 |
| 88 | 88 Hammers, Nails, and Paint | 4185 |
| 89 | 89 Hammers, Nails, and Paint | 4260 |
| 90 | 90 Hammers, Nails, and Paint | 4335 |
| 91 | 91 Hammers, Nails, and Paint | 4410 |
| 92 | 92 Hammers, Nails, and Paint | 4485 |
| 93 | 93 Hammers, Nails, and Paint | 4560 |
| 94 | 94 Hammers, Nails, and Paint | 4635 |
| 95 | 95 Hammers, Nails, and Paint | 4710 |
| 96 | 96 Hammers, Nails, and Paint | 4785 |
| 97 | 97 Hammers, Nails and Paint | 4860 |
| 98 | 98 Hammers, Nails and Paint | 4935 |
| 99 | 99 Hammers, Nails and Paint | 5010 |
| 100 | 100 Hammers, Nails and Paint | 5085 |
| 101+ | 101+ Hammers, Nails and Paint | 5160 (+75) |