This page is an archive.

This page contains information about outdated content in Township, but Playrix has not announced its removal. Please do not edit the contents of this page unless there are major changes in the game, but you can still comment on it.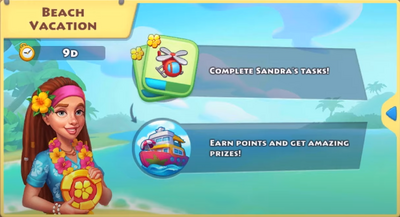 Complete Sandra's tasks!
Earn points and get amazing prizes!
Introduction to Gold Pass events
The Gold Pass events are a recurring special Township event, where you complete regular tasks to earn points.
When you earn a certain amount of points, you can get rewards and perks.
You will need to collect the rewards and perks after the are unlocked as they are not automatically added to your inventory. You can choose to add them to your inventory at a later time if a task such as "Earn an 'x' amount of Coins" is coming up later then you can choose to keep any unlocked Coins reward there to collect after the task is available.
Rewards last beyond the event, such as boosters, coupons etc.
Perks expire at the conclusion of the event, such as "Spacious Barn".
You do not regain these perks when a new event starts; a new event will bring new rewards and perks.
Rewards include coins, T-cash, gems, construction materials, co-op chat stickers, skins, coupons and lots more.
Some rewards are themed, such as the Skins, Co-op chat stickers and decorations.
Safes (or their equivalent) when opened will provide additional rewards. Unlimited safes can be opened by continuing to complete the tasks given.


Please note: Recently there are different versions of the Gold Pass event that have been played. The details below may not reflect your current game play.
Event Guide
Gold Pass
To receive additional rewards and perks, you can purchase the Gold Pass

, using real-world money (typically about $4.99. Prices vary by country i.e $7.45-7.99AUD).
Earned rewards and perks can be obtained by purchasing the Gold Pass at any point during the event.
You get the best value for your money by purchasing the Gold Pass at the beginning of the event as you will be able to use the Perks for the longest period of time while the event is on.
Gold Pass Gifts in Co-op Chat
A notification is posted in your co-op chat when you purchase a Gold Pass which allows 10 co-op members (not the buyer) to claim a T-cash gift. This notification will remain in your co-op chat, for a maximum of 7 days, until all of the gifts are claimed. The notifications will move to the bottom of the co-op chat until they expire or all the gifts have been claimed.
If a co-op member purchases a Gold Pass you will have the opportunity to claim one of the 10 T-cash gifts in your co-op chat.
Tasks
You complete three kinds of tasks to earn

. They are daily tasks, ongoing tasks and bonus tasks.
Daily Tasks
There are 3 daily tasks each day. They give

10 and they expire after 24 hours. The daily tasks will be replaced with new daily tasks, even if they are not completed. The amount of activity to complete a task increases with your level in the game.


10 Task examples are:
Ongoing Tasks
Ongoing tasks are released weekly. These are more complicated tasks which expire when the event ends. They give more points when they are released if the event is nearly ending. Press on an upcoming task to see when it unlocks.

Note: The quantities required for tasks depend upon level. These values are approximates based on level, and may not be 100% accurate
Week 1 (from June 7th)

Week 2 (from June 14th)

Week 3 (from June 21st)

Week 4 (from June 28th)
Play at the House of Luck
Make products with Eggs
Fill Zoo Orders
Earn Coins
Mine for Ores
Feed Animals

Week 5 (from July 5th)
Fill Friends Crates
Send Ships with Ingots
Make Products with Syrup
Send Transport
Send Gifts to Friends
Harvest Crops
Bonus Tasks
Bonus tasks are available once players have finished the last stage and activated the Gold Pass. They give 50

each. The amount of activity to complete a task increases with your level in the game. There are 4 tasks at once. After completing 1 task it generates another. There are no limit how many bonus tasks you can complete. The Overwater Villa Upgradable Decoration begins. Open the suitcase to get an upgradable decoration.
Perks
All perks expire at the conclusion of this event.
| Perk | Image | Description | Range |
| --- | --- | --- | --- |
| Spacious Barn | | Increases barn capacity. | +10%, 15% and +20% |
| Generous Customer | | Helicopter and airplane orders earn you more coins. | +10% to +40% |
| Flash Flight | | The plane returns faster. | -20% to -60% |
| Generous Market | | Market and dealer have more goods for sale. | |
| Best Friend | | The number of daily gifts you can send to your friends increases from 5 to 10. | |
Notes
Regarding Spacious Barn

- If you are over the capacity of your barn at the end of the event, your inventory remains in the barn. You won't be able to add any further items to your barn until you've used up or sold off enough inventory to have your barn below your normal capacity level. One option is to turn on the Generous Customer helicopter booster and complete helicopter orders.
Rewards and Perks
Stage
Energy Required
Normal Reward

Gold Pass Reward

0
0

x12000
Coin

Spacious Barn: +10%
1
25

x2
Topaz

x1
Slab
2
50

x1
Load Coupon
File:Best Friend.png
Best Friend
3
75

x5
Pick

Generous Customer: +10%
4
100

x1
Hammer

x2
Load Coupon
5
125

x1
Bronze Ingot

Tropical Biplane
6
175

x21000
Coin

x2
Nail
7
225

x1
Dealer Coupon

x3
Shovel
8
275

x2
Brick

Flash Flight: -20%
9
325

x1
Load Coupon

x3
Emerald
10
375

Beach Smoothie Bar

Generous Market
11
460

Regular Deck

Spacious Barn: +15%
12
545

x5
Dynamite

x5
T-cash
13
630

x37000
Coin

Generous Customer: +20%
14
715

x1
Paint

x3
Load Coupon
15
800

x2
Silver Ingot

Cruise Liner
16
885

x1
Dealer Coupon

Epic Deck
17
970

x1
Emerald

Flash Flight: -40%
18
1055

x1
Ruby

x3
Silver Ingot
19
1140

x5
TNT

x3
Hammer
20
1225

Tropical Airport

Hawaiian Piggy Sticker
21
1345

Rare Deck

x3
Dealer Coupon
22
1465

x2
Shovel

Generous Customer: +30%
23
1585

x65000
Coin

x15
T-cash
24
1705

x5
T-cash

Spacious Barn: +20%
25
1825

Daydreaming Chicken Sticker

x4
Gold Ingot
26
1945

See the Light Booster

Flash Flight: -60%
27
2065

x2
Nail

Epic Deck
28
2185

x2
Dealer Coupon

Generous Customer: +40%
29
2305

Rare Deck

x4
Load Coupon
30
2425

Equatorial Port

First Board
31
2580

x2
Platinum Ingot

x20
T-cash
32
2735

x2
Load Coupon

Relaxed Otter Sticker
33
2890

Shortcut Booster

Super-Harvest Booster
34
3045

x15
T-cash

x1
Barn Upgrade Coupon
35
3200

x1
Expansion Coupon

Flowery Hammock
36
3500
Bonus Tasks begin
Bonus+
(+300 each safe)
Safe
Overwater Villa Upgradable Decoration
The Overwater Villa is an upgradable decoration available after purchasing the gold pass and after you have opened the suitcase. You may need to open the suitcase approximately 12 times in order to complete the decoration. The decoration is animated and can only be placed in water. Earn a reward for fully upgrading the villa!
Event History
Professor's Experiments Event/1: November 5, 2019
Professor's Experiments Event/2: March 4, 2020
Professor's Experiments Event/3: May 6, 2020
Professor's Experiments Event/4: July 10, 2020
Professor's Experiments Event/5: September 23, 2020 (Halloween)
Professor's Experiments Event/6: December 1, 2020 (Christmas)
Professor's Experiments Event/7: January 25, 2021 (Lunar New Year)
Disco Fever Event: March 17, 2021
Beach Vacation Event: June 7, 2021