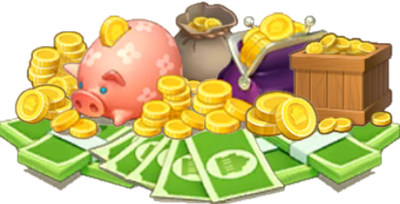 Cash, T-cash or Township Cash is the secondary currency mainly used to speed up, buy missing goods or purchase special decorations.  
The amount of cash which you have can be found at the top-right corner, or at the Store

.
Earning Cash
T-cash can be earned in various ways:
Participating in Township Mobile Facebook events you can earn 50-250 T-cash.
Placing Top 3 in Community Events with Competitions rewards 15-50 T-cash.
Participating in Community Events at the Event Center rewards 3-12+ T-cash.
Completing achievements at the Town Hall rewards 5-25 T-cash.
Completing artifact collections at the Museum rewards 4-15 T-cash.
Racing in Regattas offers Regatta Rewards worth 2-23 T-cash.
Playing games at the House of Luck with 5 clovers you can win from 2-20 T-cash.
Excavating in the mine. 3-7 T-cash can be found in treasure chests and 1 T-cash from Old Jake.
Updating the game and special News about events offer a reward of 5 T-cash.
Level up to level 64-99 rewards 3 T-cash. At 100+ you will always get 5 T-cash.
Treasure chests from sending ships to islands with ingots and free chests can reward 2-3 T-cash.
The reward for finishing Community Buildings is 1-6 T-cash.
Filling the Mafia man's helicopter orders for ingots and jewelry for 1-2 T-cash.
Fully loading airplanes gives a mystery chest which can reward 1 T-cash.
Helping Ernie fill 1 plane/train crate or visiting Ernie's town each day will reward a balloon the next day with 1 T-cash.
Building enclosures in the Zoo earn you 2 to 6 T-cash.
The reward for completing Zoo Families is 10 to 25 T-cash.
Gift balloons from friends sometimes reward 1 T-cash.
The daily login reward is sometimes 1 T-cash.
Watching a video ad at Helicopter pad can reward 1 T-cash.
Pass a mini game at Helicopter pad to get 5 T-cash.
Purchasing T-cash via in-app purchase.
Reaching the Global Event Goal in an Event rewards everyone with 10 T-cash (Removed From the Game)
Recommended Use of T-cash
The Piggy Bank
To buy 75 or 130 T-cash, while the offer is on, you need to earn special cash by filling Helicopter Orders (+2 Points), Train Crates (+5 Points) and Fully Loaded Airplanes (+12 Points).
To purchase the 75-130 T-cash pay for the Piggy Bank to open (approximately $2.99 US$, local currency may be different).
Daily Bonus Rewards
For each consecutive day you login you receive a daily bonus reward. From day 1 to 4 you will receive coins. The 5th day rewards 3,000 coins, 3 clovers, or 1 T-cash randomly. You may also receive event Fuel, Tropical Crops or Event Boosters only during event periods. If you continue logging everyday after the 5th day you will receive 1 of the 3 max rewards daily. If you haven't logged in within 24 hours since you last received a daily bonus the rewards will reset back to day 1. There is also a 10 T-cash reward for returning players who haven't logged into the game for at least 30 days 
Balloon Rewards
There are 5 types of balloons which you can receive with various rewards:
Ernie's Balloon: Receive 1 per day. Rewards: 1 T-cash.

You can receive his balloon every 24 hours by filling any 1 of the requests in his Town.

Friends Balloon: Gift up to 5 per day. Rewards: Coins or 1 T-cash randomly.

Friend's Balloons are rewarded whenever a friend sends you a gift.

Friends Balloon (Event): Gift up to 5 per day. Rewards: 1 random event good or item.

During event periods the regular rewards are changed to event goods or items.

Friends Balloon (Valentine's): Cash gift. Choose a cash gift and message to send to friends.

Send cash gifts to friends. Event gifts are only available during Valentine's Day.

Golden Balloons: Receive 1 free per day, and up to 4 extra. Costs 3 T-cash to open.

Rewards: Building materials, barn, expansion, and mining tools, and 3-6 T-cash.
These balloons can be found in your Town or any friends town.
| Ernie's Balloon | Friend's Balloon | Valentine's & Friend's Day Balloon | Golden Balloon |
| --- | --- | --- | --- |
| | | | |
Consecutive Login Rewards
After logging in for 60 days in a row and getting the Honorary Freeman achievement you will receive further rewards for more consecutive days.
Consecutive Days Logged In: 20, 30, 50, 75, 100, 125...500, 550...etc.
Rewards increase as you login for more days in a row.
Rewards: 3-10 T-cash, 2-3 Gems, 3-4 Tools, 5 Ingots, etc.
Costs for Speeding Up
You can speed things up in Township which costs T-cash depending on the length of time to finish. You can see all speed up times in the Speed Up page.
Speeding anything up comes at a very high cost though, so it's best to use it as a last resort.