Contributions to the Township Wiki

The Township Wiki is maintained and edited by players. We are all volunteers. This Wiki and its Forum are not affiliated with Playrix. Please be respectful to all parties. The Township Wiki grows due to the contributions and feedback from players. Thank you to the players and editors of this wiki. 😀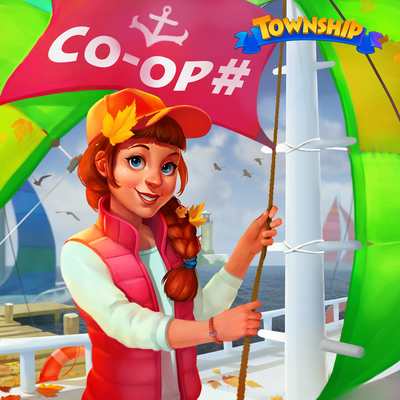 Wiki: Co-op Recruitment
You can add your co-op to the list,
here
, or view all co-ops listed
here
.
You may post in Co-op Advertisements (for logged-in users) to invite other players to your co-op. Remember to provide as much information as possible! (Name, tag, Windows or Mobile, regatta requirements, etc.)
,
or in the comments below.
Already in a co-op? Learn more about
Regatta
.
---
Co-op Introduction
A co-op is a group of players who get together to chat, help each other with goods and participate in co-op events like the Regatta, and Race of Champions. The Co-op Building is unlocked at level 19. You can rebuild it to create your own co-op or join an existing co-op. Co-ops can have up to 30 members. All the members can exchange crops and goods with each other, helping to develop their town faster.
Create a Co-op
Use the tab in the co-op building to create a co-op. Creating a co-op costs

1,000 coins. Choose your co-op's name wisely, as you won't be able to rename it. Then choose a unique badge and co-op type:
"Open" - other players don't need your permission to join your co-op;
"Closed" - only players you invite can join your co-op (bear in mind that you can only invite Facebook or Game Center friends to your co-op);
"By request" - players send a request to join your co-op that you, co-op co-leaders or elders can accept or decline.
Playrix may rename your co-op if the name contains personal information or offensive words.
Join a Co-op
There are a number of ways to join another co-op:
Choose one from the list of co-ops in the Search tab;
Search for a co-op name in the Search tab;
Accept a friend's invitation in the Co-op Inbox tab;
You can visit another player's town and learn more about their co-op by tapping the Co-op Building in their town.
Invite Friends to Your Co-op
If you are a Leader, a Co-leader, or an Elder in your co-op, then you can send invitations to other players who are in your friends list. People playing on iOS, Android or MacOS can invite each other. Windows players can only invite other Windows players. To send an invitation, go to your friend's town and then tap the button in the bottom left-hand corner with your co-op's badge. The invitation will be automatically sent to your friend's Inbox.
Leave a Co-op
You can only be a member of one co-op at a time. If you are already in one, you will have to leave it before you can join another one. To leave a co-op, tap the Co-op Building and then the red "Leave" button. Once you've done so, you'll be free to join another co-op or create your own.
Penalty for Leaving a Co-op
If you leave a co-op you will be given a penalty for joining new co-ops for a set amount of time. The penalty will increase if you leave multiple co-ops, and will reset completely to 0 min after 1 day.
Number of Times
Leaving a Co-op
Penalty
1
0 min
2
5 min
3
10 min
4
30 min
5
60 min
6
90 min
7
120 min
7+
Add 30 min
Co-op Ranks
A co-op can have a maximum of 30 members, and each has one of the following ranks and access rights.
All players in a co-op can:
Send gifts, send friend requests and help your co-op with their train/airplane/zoo orders even if they are not on your friends list.
Request products in co-op chat and respond to other co-op players' requests.
Send messages in co-op chat. Help messages "My town needs help!" are automatically sent when you ask for help. They are automatically deleted if the request is filled or if you fill it yourself.
Leader
The player who created the co-op or replaces a retired leader. Each co-op can only have 1 leader.
Invite friends to their co-op.
Change co-op settings and send messages through Inbox.
Ban anyone from participating in the next Regatta.
Kick anyone out of the co-op.
Promote/demote anyone to any rank except leader. If they want another player to be a leader, then they must retire to assign another Leader to take over.
If the leader leaves the co-op without promoting a replacement, the position will be assumed by the player:

with the highest rank in the co-op;
with the highest town level among the people within that rank;
who has been a member of the co-op the longest.

Dump tasks (seasonal regatta) and chests even if someone is doing/has completed tasks in it (interseasonal regatta).
Co-leader
Assists the leader with running the co-op, and has most of the same rights as the leader.
Invite friends to their co-op.
Accept or decline joining request (for "by request" co-op mode).
Change co-op settings and send messages through Inbox.
Ban anyone (except leader) from participating in the next Regatta.
Promote elder/member to co-leader/elder or demote elder to member.
Kick elder or member out of the co-op.
Dump tasks (seasonal regatta) and chests even if someone has picked/completed tasks in it (interseasonal regatta).
Elder
Elders enjoy some rights which cannot harm the co-op's structure if not used correctly.
Invite friends to their co-op.
Accept or decline joining request (for "by request" co-op mode).
Dump tasks (seasonal regatta) and chests which all tasks are not picked nor completed by anyone (interseasonal regatta).
Member
Your rank when you first join a co-op.
No special rights, which means you can only enjoy basic rights (see above).
Note: Generally you can be promoted by a leader or co-leader if you do more tasks in regatta or you ask for promotion in co-op chat.
Co-op Emblem
There are 10 forms, 27 badges, and 15 patterns to customize your co-ops emblem.
You can also race in regattas to earn 12 additional forms and badges for your emblem.
Co-op Chat

You can participate in co-op chat by clicking this button on your screen.
Co-op Messages
In co-op chat, you can see:
Your co-op name and badge
Request any goods except construction materials, Coin, Cash, Gems, ingots or Zoo cards from fellow co-op members every 3 hours. Construction materials can be requested as a perk during some events like Professor's Experiments. Your request and the amount helped can be seen by all co-op members in section (5). The amount you can request, which can be seen on the goods page, depends on the product type and how difficult it is to produce. Don't forget what level your fellow co-op members are at when requesting a product, as they may not be able to send you what you are requesting.
Send a message which can be read by all co-op members
Send a co-op sticker (see below)
Live chat messages. The last 99 messages including co-op stickers, ask for help and product requests are shown here. A new member who has just joined the co-op can also see it. To prevent messages being deleted because it's over 99 messages, some co-ops use outside means (free forums or social media groups, for example Facebook and Discord) for their rules, agreements and other communication.
Close chat interface
Co-op Chat Stickers
Stickers are more like emojis of different animals in Township with various expressions and emotions.
By version 8.1.0, there are more than 40 stickers in Township.
Earn new stickers in regular in-game offers and events!
Event stickers are likely to be animated ⭐️
If you have a sticker that doesn't appear here, please go to Screenshots to upload an image. Thank you.
---
Expand or collapse this area for the co-op chat sticker images
---
Co-op Building Settings
Access the Co-op Building Settings by clicking on the co-op building which is near the pier/regatta/yacht club area.
Co-op Stats
You can access the Co-op Stats through the 1st tab in the co-op building.


These stats show how often the co-op placed in positions 1st, 2nd or 3rd in each regatta league level.
Co-op Inbox
The co-op leader and co-leader(s) can send announcements to all co-op members by using the 2nd tab on the first tab in the co-op building. Co-op chat can only hold 99 messages, so sending an announcement to your co-op inbox can be more reliable. New co-op members cannot see announcements that were sent before they joined the co-op.
You can access the co-op inbox through the 2nd tab at the co-op building.
Messages in your inbox can include:
getting banned from a regatta,
getting kicked from a co-op,
an invitation to a co-op,
notification that someone dumped a chest in which you are doing a task,
announcements from the co-op leader or co-leader(s).
Co-op Settings
Co-op leaders and co-leader(s) can manage their co-op by accessing co-op settings through the 3rd tab in the co-op building. They can change the co-op description, emblem, level required to join, type, preferred language, regatta racing region, show co-op stats to the public and the lowest rank required to reserve tasks in regatta. If someone changes the settings, a notice will appear in co-op chat but it won't specify what was changed.
You cannot change the co-op name or the randomly generated co-op tag. They are permanent.
Co-op Status
Preview
Information
The online status indicator is shown to the left of members ranks in the co-op window. You can turn off the indicator in the settings if you prefer not to show your online status.
Regatta participation status for the following race, enable confirmation for Cash purchases, and toggle your profile picture to be displayed or hidden.
Co-op Search
All co-ops have a unique tag which can be seen in the co-op description window. You can use the unique 6-character tags to look for co-ops along with their names. Example Tag: #123456
The list of search results features the most active co-ops first which should help to find the right co-op.
Report Offensive Activity
Even though Playrix is absolutely sure that Township players are all friendly and polite, any community may have a number of people deliberately insulting others. Players can turn profanity and other offensive phrases to * through Settings when other players create their towns, co-ops and chat using co-op chat. However, there's always a way out to avoid any filter. If you come across an offensive word, please take a screenshot of it and the offender's town and report it to Playrix Support Team.
Co-op Video
The Co-op Center director Deborah is ready to share her knowledge on the Co-op creation. Enjoy!
Community content is available under
CC-BY-SA
unless otherwise noted.