Contacting Playrix's Customer Support
The first option in case of problems is to consult the Customer Service in-game. If the standard answers don't give you a solution, create a ticket in the same in-game section. This is also Playrix's preference. If your issue isn't resolved using in-game help topics contacting Playrix's customer support on their website is the last option.
How to Report an Issue In-Game
If you can access the game, then this section outlines how to report an issue in-game.
1. Click the Gear Icon
You can find it in the top left corner of your Township screen.
2. Click the Help and Support Button
This will open the Report an Issue screen or the Playrix Helpshift.
3. Choose a Help Topic
Click the Help Topic section that relates to your issue to find out more information.
4. Choose a Topic Question
Click on a specific topic question on the left that best suits your issue to find out more information.
5. Respond YES or NO if the Information helped or not
Tap 'NO' at the bottom then tap 'CONTACT US' to continue to a page where you can report your issue.
6. Start a New Conversation
Explain your issue in as much detail as possible including all of the required information at the bottom of the topic (if there is any). You can add a screenshot as an attachment if necessary, and when you're finished tap the 'SEND' arrow in the top right.
7. Viewing Most Recent Conversation
You will be able to view any messages received from them by e-mail, support website, or in-game.
You can view your most recent conversation with them in-game through the help topics window by pressing the speech bubble icon in the top right.
Windows
Report an Issue
Fill in the required fields and submit.
When you receive this email (image below) you MUST respond to it or they will class your support request as resolved. You must respond that the issue is still occurring. When you haven't heard back from them in another 24 hours, reply again on the same email.
Help and Support
Playrix Helpshift where you can search for the topic or use the support button to ask the bot to search for you.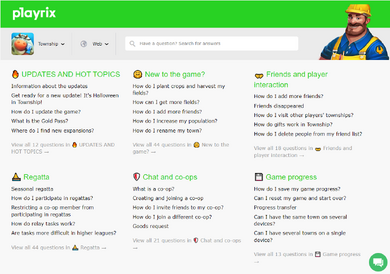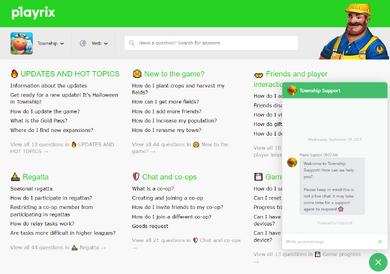 Waiting for a Response from Customer Support
Playrix's Customer Support is typically very busy handling a large amount of tickets/messages.
It can take 3-7 days for a response or longer, so you have to be patient. If none comes, reply in the same conversation as a reminder that you are still waiting.
How to Report a Problem on Playrix's Support Website
If you cannot access the game to report a problem, then you can use the support website to report a problem.
Visit the Playrix's Support Website at https://playrix.helpshift.com/a/township/?p=web
Go to the section you need help with and read more information about how you can resolve your issue.
Browse the sections/questions, and if your problem still isn't solved press the 'CONTACT US' button or visit this link: https://plrx.me/48UorubbZw
Enter the necessary information and provide as much detail as possible then 'SUBMIT' your report.
Try Township Mobile Facebook Page
If all else falls, try contacting Playrix through their Township Mobile Facebook Page https://www.facebook.com/TownshipMobile/
Playrix Customer Support Email Address
Email address: support@playrix.mail.helpshift.com