This page is an archive.

This page contains information about outdated content in Township, but Playrix has not announced its removal. Please do not edit the contents of this page unless there are major changes in the game, but you can still comment on it.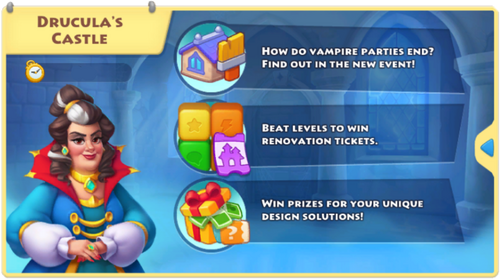 Drucula's Castle.
How do Vampire parties end? Find out in the new event
Beat levels to win renovation tickets
Win prizes for your unique design solutions
Renovations
No.
Renovation Item

Tickets Required
1
Clean up
40
2
Change into costumes
75
3
Take down the tapestries
120
4
Clean the fireplace
170
5
Touch the mural
Free
6
Book stand
210
7
New walls
270
8
New floor
250
9
Wall panels
320
10
Replace the windows
380
11
Start a fire
300
12
Fireplace grate
390
13
Replace the columns
450
14
The Drucula coat of arms
520
15
Harp
540
16
Seat
500
17
Gargoyle niche
530
18
Candelabra and candles
510
19
Rug
575
20
Bookshelves
550
21
Books
520
22
Stepladder
620
23
Comfy couch
710
24
Coffee table
670
25
Armchair
750
26
Floral arrangement
790
27
Antique chandeliers
850
28
Exquisite tapestries
785
29
Chessboard
810
30
Chess pieces
1000
31
Start the party
1170
Total:
15375
Event Rewards
Rewards are given at fixed points during the room renovation event.
Reward 1
awarded after additional 7
renovations completed

Mine tools

Barn upgrade tools
Reward 2
awarded after additional 17
renovations completed


At the end of this stage, the unfinished room will be available in your Town Hall Locations tab.
Reward 3
awarded after additional 31
renovations completed
Match-2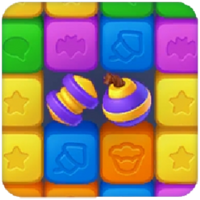 Match-2 is a special mini game you play during renovation events and Explosive Puzzle Event.
Introduction
Your progress in the Match-2 mini games will be saved for the next Match-2 event, such as renovations or Explosive Puzzle Event.
Beat Match-2 levels using Lives to earn renovation tickets
A level can have up to 3 level goals. Use special boosters and power-ups to finish levels faster
When you finished a level, you will get 1 ticket or star for every remaining power-up and remaining move
Cloud Nine may be available
Match-2 Elements
Here are the list of elements you will find when playing the Match-2 Levels.
No
Name
Appearance
Information
1
Paper Cups
Make matches next to the paper cups to remove them.
2
Toys
Remove pieces under the toys to collect them at the bottom of the field.
3
Sand and
Hourglass
Make matches to remove sand from these Hourglasses to collect them.
4
Box
Make matches next to boxes to remove them.
5
Camera and
Photos

Make matches next to the camera to get photos
6
Bubbles

Make matches with bubbles to pop them
7
Raccoons
Baskets with raccoons shift to the nearby basket if you make a match near it. Remove all the adjacent baskets to collect them
8
Light Bulbs
Make two matches next to light bulbs to break them
9
Bubble Gum
Make matches next to the Bubble Gum to remove. If you don't make a match near any Bubble gum it spreads to one more tile per match.
10
Donuts

Make matches next to the Box of Donuts to collect them.
11
Colored Paper Cup

Make matches next to the colored cup with a piece of the corresponding color to remove them.
12
Vases
Explode power-ups next to the vases to remove them. Matches won't remove vases.
13
Water Rockets
Make pieces of the corresponding color to charge the water rocket. The water rocket all obstacles in row or column.
14
Chains
Make matches next to chains to remove them. Chains don't cover pieces.
15
Colored Boxes
Make pieces of the corresponding color next to colored boxes to remove them.
16
Ring and
Ring Boxes
Make a match next to the ring box twice in a row to collect a ring. If you don't make a second match the ring box will close
17
Ducks and Duck Pools
Match pieces of suitable colors next to Duck Pools to collect Ducks
18
Roller Shutters
Match a certain number of colored pieces to remove Rolling Shutters
19
Bubble Machine
Make matches next to the machine to get bubbles.
20
Light Bulb Testers
Make matches next to light bulb teasers to unscrew light bulbs
21
Popcorn Maker
Make matches next to popcorn maker to make popcorn and remove all the pieces and clear one layer of obstacles from the field.
22
Safe and Diamonds
Make matches next to open safes to collect diamonds.
23
Turtle Eggs
Make several matches next to eggs to collect turtles.
24
Mystery Barrel
Match pieces of the corresponding color next to a Mystery Barrel to get a random power-up on the field.
25
Mailbox and Letters
Make matches next to open mailboxes to collect letters.
Note: All the mailboxes will disappear when you have collected all the letters.
26
Coffee Machine
Make matches next to Coffee Machine to get new Paper Cups.
27
Pinwheel
Make matches in four different colors next to Pinwheel to collect.
28
Stone
Use power-ups to carve a fountain out of stone.
29
Soap
Make matches next to soap to make bubbles.
30
Pinwheel 5 sides
Make matches in five different colors next to the Pinwheel to collect.
31
Flowers and Seeds
Explode power-ups next to flowers to make them bloom and produce seeds. Match pieces next to seeds to collect them. There are 3 stages to a flower.
32
Watermelons and Watermelon Pieces
Make matches next to watermelons to slice them (the watermelon pieces will scatter to different place on the board). Make matches next to watermelon pieces to remove them.
33
Fog and Double Fog
Make matches next to the fog to remove them.
34
Cuckoo Clock and Cuckoo
Make matches next to the cuckoo while it's peeking out. Beware that two moves later it will move to another clock.
35
Beehives and Bees
Make matches next to the Beehives to let the bees. Once freed, the bees will sting obstacles and random pieces
36
Portals
Portals connect separate parts of the field. Once pieces or other elements enter a blue portal, they immediately come out of the yellow portal.
Buying Power-ups
All power-ups can be bought with T-cash.

Power-ups can only be activated or used before starting a level.
| Power-up | Image | Description | Cost |
| --- | --- | --- | --- |
| Rocket | | Activates a Rocket at a random place | 15 |
| Bomb | | Activates a Bomb at a random place | 21 |
| Bucket of Candy | | Activates a Bucket of Candy at a random place | 30 |
Boosters can only be activated while playing a level.
| Booster | Image | Description | Cost |
| --- | --- | --- | --- |
| Dart | | Removes a Piece without using a move | 36 |
| Broom | | Removes all the Pieces in a row ←→ | 48 |
| Kettlebell | | Removes all the Pieces in a column ↑↓ | 54 |
Buying Lives
When you lose a life, lives are refilled every 20 minutes.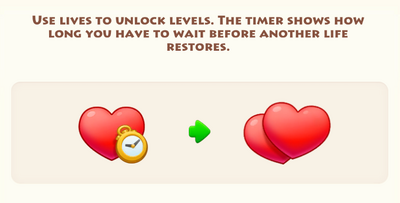 Cloud Nine
Beat levels on your first try to get free power-ups at the start of the next level.
Keep beating levels without losing to keep your bonus.
Introduced during Drucula's Castle Event October 2021
Event History
To see the information for the renovations in the past, see these pages:
Hammer Time Event/1: April 23, 2020 (Mayor's Office) (Road Plotting)
Hammer Time Event/2: July 24, 2020 (Mayor's Perfect Bungalow) (Road Plotting)
Hammer Time Event/3: October 22, 2020 (Emma's Castle) (Match-2)
Surprise for Santa Event: December 17, 2020 (Santa's Workshop) (Snow Ride)
Movie Night Event: January 28, 2021 (Open Air Cinema) (Match-2)
New Lease on Life Event/1: April 15, 2021 (Lake House) (Match-2)
New Lease on Life Event/2: May 6, 2021 (Town Fair) (Match-2)
Save the Date Event: July 29, 2021 (Match-2)
Fintastic Weekend: September 6, 2021 (Match-2)
Drucula's Castle: October 18, 2021 (Match-2)