Contributions to the Township Wiki
The Township Wiki is maintained and edited by players. We are all volunteers.
This Wiki and Discussions are not affiliated with Playrix. Please be respectful to all parties.
The Township Wiki grows due to the contributions and feedback from players.
Thank you to the players and editors of this wiki.
This page may contain information from a previous version of the event, i.e. the prizes.
😊 Thank you to the players who are updating this page while the event is on.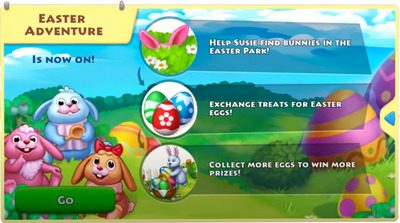 Help Susie find bunnies in the easter park!
Exchange treats for easter eggs!
Collect more eggs to win more prizes!
Event Guide
Expand this table if you would like to see the event guide images
Easter Park
From players' observations, bunnies may ask for these goods more often ~ carrots, sugarcane, rice, milk, egg, bread, cookies, bagel, easter bread, cream, cheese, sugar, syrup, muffin, milkshake, ice cream, popcorn and granola. The more products they ask for, the more easter eggs you receive.
Easter Park Tools
Tools
Preview
Description
Pruning Shears
Clears 1 grass tile.
Use 2 Shears to remove bushes.
Lawnmower
Clears a vertical row of grass.
Fan
Clears adjacent grass.
Clears bushes instantly.
Stump
Cannot be removed.
Clear grass around them.
Farm Shop Details
Clean up the park using tools you receive from Farm Shop (see below). Make sure to feed bunnies when you find them in the park to get more Easter eggs.
You can get different colors of bunny cookies by sending orders at the helicopter. Trade them at the Farm Shop to get tools for cleaning up the park.
Note: Helicopter can ask for all goods including Easter Adventure Goods. Remember to prepare them.
Temporary Event Goods
Goods
Level
Ingredients
Made in
Easter Bread
8
3
2
1
36 coins
15xp
50m
12
5
Bakery
Rabbit Lollipop
14
2
1
50 coins
21xp
1h30m
4
Snack Factory
Carrot Cake
24
3
1
1
66 coins
28xp
1h
3
Pastry Factory
Chocolate Bunny
39
2
1
72 coins
31xp
1h45m
3
Candy Factory
Personal Event Rewards
Collect Easter eggs to earn prizes.
Stage
Eggs to Collect
Reward
Preview
Stage 1
30 eggs
to collect
• 3 T-cash
• 3 Easter Fence
Stage 2
90 eggs
to collect
• 2 Topaz
• Rare Deck (20 cards)
Stage 3
150-165 eggs
to collect
• 2 Red Paint
• 3 Silver Ingot
Stage 4
220-265 eggs
to collect
• Vibrant Market
• Epic Deck (40 cards)
Stage 5
310-370 eggs
to collect
• 12 T-cash
• Profile Picture
• Easter Decoration
Profile Picture
Easter Adventure Decorations
Stage 6 - Lottery Chest
210 eggs
to collect
Possible prizes
T-cash
Ingots
Stage 7 - Lottery Chest
240 eggs
to collect
Stage 8 - Lottery Chest
270 eggs
to collect
Tournament
The tournament unlocks once you've completed your personal goal.
Go to the tournament icon/tab and compete against 29 same-level players. If you place in the top three by the end of the event, you will receive greater rewards.
Note on prizes for especially low or high level players (tap "Expand to view"):
You may get slightly different prizes depending on what is (still) available in your town and your level. Prizes known to be substituted include gems, boosters, zoo card packs, train/factory/island upgrade coupons, land expansion coupons. The substitute prize is usually either T-cash or building/expansion materials. For example lower level players who haven't restored the airport, yet, will receive building/expansion materials instead of gems. Lower level players who don't have many animals might also get boosters or materials instead of zoo decks. High level players with all zoo animals will receive boosters or upgrade coupons.
If profile pictures are repeated, players who already have the profile picture will receive more T-cash instead.
The amount of coins for the lower ranks depend on the town level and range from 270/220/45 coins for lowest levels to 6 000/5 500/1 000 for levels 100 and higher.
Event History
April 7, 2017
March 23, 2018
April 12, 2019
April 11, 2020
March 29, 2021