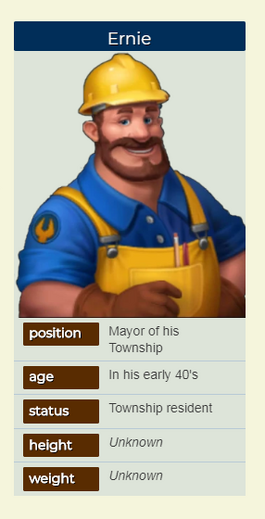 Introduction
Ernie is the main in-game character and the permanent in-game friend in Township.
He introduces himself at Level 1, as the mayor of another township.
He briefly explains how the crops are sown and harvested, how to build factories and queue up products, and how the trains and the helipad work.
He teaches the user how to change the name of their town.
He teaches new players how to fill product requests for friends and people in the Help Tab.
However, it seems really weird how he can't get past level 99 once you get more into the game.
Responsibilities
Owner of the Tool Exchange.
Helps the users in managing the town whenever a new building is introduced.
Can help some of the users once, at the railway station for filling an order.
Introduces Mayor's Competitions, such as Transport Magnate, Advanced Agriculture, Industrial Boom, and Mine Time Event.
Perks
Ernie, as a friend in the game, gives you a number of additional perks and rewards:
Ernie's Balloon: Helping Ernie's town earns you a blue balloon containing 1 T-cash the next day, in addition to 1 clover for each order you fill. NOTE: filling more than 1 order for Ernie will not result in multiple balloons; the limit is 1 tcash per day from Ernie's balloon. You can, however, receive multiple clovers.
Daily Bonus: Ernie gives you T-cash, Coins, Clovers, and Event Fuel each day you log in to the game.
Ernie's Recent Developments
As you can see, Ernie developed the same way as the game did. Ernie used to look like an old and wise grandfather before, but ironically he has grown younger and younger in the game. Many people believe that the current Ernie (2017) is the grandson of the original Ernie (2013). Here are some of the ideas and developments of Ernie in the recent years:
Interview with Ernie
Here is a short interview conducted by Playrix. This interview with Ernie was found on the official Township Mobile page in 2015.
Our Township Team was very lucky to get a chance to talk to one of the most popular neighbors in Township- Ernie! In this interview we will learn more about Ernie's personal life, his Township and his innovative idea of flying cars! :)
Hi Ernie! Tell us a little bit about yourself. How old are you? Where are you from? Do you have wife and children? What do you do for a living? I am the owner of the tool exchange and to relax I help township fellow players learn how to play township.
Hi there! I was born in Township which was a small town back then. When I was young, I loved traveling. I loved it so much that I actually traveled half the world to find a perfect place to settle down, but couldn't find anything better than Township. You know how the saying goes, 'A man travels the world over in search of what he needs and returns home to find it'.So eventually I got back home. That's when I became obsessed with architecture and decided to become a construction worker. I met my wife on one of the construction sites, by the way. I was young and green while she had already become a professional plasterer…Now we have two kids, and I hope they will keep the family business up and running!
Many players just fell head-over-heels in love with your city! How did you get your town so big and so nice and how did you decide what goes where? Do you have any favorite place in Township?
Before putting up a new building, I always study the city plan as carefully as possible. I want to make sure that the building fits in the infrastructure. Besides, I find it important to come up with a good design for the neighboring area.
No detail is too small, so I take every building and every flower in my township seriously! But still, I do have a place I like the most - the Dolphinarium. My kids love it, so we go there together to see dolphin shows quite often!
What new neighbors can we expect to move in? Also, you have a superhero, which is delving into the realm of sci-fi/fantasy, and we saw witches on broomsticks flying around, and a flying sleigh, things not seen in the real world. Will you introduce other similar characters? Maybe a family of aliens, a talking dragon, ...
Hopefully, dragons will pass by. I don't really fancy the idea of building my Township from scratch after a dragon invasion! As for aliens, sounds good to me! :) I think they have little time to visit other planets though. So, maybe they will on special occasions… who knows
From the beginning, many players visited your town for design ideas and, more importantly, for hints about things that might become available in our towns. You don't seem to keep your town as up to date and "ahead of the curve" as you used to. Why is that?
I'm not recalling that...Wait a second, could it be that I went on vacation with my family? That must be it! Come over to see my town now- everything is up to the state of art!
Ernie, do you know how many towns there are now in the game?
As far as I know, there are almost 14 million towns in the game now. Maybe even more... To be honest, I have lost count of it since new towns seem to pop up like mushrooms after a spring rain!
When you came up with the idea for this game, did you expect it to become this popular?
Township is, by far, our biggest success! When we came up with the idea, we could only hope the game would become this popular. We spent many days and hours discussing the project, and every new discussion led to a firmer belief that Township could stand out and become successful. So here we are:)
You got so many likes...Why don't you like our towns or help us?
There are just too many towns out there! I would love to help you all, the only problem is that I don't have enough resources to help everyone. And it's simply not fair to leave someone out. Although I must say that your towns are fantastic, some of them are real masterpieces!
Can you tell us what long range plans Playrix has for Township? What can we look forward to, way down the road? What are your new innovative ideas?
I'm always full of new ideas! Well, let's see... I'm not ruling out some flying cars in the town! How great that can be - no more traffic jams in township! I even once wrote to the Mayor's office to propose this. They told me that we had not invented the engine powerful enough to lift the cars up in the air yet. Oh, sadness…
Now I really second the idea of opening a zoo in Township! This sounds more feasible, and I expect the zoo to open this summer:)
How did you feel when you were replaced by a sheep as the main icon of Township?
Truly speaking, that was me who proposed that idea. There's no good reason to put my photo on the game icon - there are so many interesting people in Township. I'm just an ordinary man and construction worker, not a model, you know what I'm saying?
And the last question: Do you like marzipan?
Absolutely love it! In fact, I'm a sweet tooth:)
Thank you, Ernie!
Ernie's Town
These are a few images of Ernie's town, as of Township v7.2