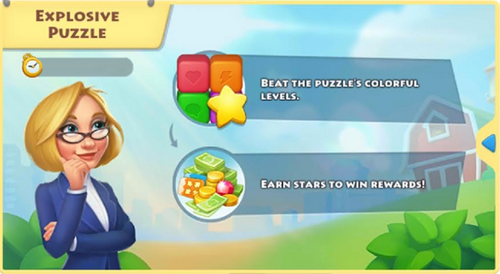 Beat the puzzle's colorful levels
Earn stars to win rewards
Complete all the tasks to win the grand prize 100 T-cash
3 days or 4 days
Cloud Nine feature
Event Guide
Beat levels to earn rewards
The more stars you need to collect, the better the reward you'll get
You need lives to play
Lives/Hearts
You need Lives to play. One (1) life refills automatically every 20 minutes, until you have 5.
You can receive more lives from such items as Gift Balloons from friends and the House of Luck.
You are able to continue to play until you lose a life. Alternatively, you can buy lives.
Stars
Collect enough stars (event points) to begin competing against other players and to earn your Personal Goal rewards.
Event Tips
When you have a rocket and a bomb being placed on the game board, get them to be together by press the "X" at the top right hand corner of the screen before you have started any moves (very important that you don't begin the puzzle)
keep restarting until they are next to each other
determine which 3 lines you would like to remove vertically and horizontally and press on the rocket or bomb that will remove those lines
Event Tasks
Personal Event Goals
Please note: Rewards are being updated during game play. Shown below are possible rewards; keep in mind that prizes can vary among players and town levels.
Check the Comments section below for additional information.
Once completed the rewards repeat from stage 1 through to stage 15.
Both sets of points for the 3 day event and the 4 day event are displayed in the Points column.
Match-2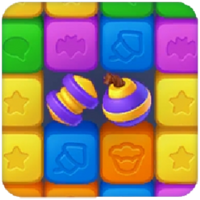 Match-2 is a special mini game you play during renovation events and Explosive Puzzle Event.
Introduction
Your progress in the Match-2 mini games will be saved for the next Match-2 event, such as renovations or Explosive Puzzle Event.
Beat Match-2 levels using Lives to earn renovation tickets
A level can have up to 3 level goals. Use special boosters and power-ups to finish levels faster
When you finished a level, you will get 1 ticket or star for every remaining power-up and remaining move
Cloud Nine may be available
Match-2 Elements
Here are the list of elements you will find when playing the Match-2 Levels.
No
Name
Appearance
Information
1
Paper Cups
Make matches next to the paper cups to remove them.
2
Toys
Remove pieces under the toys to collect them at the bottom of the field.
3
Sand and
Hourglass
Make matches to remove sand from these Hourglasses to collect them.
4
Box
Make matches next to boxes to remove them.
5
Camera and
Photos

Make matches next to the camera to get photos
6
Bubbles

Make matches with bubbles to pop them
7
Raccoons
Baskets with raccoons shift to the nearby basket if you make a match near it. Remove all the adjacent baskets to collect them
8
Light Bulbs
Make two matches next to light bulbs to break them
9
Bubble Gum
Make matches next to the Bubble Gum to remove. If you don't make a match near any Bubble gum it spreads to one more tile per match.
10
Donuts

Make matches next to the Box of Donuts to collect them.
11
Colored Paper Cup

Make matches next to the colored cup with a piece of the corresponding color to remove them.
12
Vases
Explode power-ups next to the vases to remove them. Matches won't remove vases.
13
Water Rockets
Make pieces of the corresponding color to charge the water rocket. The water rocket all obstacles in row or column.
14
Chains
Make matches next to chains to remove them. Chains don't cover pieces.
15
Colored Boxes
Make pieces of the corresponding color next to colored boxes to remove them.
16
Ring and
Ring Boxes
Make a match next to the ring box twice in a row to collect a ring. If you don't make a second match the ring box will close
17
Ducks and Duck Pools
Match pieces of suitable colors next to Duck Pools to collect Ducks
18
Roller Shutters
Match a certain number of colored pieces to remove Rolling Shutters
19
Bubble Machine
Make matches next to the machine to get bubbles.
20
Light Bulb Testers
Make matches next to light bulb teasers to unscrew light bulbs
21
Popcorn Maker
Make matches next to popcorn maker to make popcorn and remove all the pieces and clear one layer of obstacles from the field.
22
Safe and Diamonds
Make matches next to open safes to collect diamonds.
23
Turtle Eggs
Make several matches next to eggs to collect turtles.
24
Mystery Barrel
Match pieces of the corresponding color next to a Mystery Barrel to get a random power-up on the field.
25
Mailbox and Letters
Make matches next to open mailboxes to collect letters.
Note: All the mailboxes will disappear when you have collected all the letters.
26
Coffee Machine
Make matches next to Coffee Machine to get new Paper Cups.
27
Pinwheel
Make matches in four different colors next to Pinwheel to collect.
28
Stone
Use power-ups to carve a fountain out of stone.
29
Soap
Make matches next to soap to make bubbles.
30
Flowers and Seeds
Explode power-ups next to flowers to make them bloom and produce seeds. Match pieces next to seeds to collect them. There are 3 stages to a flower.
Buying Power-ups
All power-ups can be bought with T-cash.

Power-ups can only be activated or used before starting a level.
| Power-up | Image | Description | Cost |
| --- | --- | --- | --- |
| Rocket | | Activates a Rocket at a random place | 15 |
| Bomb | | Activates a Bomb at a random place | 21 |
| Bucket of Candy | | Activates a Bucket of Candy at a random place | 30 |
Super Power-ups can only be activated while playing a level.
| Super Power-up | Image | Description | Cost |
| --- | --- | --- | --- |
| Dart | | Removes a Piece without using a move | 36 |
| Broom | | Removes all the Pieces in a row ←→ | 48 |
| Kettlebell | | Removes all the Pieces in a column ↑↓ | 54 |
Buying Lives
When you lose a life, lives are refilled every 20 minutes.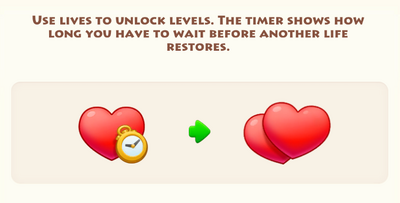 Cloud Nine
Beat levels on your first try to get free power-ups at the start of the next level.
Keep beating levels without losing to keep your bonus.
Event History
November 4, 2021
December 9, 2021
January 11, 2022
Contributions to the Township Wiki
The Township Wiki is maintained and edited by players. We are all volunteers.
This Wiki and Discussions are not affiliated with Playrix. Please be respectful to all parties.
The Township Wiki grows due to the contributions and feedback from players.
Thank you to the players and editors of this wiki.