Join us in Discussions and share 🥐Your French Style Towns: Show the Love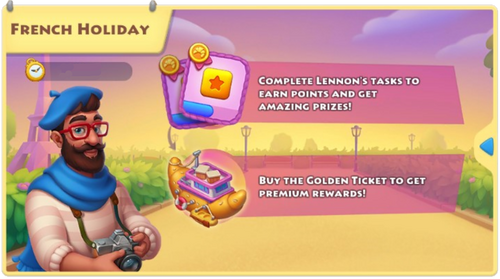 Complete Lennon's tasks to earn points and get amazing prizes
Buy the golden ticket to get premium rewards
How do Season Adventure events work?
The Season Adventure events are a recurring special month long event, where you complete regular tasks and event tasks to earn points.
When you earn a certain amount of points, you can get rewards and perks.
You will need to collect the rewards and perks after they are unlocked as they are not automatically added to your inventory. You can choose to add them to your inventory at a later time if a task such as "Earn an "x" amount of Coins" is coming up then you can choose to collect any unlocked Coins rewards after the task is available.
Rewards last beyond the event, such as boosters, coupons etc.
Perks expire at the conclusion of the event, such as "Spacious Barn".
You do not regain these perks when a new event starts; a new event will bring new rewards and perks.
Rewards include coins, T-cash, gems, construction materials, co-op chat stickers, skins, coupons and lots more.
Some rewards are themed, such as the Skins, Co-op chat stickers and decorations.
Safes (or their equivalent) when opened will provide additional rewards. Unlimited safes can be opened by continuing to complete the tasks given.
Please note: Recently there are different versions of the Season Adventure event that have been distributed by Playrix. The details below may not reflect your current gameplay.
Event Guide
Golden Ticket
To receive additional rewards and perks, you can purchase the Golden Ticket, using real-world money (typically about $4.99. Prices vary by country i.e $7.45-7.99AUD).
Earned rewards and perks can be obtained by purchasing the Golden Ticket at any point during the event.
You get the best value for your money by purchasing the Golden Ticket at the beginning of the event as you will be able to use the Perks for the longest period of time while the event is on.
Golden Ticket Gifts in Co-op Chat
A notification is posted in your co-op chat when you purchase a Golden Ticket which allows 10 co-op members (not the buyer) to claim a T-cash gift. This notification will remain in your co-op chat, for a maximum of 7 days, until all of the gifts are claimed or they expire. The notifications will move to the bottom of the co-op chat until this occurs.
If a co-op member purchases a Golden Ticket you will have the opportunity to claim one of the 10 T-cash gifts in your co-op chat.
Unclaimed T-cash amounts can be taken by anyone joining your co-op, please be mindful that there are some players who join and leave co-ops quickly for this purpose only. If you do not want this to occur, change your co-op setting to Closed until after all the T-cash gifts are claimed within your co-op or expired.
Tasks
There are two types of tasks:
Daily tasks in the town and zoo which refresh every day. There are three of these daily tasks on the board.
Event tasks that's connected to the ongoing event. Once you complete that task, you'll get a new one in eight hours or directly if you have the Golden Ticket. There are three of these event tasks on the board that stay until you complete them.
Daily Tasks
There are 3 daily tasks each day. They give 10 event points and they expire after 24 hours. The daily tasks will be replaced with new daily tasks, even if they are not completed. The amount of activity to complete a task increases with your level in the game.
10 Task examples are:
Event Task
The event tasks are connected to the ongoing event. These mini events may be a themed version of Jungle Quest, Rev and Ride and Bubble Gum Festival. Once you complete an event task, you'll get a new one in four hours if you don't have the Golden Ticket. With the Golden Ticket, the New Tasks at Once Perk will kick in providing new tasks as you complete each one. Each day you can do up to 3 event tasks. The tasks gives you 10-30 points depend on the amount of goals.
In addition to this, they get converted when the new mini event starts. For example, if you didn't finish all your Jungle Quest tasks, they get converted to the next mini event i.e. Rev and Ride tasks.
All mini-games
Play the mini-game
Beat levels
Beat levels in a row
Win stars
Collect/Win stars on one level
Earn bonus stars
Hit the green section
Pass platforms without touching
Pass platforms without touching (times in a row)
Remove platforms by hitting them with the gumball/ornament
Remove pieces (red/yellow/green/blue/purple/orange)
Remove pieces (red/yellow/green/blue/purple/orange) x2
Make power-ups
Make a Bomb
Make a Rocket
Make a Bucket of Candy
Explode power-ups
Activate the Bomb power-up
Activate the Bucket of Candy power-up
Activate the Rocket power-up
Combine any power-ups
Combine a Rocket and a Bucket of Candy power-up
Combine a Bomb and a Bucket of Candy power-up
Combine two Bucket of Candy power-up
Activate the magnet
Activate the star multiplier
Avoid obstacles on the track
Collect any bonuses on one level
Collect any town goods in the mini-game
Collect triple stars
Move parts of the track on successfully completed levels
Change lanes on the track - requires a completed run
Collect any bonuses on one level
Collect any town goods in the mini-game
Jump over obstacles on the track
Make turns
Jump over the water
Collect stars on bonus track
Get to the end of the bonus track
Jump over the water on the bonus track
Make turns on the bonus track
Perks
All perks expire at the conclusion of an event.
Perks will vary for each event.
---
Expand or collapse this area:
In alphabetical order:
Perk
Image
Description
Range
Conveyor Belt
Queue Orders at the Helicopter Pad
Queue orders is where you don't need to wait for the helicopter to return - you can click to send the green helicopter orders endlessly and the helicopter will fly the orders out one after the other
Farm Bonus
Farms (i.e. animals and mushroom farm) produce goods faster
(% varies -10% to -30%)
Generous Market
Market and Dealer have more goods for sale
Spacious Barn
Increases barn capacity (% varies)
See additional notes below the table
+10% to +20%
Spacious Railcars
One, two, or three railcars will bring more construction materials depending on the stage of the perk
1 to 3
Notes for Spacious Barn

If you are over the capacity of your barn at the end of the event, your inventory remains in the barn. You won't be able to add any further items to your barn until you've used up or sold off enough inventory to have your barn below your normal capacity level. One option is to turn on the Generous Customer helicopter booster and complete helicopter orders.
Rewards Information
To get all the rewards before it ends, you need to get 80 points daily. Remember this means you need to complete pretty much every task (daily and weekly) to finish.
Points required are varied, impacted by test groups.
Rewards and Perks
Stage No

Event Points
Required
(per stage)

Free Rewards

Golden Ticket Reward

0
0
x12000
Coins

(depends on city level)



Kick-off Bonuses
1
25/40
x1
Glass
+10%
Spacious Barn Perk
2
25/40
x1
Bronze Ingot
x1
Load Coupon




3
25/40
x1
Dealer Coupon

Generous Market Perk
4
25/40
x1
Pick
x2
Emerald
5
25/40
x1
Shovel

Croissant Ferry Skin
6
50/60/90
x1
Dynamite
x2
Red Paint
7
50/60/90
x1
Load Coupon
x1
Spacious Railcars Perk
8
50/60/90
x1
Topaz
x2
Dealer Coupon
9
50/60/90

Regular Deck 10 Cards
or T-cash
if Zoo cards are completed
x2
Axe
10
50/60/90

Co-op Chat Sticker
x1
Conveyor Belt Perk
Helicopter
11
100/120/190
x1
Bricks
x5
T-cash
12
100/120/190
x21000
Coins
-10%
Farm Bonus Perk
13
100/120/190
x2
Hammer
x2
Emerald
14
100/120/190
x1
Load Coupon

Epic Deck 40 Cards
or T-cash
if Zoo cards are completed
15
100/120/190
x1
Efficient Smelting Booster

Sweet Port Skin
16
100/120/190
x2
Pick
x2
Ruby
17
100/120/190

Rare Deck 20 Cards
or T-cash
if Zoo cards are completed
+15%
Spacious Barn Perk
18
100/120/190
x1
Red Paint
x1
Smart Navigation Booster
19
100/120/190
x1
Silver Ingot
x2
Spacious Railcars Perk
20
100/120/190
x37000
Coins

Co-op Chat Sticker
21
150/190/300
x1
Hammer
x10
T-cash
22
150/190/300
x1
Dealer Coupon
+20%
Spacious Barn Perk
23
150/190/300
x2
Dynamite
x3
Nails
24
150/190/300
x1
Gold Ingot
x3
Spacious Railcars Perk
25
150/190/300
x2
Slab

Island Skin
26
150/190/300

Rare Deck 30 Cards
or T-cash
if Zoo cards are completed
x3
Load Coupon
27
150/190/300
x65000
Coins
x1
Large Request Booster
28
150/190/300
x3
TNT
-20%
Farm Bonus Perk
29
150/190/300
x1
Red Paint
x15
T-cash
30
150/190/300
x1
Generous Customer Booster

Co-op Chat Sticker
31
225/255/430
x3
Ruby
x1
Factory Upgrade Coupon
32
225/255/430
x1
Silver Ingot

Epic Deck 50 Cards
or T-cash
if Zoo cards are completed
33
225/255/430
x1
Expansion Coupon
-30%
Farm Bonus Perk
34
225/255/430
x20
T-cash
x1
Barn Upgrade Coupon
35
225/255/430

Profile Picture
x50
T-cash
36+
150, 200, 300
To open safe you need to
purchase the Golden Ticket
Open Safe

Parisian Plaza
Event Decoration
Season Adventure Guide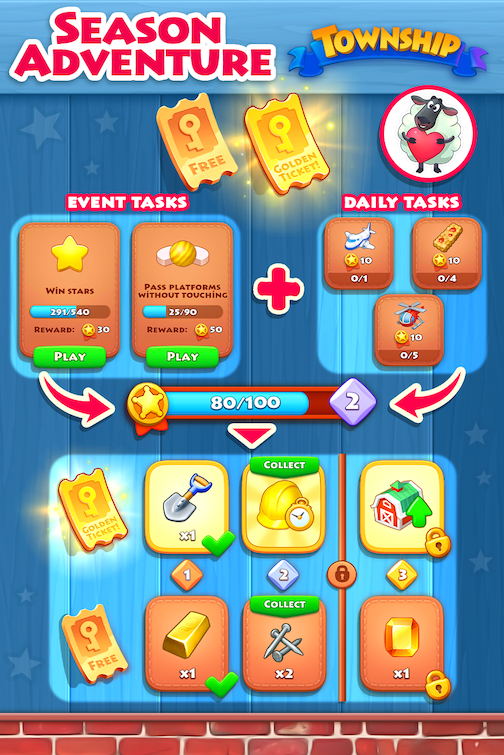 Event History
These are previous Season Adventure events held:
Buccaneer Fun: April 29, 2021
The Great Gatsby: July 15, 2021
Urban Western: August 26, 2021
Spooky Halloween: September 30, 2021
Harvest Festival: November 4, 2021
Christmas Miracles: December 9, 2021
Space Challenge: January 10, 2022
French Holiday: February 7, 2022
Contributions to the Township Wiki
The Township Wiki is maintained and edited by players. We are all volunteers.
This Wiki and Discussions are not affiliated with Playrix. Please be respectful to all parties.
The Township Wiki grows due to the contributions and feedback from players.
Thank you to the players and editors of this wiki.