Through the game's settings, you can change in-game features, contact support, connect to Facebook, and change your preferences. You can also access official Township communities as well as well as other games published by Playrix. Setting's can be accessed by selecting the gear cog icon (pictured to the right) in the upper left hand corner of your game interface.
Settings is the primary tab in which you are directed to once you select the settings button. Other tabs include "Community", where you can find official Township community's and "More Games" where you can find other games published by Playrix. 
Connecting/Disconnecting to Facebook & Google
Edit
Through the main settings window you can connect or disconnect from Facebook and Google Play by tapping the appropriate buttons. If you want to connect to either service you must tap the appropriate button and you will be redirected to a login page to enter your username and password. If you decide to disconnect from Facebook or Google Play you can do so by tapping the appropriate button and it will turn red. If you wish to reconnect to the same account or a different account you can do so by tapping the corresponding button and typing your information into the log-in page. Google Play is only available for Android.
Additional Settings
Edit
Under Additional settings you can change your preferences such as opting in/out ofthe seasonal regatta,
disabling/enabling the tick which indicates weather you're online or not in the coop building, disabling/enabling the cash confirmation pop-up, or turning off the chat filter in the coop chat. If the tick is green and swiped right that means the feature is enabled, if it is white and swiped left the setting is off. 
Contacting Support
Edit
You can contact support in-game by selecting the "Help And Support" button in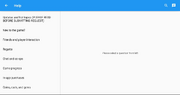 your main settings. Here you can find the help pages to learn about in-game features as well as message support. If you still need help select "No" in the bottom right corner and you ca leave support a message. Be sure to explain your problem in as much detail as possible and send it to support. All respond to all automated messages and wait up to 7 days for a response from CS.
Click here for a more detailed guide on contacting support.
About the Game
Edit
Under this tab you will find Playrix terms of use and privacy policy as well as your unique Invitation code that you can share to find new in-game friends.
Changing your language
Edit
To change your in-game language you can select the globe icon in the bottom right corner of the main settings page and check your desired language.
Turning off the music/sounds
Edit
To turn on/off the music and sounds in your game you can select the music note and speaker buttons in the bottom right corner (pictured to the right). If the buttons have a red slash through them that means they are off, if they have no slash that means they are on.
Notifications
Edit
You can enable/disable notifications in Township by selecting the Notification button in the main settings panel. A check beside a topic means you will receive notifications, if a topic is unchecked you will not receive notifications.
Community content is available under
CC-BY-SA
unless otherwise noted.