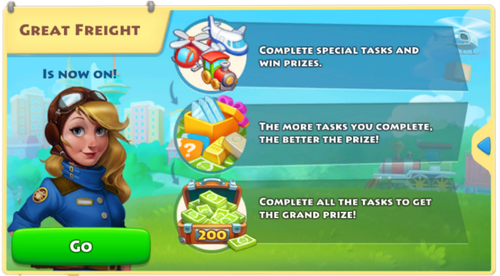 Send off helicopters, trains, planes and ships to score points and win prizes
Complete special tasks and win prizes
The more tasks you complete, the better the prize
Complete all the tasks to get the grand prize of 200 T-cash
3 days
Event Guide
Possible Rewards
Please note: Rewards may be updated during gameplay. Shown below are possible rewards; keeping in mind that prizes can vary among players and town levels. Points and Rewards shown are for Windows, Mac, and Mobile versions.

Event History
December 28, 2020
March 8, 2021
March 22, 2021
April 5, 2021
April 19, 2021
May 3, 2021
May 18, 2021
May 31, 2021 ~ Note: You can earn points from sending ships only after updating to v8.3
June 14, 2021
June 28, 2021
July 20, 2021
August 2, 2021
August 16, 2021
October 25, 2021
November 22, 2021
December 20, 2021
January 17, 2022
February 14, 2022
March 14, 2022
April 11, 2022
May 9, 2022
Previous Event History
Previous Event Versions
Perhaps there was two "versions" of this event held at the same time.

One group was a test group, who played for 200 T-cash. Points collected for sending helicopter +1, ship +2, train +3, fully loaded plane +10.
The other group played for 1000 T-cash. Points collected for sending helicopter +1, train +3, fully loaded plane +10.
Differences Noted
Ships were not being counted for some; for other lucky players, ships were being counted.
The Grand Prize was either 200 T-cash or for some lucky players they received 1000 T-cash.
Contributions to the Township Wiki
The Township Wiki is maintained and edited by players. We are all volunteers.
This Wiki and Discussions are not affiliated with Playrix. Please be respectful to all parties.
The Township Wiki grows due to the contributions and feedback from players.
Thank you to the players and editors of this wiki.
Is something missing? Noticed a mistake? You are welcome to comment and edit pages.
You can visit the Community Portal to learn how to contribute. Your help is appreciated!