This themed event was held during the Spooky Halloween Event.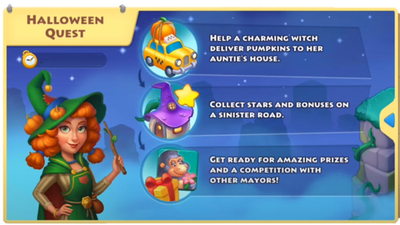 Help the charming witch (Emma) to deliver pumpkins to her auntie's house
Collect stars and bonuses on a sinister road
Get ready for amazing prizes and a competition with other mayors
Go to Discussions to Share your Lucky Town(s) for Halloween Quest
Event Guide
This event is similar to Jungle Quest Event
Reach the heart of the jungle by connecting bridges to the pillars. Earn chests, use boosters and overcome obstacles to collect stars. You will get bonus stars if you build the bridges of a correct width and reach the jungle.
Build a bridge the perfect length on your first try.
Hit the center of the pillar - that gets you twice as many stars. The middle part of all the upcoming pillars will expand, making them easier targets. When you miss one it will return to normal.
You need Lives to play. One (1) Life refills automatically every 20 minutes. You are able to continue to play until you lose a life.
Collect event points to complete stages and win the grand prize.
Bonuses
Increases the number of stars you collect for several seconds.
A special booster helps you in getting the exact measure to build the perfect bridge, for a few seconds only though.
Win Streak (Test Group*): Beat levels consecutively to get 1.5, 2 or 3 times the stars you earned per level
Expand or collapse event guide images
Lucky Towns
Mini events involving driving, so only Jungle Quest and Need for Seeds, give players an advantage by using 'Lucky Towns'.
A Lucky Town is a Town that gives you an easier game-play.
In Jungle Quest the pillars are closer together, do not move, you have 2 double point boosters and a free chest of T-cash or construction materials.
In Need for Seeds you get single lanes to cross and also a free chest of T-Cash or construction materials.
Lucky Towns can be found in your own Co-op, on the World Summit of the Regatta or on the World Summit of the Airport, Visit a Lucky Town before and after playing the minigame to get an easy route, two boosters and a free chest.
All other mini-events have no Lucky Towns.
Personal Event Goal
Earn stars to get rewards and get the grand prize
After winning decoration you can keep earning stars to win the next grand prize- 200-Tcash
Check the Comments section below for additional information.
Please note: Rewards and points required vary among players based on their test group.

Stage №

Points
Reward
Quantity
Item Name
1.
30
500 to 5,000
Coins
2.
120/ 220
x3
Tape Measure
3.
80/ 150
x5
Lives
4.
200/ 380
1,500 to 11,000
Coins
5.
320/ 600
x1
Hammer, Nail or Paint
6.
280/ 530
x10
Lives
7.
360/ 680
2,500 to 17,000
Coins
8.
980/ 520
x5
Tape Measure
9.
400/ 750
x2
Hammer, Nail or Paint
10.
1100/ 1050
3,500 to 23,000
Coins
11.
1350/ 1300
x5
Load Coupon
12.
1200/ 1100
x3
Hammer, Nail or Paint
13.
1450/ 1350
4,500 to 29,000
Coins
14.
1850/ 1750
x7
Load Coupon
15.


30.
2600/ 2340
x1
Decoration
x200
T-Cash
Total
11,860/ 13,210
Event Competition
The tournament unlocks once you've completed your personal goal.
Go to the tournament icon/tab and compete against 29 same-level players. If you place in the top three by the end of the event, you will receive greater rewards.
Note on prizes for especially low or high level players (tap "Expand to view"):
You may get slightly different prizes depending on what is (still) available in your town and your level. Prizes known to be substituted include gems, boosters, zoo card packs, train/factory/island upgrade coupons, land expansion coupons. The substitute prize is usually either T-cash or building/expansion materials. For example lower level players who haven't restored the airport, yet, will receive building/expansion materials instead of gems. Lower level players who don't have many animals might also get boosters or materials instead of zoo decks. High level players with all zoo animals will receive boosters or upgrade coupons.
If profile pictures are repeated, players who already have the profile picture may receive more T-cash instead.
The amount of coins for the lower ranks depend on the town level and range from 270/220/45 coins for lowest levels to 6 000/5 500/1 000 for levels 100 and higher.
Playrix Guide
Event History
September 30, 2021 (4 days)
October 11, 2021 (3 days)