This page is an archive.

This page contains information about outdated content in Township, but Playrix has not announced its removal. Please do not edit the contents of this page unless there are major changes in the game, but you can still comment on it.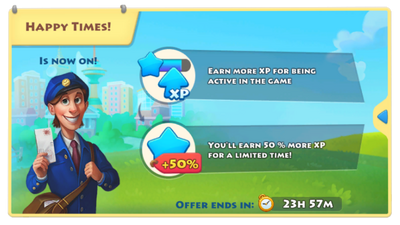 Earn more XP for being active in the game
You'll earn 50% more XP for a limited time!
Happy Times is an offer lasting for 1-2 days, related to increasing XP. It is held during the Industrial Boom Event or the Advanced Agriculture Event.
You get 50% more XP when you do in-game actions such as harvest crops, collect goods from factories or ships, send transport (except ships) and collect rewards for achievement.
These items appear in your game while this special offer is on: