Christmas 2020

Become Santa's best helper in a Christmas event
Drive a holiday truck to deliver gifts to children
Spin the wheel and join the competition to win rewards
Introduction
Wow! A real elf. And where is Santa and his sleigh?
I only see a truck.....

That's a special delivery truck! Santa is already off delivering gifts, but there are so many good kids this year that one sleigh isn't enough.
Let's fill the truck with gifts and help Santa.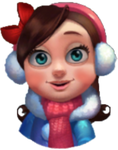 Build bridges between pillars to deliver gifts to children.
Target the center of every pillar to collect more stars along the way.
You get additional stars for every successful delivery you make. They'll get you more Prize Wheel spins and help you win more prizes!
Event Guide
Gift Delivery
Gift sacks replenish automatically with time. If you run out, you'll just need to wait a bit.
Build a bridge the perfect length on your first try. Tap and hold until you're ready to drop it down.
You hit the center of the pillar - that gets you twice as many stars! Now the middle part of the upcoming pillars will expand, making them easier targets.
Tape Measure - it'll help you build the perfect bridge.
The tape measure is time-limited. Be sure to build as many bridges as you can while the tape measure is active.
The Bonus doubles the stars you collect. Try to get as far as you can while it's active!
There are moving pillars! You'll need to place a bridge on it to make it stop, so try to gauge the best moment for when you should tap and hold.
Similar to other chests and balloons that you open with 3 T-Cash. In my opinion, these holiday chests are not worth 5 T-Cash (my first chest was 1 silver ingot).
Tips
Visit your lowest level friend's town, go back to your town and straight into the Holiday Deliveries event. You may have an easy, short expansions and short map to complete. These easy maps will not have the green Christmas chests or the double point stars.
Though every few attempts, you will get a harder map that may have a wooden Christmas chest and double point stars available.
Prize Wheel
Event Rewards
No.
Profile Picture
Name
How to Unlock
196

Cozy Raccoon


Win in the Prize Wheel in the:
Holiday Deliveries Event Dec 2020
197

Christmas Tree


Finish in the Top 3 in the:
Holiday Deliveries Event Dec 2020
Competition Rewards
Place
Titles
Rewards
Preview
1st
Santa's Chief Helper
• 50 T-Cash
• Epic Deck (50 Cards)
• Profile Picture 197
2nd-3rd
Elves' Best Friends
• 30 T-Cash
• Epic Deck (30 Cards)
• Profile Picture 197
4th-7th
Holiday Couriers
• 2 Load Coupons
• Rare Deck (20 cards)
8th-12th
Delivery Masters
• 2 Construction Materials
• Regular Deck
13th-19th
Valiant Drivers
• Coins
20th-30th
Rookie Drivers
• Coins
Event Decorations
Event History
Previous Event Dates
Note: It only includes Holiday Deliveries Event (Mini game Road Plotting)
December 14, 2018
December 4, 2020