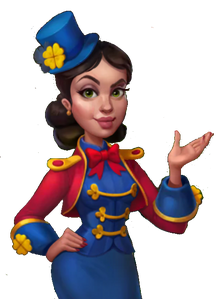 The House of Luck or HoL is the first special building for you to win valuable prizes.
When you have 5 clovers
, you can visit the House of Luck and play, or you can save them and play many games at once. It's recommended to have at least 30 clovers to instantly complete a House of Luck Regatta task.
The maximum amount of clovers you can save in the House of Luck is 50 (= 10 games). The Town Hall can hold an additional 100 thank you letters/clovers. Once these amounts are reached new clovers can not be accumulated until some are used up.
Earning Clovers
There are a few ways to earn clovers in-game:
Help a friend fill plane, train, and zoo

Filling plane crates, you will receive clover immediately.
Filling train carts/zoo orders/helicopter orders, you will receive clover when the friend taps your picture on the crate/cart you helped fill.
Asking for help to fill crates will make it easier for you and help others earn clovers

In the Professor's Experiments Event, help a friend to fill helicopter orders - if Helicopter Help is available, for which you'll receive a thank you letter and 1 clover and receive 2 clovers at your Town Hall when the Double Luck is available.
Clovers may occasionally be given as a daily login reward (up to 3 clovers)
Gain XP to get experience chests. They may give you up to 3 clovers.
Tapping blue gift balloons, may sometimes contain clovers. You can send 5 gift balloons maximum per day, which may award the recipient with clovers.
Buy them with Township cash (1 clover=1 T-cash)

Note that this was unavailable with some versions. The current version supports this exchange.

You can fill goods requests from your Co-op.

You can receive up to 2 clovers from helping fill a single request.
Requesting goods frequently gives more opportunities for co-op members to receive clovers.
There is a daily limit (every 24 hours) of 5 clovers you can get when helping fill co-op requests.
After that you'll only get coins and XP, so give others an opportunity to help.
Note: 155 clovers maximum can be stored
100 in the letter box at the Town Hall
50 at the House of Luck (HoL)
5 from selecting the green Play button in the HoL but NOT picking a chest. Your pick will not be lost. It will be available the next time you return to the HoL.
If you have 100 letters, additional letters will be stored as clovers in the HoL. Make sure the HoL isn't full or the clovers will be lost. If you receive a clover from helping fill a co-op request and the HoL has 50 clovers it will also be lost.
Playing at the House of Luck
To play a game in the House of Luck it costs 5 clovers, or 5 T-cash (1 T-cash per clover) for each turn.
You can choose 1 mystery chest out of 9 and receive the prize in that chest.
Note: It's better to spend T-cash on market boxes or hiring Raja than spending it in the HoL. It's more likely to cost you hundreds or thousands of T-cash trying to get the 20 T-cash jackpot from the HoL.
House Of Luck Guide
Prizes
Available prizes are assigned according to 3 categories.
3 of the chests must contain either:

farm products (1 chest max.)
factory products (3 chests max.)
island goods (2 chests max.)
special event products (2 chests max.; 1 chest min. and only during events)
special event items (fuel for the "aerial challenge", rockets for the "blossoming boulevards", etc.) (always 1 chest and only during events)

2 of the chests must contain either:

mine tools (2 chests max.)
mineral ores (2 chests max.)
ingots (2 chests max.)
building materials (2 chests max.)
barn tools (2 chests max.)
expansion tools (2 chests max.)

The remaining 4 chests are assigned one to each of the following prizes:

gems
coins
2 to 4 T-cash
8 to 20 T-cash

Note that in some versions the T-cash Jackpot was always 20 T-cash.
Prizes Not Available