Contributions to the Township Wiki
The Township Wiki is maintained and edited by players. We are all volunteers.
This Wiki and Discussions are not affiliated with Playrix. Please be respectful to all parties.
The Township Wiki grows due to the contributions and feedback from players.
Thank you to the players and editors of this wiki.
Industrial Boom Event is a Mayor's Competitions.
Double Reward offer was given one day after the start of this event.
Introduction
Produce and collect goods, including animal feed, from factory shelves to complete your personal goal and earn tournament points.
Complete group goals and earn a higher position on the tournament leaderboard to receive better rewards.
Personal Goal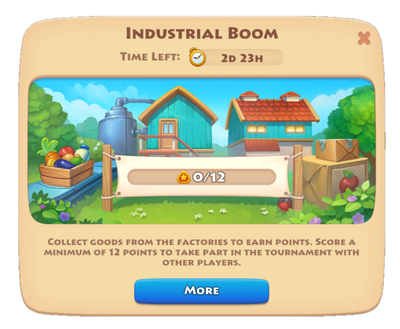 Complete your personal goal by earning the required points to compete against 29 same-level players to see who can collect the most factory goods. Each product gives a varying amount of points when collected.
The players will be the same level as you when they join the tournament. All players will stay in this tournament group even if you or they level up.

Points Given by Goods
Goods which require more time to produce give you more points when you collect them from factory shelves.
Points are based on the time with -0% time upgrade in Academy of Industry. Upgrades won't affect the points given.
Goods include animal feed starting from May 26, 2020.
General information about tables can be found here.
Goods
Production Time
Minimum
Maximum
1m
15m
1
16m
30m
2
31m
45m
3
46m
1h
4
1h1m
1h30m
6
1h31m
2h
8
2h1m
2h30m
10
2h31m
3h
12
3h1m
3h30m
14
3h31m
4h
16
4h1m
4h30m
18
4h31m
5h
20
5h1m
5h30m
22
5h31m
6h
24
Event Tips
Before the event, don't collect any goods from the factories. Make sure there are goods on every shelf so that you can collect them when event starts (to earn points immediately).
While online produce & collect bread, which has the best value for time, as it takes less than 15 minutes and gives 1 point, rather than goods which require other factory products.
Upgrade factory production time in the Academy of Industry.
Use lab booster "high-speed production" to produce & collect goods faster.
Rewards
The tournament unlocks once you've completed your personal goal.
Go to the tournament icon/tab and compete against 29 same-level players. If you place in the top three by the end of the event, you will receive greater rewards.

Group Goal
Goal No
Reward
Preview
Group Goal 1
Up to 50,000
• 2 to 3 Gold Ingot
Group Goal 2
Up to 300,000
• 12 T-cash
• 4 Ruby
• High-Speed Production Coupon
Event Tournament
Goal
Requirement
Rewards
Preview
Personal Goal
Earn 12 Points
1 random item of:
• T-cash
• Gems
• Construction Materials
• Coins


Place
Titles
Rewards
Preview
1st
High-Tech Maestro
• 50 T-cash
• 8 Load Coupons
2nd-3rd
Conveyor Belt Experts
• 30 T-cash
• 5 Load Coupons
4th-7th
Masters of Production
• Construction Material
(5 Concrete Slabs)
• 3 Load Coupons
8th-12th
Excellent Machinists
• Construction Material
(2 Red Paint)
• Coins (x3,000)
13th-19th
Busy Bees
• Coins (x2,750)
20th-30th
Factory Hands
• Coins (x500)
Event History
February 2020
April 2020
July 2020
September 2020
November 10 ~ 13, 2020
History
Goods include animal feed starting from May 26, 2020.