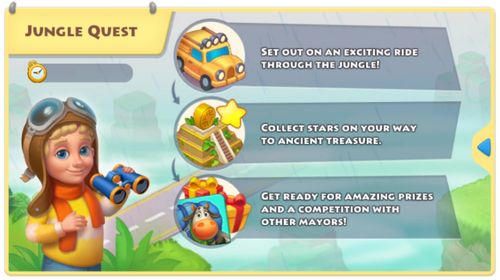 Join the expedition to the heart of the jungle!
Collect bonuses on your way to the ancient treasure!
Become the best explorer to win valuable prizes!
3 days
May include Win Streak
Event Guide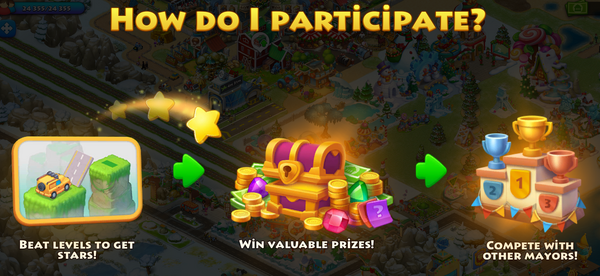 Build bridges between pillars to deliver gifts to children.
Target the center of every pillar to collect more stars along the way.
You get additional stars for every successful delivery you make.
Build a bridge the perfect length on your first try. Tap and hold until you're ready to drop it down.
You hit the center of the pillar - that gets you twice as many stars! Now the middle part of the upcoming pillars will expand, making them easier targets.
There are moving pillars! You'll need to place a bridge on it to make it stop, so try to gauge the best moment for when you should tap and hold.
Lives/Hearts
You need Lives to play. One (1) life refills automatically every 20 minutes, until you have 5.
You can receive more lives from such items as Gift Balloons from friends and the House of Luck.
You are able to continue to play until you lose a life. Alternatively, you can buy lives.
Stars
Collect enough stars (event points) to begin competing against other players and to earn your Personal Goal rewards.
Bonuses
The Tape Measure is a special booster that helps you in getting the exact measure to build the perfect bridge, for a few seconds only though (limited time). Be sure to build as many bridges as you can while the tape measure is active.
Chests
Tips
Having the sound on may help. Sound and Music are separate in the settings - turn the sound on and the music off.
When the pillars are going side to side, wait until the pillar has moved to the outside as far as possible and start to move when the pillar starts to returned to the center.
Two options for pillars moving away/towards you:
Go for the pillars when they are swaying towards you, not away from you. The distance may be shortened for you to succeed.
or Go for the pillars when they are going away, not toward, because you may be able to make the bridge longer but not shorter depending on the speed of the pillars moving. You may however miss the pillar as you drop the road as the pillar is still moving away from you.
Expand or collapse event guide images
This page may contain information from a previous version of the event, i.e. the prizes.
😊 Thank you to the players who are updating this page while the event is on.
Personal Event Goals
Please note: Rewards are being updated during game play. Shown below are possible rewards; keep in mind that prizes can vary among players and town levels.

Check the Comments section below for additional information.
Event Competition
The Competition unlocks when you have completed your personal goals.
Go to the Competition tab and compete against 29 players of the same level.
If you place in the top three by the end of the event, you will receive greater rewards.
For town levels above 100 you are grouped with players approx. +/- 10 levels.
You may get slightly different prizes depending on what is (still) available in your town and your level. Prizes known to be substituted include gems, boosters, zoo decks, train/factory/island upgrade coupons, land expansion coupons. The substitute prize is usually either T-cash or building/expansion materials.

For example lower level players who haven't restored the airport, yet, may receive building/expansion materials instead of gems.
Lower level players who don't have many zoo animals might also get boosters or materials instead of zoo decks. Higher level players with all zoo animals may receive boosters/coupons or mining/barn equipment.

If profile pictures are repeated, players who already have the profile picture may receive more T-cash instead. Not relevant for Mayor's Competitions ie Transport Magnate or Mine Time.
The amount of coins for the lower ranks depend on the town level and range from 270/220/45 coins for lowest levels to 6000/5500/1000 for levels 100 and higher.
Jungle Quest Decorations
View the Jungle Quest Decorations
Playrix Guide
Event History
December 14, 2018 (Winter Edition, as Holiday Deliveries)
May 6, 2019
August 29, 2019
April 23, 2020 (As a component of Hammer Time/1)
July 24, 2020 (As a component of Hammer Time/2)
December 4, 2020 (Winter Edition, as Holiday Deliveries Event)
June 3, 2021
July 5, 2021
August 9, 2021 (Movie Edition)
September 2, 2021 as renamed Canyon Quest Event during Urban Western Event
September 30 and October 11, 2021 renamed Halloween Quest Event held during Spooky Halloween Event
November 8, 2021 (3 days)
December 27, 2021 (Winter Edition, as Holiday Deliveries Event)
Previous Event Versions
Lucky Towns
Do they still exist? No.

Mini events involving driving, so only Jungle Quest and Need for Seeds, give players an advantage by using 'Lucky Towns'.
A Lucky Town is a Town that gives you an easier game-play.
In Jungle Quest the pillars are closer together, do not move, you have 2 double point boosters and a free chest of T-cash or construction materials.
In Need for Seeds you get single lanes to cross and also a free chest of T-Cash or construction materials.
Lucky Towns can be found in your own Co-op, on the World Summit of the Regatta or on the World Summit of the Airport, Visit a Lucky Town before and after playing the minigame to get an easy route, two boosters and a free chest.
All other mini-events have no Lucky Towns.
Fuel
You need 5 fuel tokens to play one round. 1 token generates every 5 minutes. The maximum amount of tokens you can have is 25, so it takes a total of 125 minutes (2 hours and 5 minutes) for your tokens to be refilled completely.

You can receive more tokens from such items as gift balloons from friends and the House of Luck, taking your total above 25.


Collect enough event points and spin the prize wheel to start competing against other players.
Produce Vehicle Fuel in the Fuel Factory.
Prize Wheel


Collect stars to spin the prize wheel once and win rewards.
There is no limit on the number of spins you get during the event, but you will need more event points for each subsequent spin of the prize wheel.
There may be a profile picture to win in the prize wheel.
Prize Wheel target amounts may be found in the Comments section at the bottom of the page.
Reward Quantities
The more you spin, the higher the quantities.
Tap the image or link to learn more about the reward.
End of Event
At the end of the event, the event host will appear with a message to purchase your remaining event fuel, and advises the fee amount

.
Personal Event Goals Complete your first personal goal to unlock the competition.
Personal Event Rewards Collect stars while building bridges to earn valuable rewards. After the 5th stage the race continues and you will get new goals and random rewards as long as you go on. The number on the score board goes by the highest score you've ever had in one game, not your total points.
Goal
Amount
Rewards
Preview
1st Goal
500 Stars
• 3 Tcash
2nd Goal
1 000 Stars
• 1 Glass
• Rare Deck (20 Cards)
3rd Goal
1 700 Stars
• 2 Load Coupons
• Favourable Voyage Booster
4th Goal
2 600 Stars
• 3 Hammers
• Epic Deck (40 Cards)
5th Goal
4 200 Stars
• Jungle Quest Decoration
• 12 Tcash
• Profile Picture
Profile Picture
Jungle Quest Decoration
6th Goal+
400 Stars
(+400 Stars
per chest)

Treasure Chest
• 3 to 6 Tcash,
• 2, 3, 6 Tools,
• 2 Gold Ingots, etc.
Temporary Event Goods The fuel factory produces fuel which helps you in during the event. These are temporary event products produced in the Factories and Fields.
Common Goods: Kiwi, Jungle Map, Booster Drink, Mosquito Net
Contributions to the Township Wiki
The Township Wiki is maintained and edited by players. We are all volunteers.
This Wiki and Discussions are not affiliated with Playrix. Please be respectful to all parties.
The Township Wiki grows due to the contributions and feedback from players.
Thank you to the players and editors of this wiki.