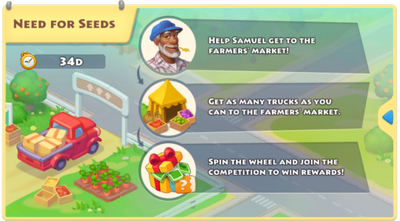 Help Samuel get to the Farmer's Market!
Get as many trucks as you can to the Farmer's Market
Spin the wheel and join the competition to win rewards!
Event Guide
Expand this table if you would like to see the event guide images
When you play this event, a short tutorial may take you through the steps and layout of the game screens.
Tap the "Let's Go" button to send your truck on its way.
There are intersections you have to drive through on your way to the market.
You will collect more and more trucks on the way, called a Platoon in the game.
Guiding the platoon (aka convoy) through the intersection without breaking formation will give you more points.
Tap and hold until all the trucks make it through the intersection.
Tap and release to steer your trucks one by one, but you won't get as many points for that.
You pick up traffic lights and chests on the road.
Earn chests, use the traffic lights and overcome obstacles to collect stars.
There is no time limit, so take your time before you move.
Fuel
The fuel for your trucks refills automatically with time. If you run out, just wait until it replenishes.
Fuel is generated 1 every 5 minutes.
During the event you will receive fuel from your friend's gift balloons.
Traffic Light
Traffic Lights, a special booster, helps you in getting through the traffic but only for one time though!
You may not be able to accumulate more than 6 (as they may stop appearing when you have 6) so it's better to use them regularly.
They are most beneficial when used with a 6 truck convoy on a 4 lane crossing because 6 trucks give the most points and 4 lane crossings are the most difficult and time consuming to pass.
If you are looking for chests, though, you might want to stock up on traffic lights, since once you have 5 in stock, then it is only chests than can appear on the road as bonuses.
Traffic Lights are sold for only 35 coins each at the end of the event, so it's best to use them up.
When you have already let a truck through an intersection you are unable to use a traffic light to get the rest of the trucks through.
Accumulating Points
These are the points you may accumulate when you successfully drive your trucks through each intersection in convoy (platoon) one after the other:
18 points - 3 trucks
36 points - 3 trucks
64 points - 4 trucks
104 points - 5 trucks
158 points - 6 trucks
These are the points for the group of trucks:
1 truck is 4 points
2 trucks is 10 points
3 trucks is 18 points
4 trucks is 28 points
5 trucks is 40 points
6 trucks is 54 points
Bonus Accumulating Points
3 trucks 18 stars total (20%)
5 trucks 46 stars total (40%)
6 trucks 86 stars total (60%)
6 trucks 140 stars total (80%)
6 trucks 194 stars total (100%)
Wooden Silver Chest
Open the Wooden Silver Chest for FREE
Gold Chest
Open the Gold Chest with

5 T-cash
Event Tips
Have patience. Do not rush until you have got plenty of space.
Don't try and get the full platoon over. It's recommended to get some over first in a break in traffic then some more until all are over. Otherwise the platoon will be too long and you will easily crash.
Have as much space as possible. Then you can get more trucks over without breaking the platoon.
Lucky Towns
Mini events involving driving, so only Jungle Quest and Need for Seeds, give players an advantage by using 'Lucky Towns'.
A Lucky Town is a Town that gives you an easier game-play.
In Jungle Quest the pillars are closer together, do not move, you have 2 double point boosters and a free chest of T-cash or construction materials.
In Need for Seeds you get single lanes to cross and also a free chest of T-Cash or construction materials.
Lucky Towns can be found in your own Co-op, on the World Summit of the Regatta or on the World Summit of the Airport, Visit a Lucky Town before and after playing the minigame to get an easy route, two boosters and a free chest.
All other mini-events have no Lucky Towns.
Prize Wheel


Collect stars to spin the prize wheel once and win rewards.
There is no limit on the number of spins you get during the event, but you will need more event points for each subsequent spin of the prize wheel.
There may be a profile picture to win in the prize wheel.
Prize Wheel target amounts may be found in the Comments section at the bottom of the page.
Reward Quantities
The more you spin, the higher the quantities.
Tap the image or link to learn more about the reward.
End of Event
At the end of the event, the event host will appear with a message to purchase your remaining event fuel, and advises the fee amount

.
Event Rewards
The tournament unlocks once you've completed your personal goal.
Go to the tournament icon/tab and compete against 29 same-level players. If you place in the top three by the end of the event, you will receive greater rewards.
Note on prizes for especially low or high level players (tap "Expand to view"):
You may get slightly different prizes depending on what is (still) available in your town and your level. Prizes known to be substituted include gems, boosters, zoo card packs, train/factory/island upgrade coupons, land expansion coupons. The substitute prize is usually either T-cash or building/expansion materials. For example lower level players who haven't restored the airport, yet, will receive building/expansion materials instead of gems. Lower level players who don't have many animals might also get boosters or materials instead of zoo decks. High level players with all zoo animals will receive boosters or upgrade coupons.
If profile pictures are repeated, players who already have the profile picture may receive more T-cash instead.
The amount of coins for the lower ranks depend on the town level and range from 270/220/45 coins for lowest levels to 6 000/5 500/1 000 for levels 100 and higher.
Event History
September 12, 2019
February 13, 2020
August 6, 2020
January 18, 2021
March 11, 2021
April 5, 2021
May 17, 2021 (Pirate Edition)
Previous Event Versions
Previous Temporary Event Goods
These were the goods produced in the factories, for the event.
Recipes
Material
Made in
Fuel
Level 8
Free
5m
0xp

35 coins

0
0
Event Center
Plaid Shirt
Level 14
3
1h 30m
60xp
139 coins
9
3
Tailor Shop
Farmer's
Handbook
Level 18
2
45m
20xp
46 coins
12
3
Paper Factory
Fruit Salad
Level 29
2
1
3
1h
91xp
212 coins
9
3
Snack Factory
Fruit Crate
Level 34
2
1h 15m
78xp
181 coins
9
3
Plastics Factory
At the end of the event, the event host will appear with a message that the temporary event goods are sold from your barn, and advises the fee amount

.