A themed Bubble Gum Festival Event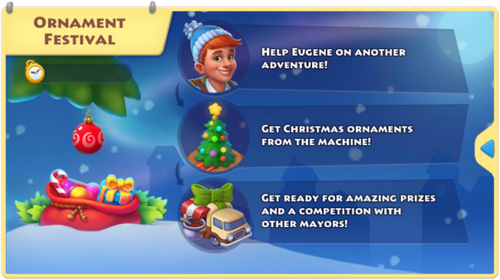 Help Eugene on another adventure
Get Christmas ornaments from the machine
Get ready for amazing prizes and a competition with other mayors
4 days
Event Guide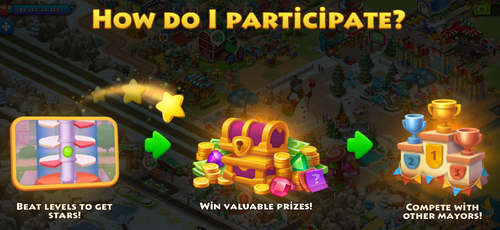 Rotate the tree trunk so that the apple falls into the basket.
You score 3 event points for the first platform the apple passes. Each subsequent platform that your apple passes without touching will earn you 2 more points than the last. Avoid hitting platforms to score more points.
Hit the bonus green section to double the stars you get for passing platforms for a limited time. You can activate the same bonus if you let your apple touch any part of a platform (except for the red section) after it has passed several platforms without touching.
Fall for three platforms or more, will destroy/remove the next platform you land on, whether you touch the white, green or red section.
Lives/Hearts
You need Lives to play. One (1) life refills automatically every 20 minutes, until you have 5.
You can receive more lives from such items as Gift Balloons from friends and the House of Luck.
You are able to continue to play until you lose a life. Alternatively, you can buy lives.
Stars
Collect enough stars (event points) to begin competing against other players and to earn your Personal Goal rewards.
Bonuses

*Touch the green section to earn the double point booster. It gives you double event points for a limited time, but it ends earlier if you've completed the game or touch a red section.

*After paying

5 T-cash to continue to play but then failing again... you are offered to pay 10 T-cash and the invincibility bonus to continue. Continue playing with the invincibility bonus that lets the apple fall safely past 5 platforms.
Win Streak
Beat as many levels in a row as you can to earn more stars x1.5, x2 or x3 times
May not be in every event and/or may only be for a limited test group.
Event Tips
Take your time. There's no need to rush. Watch the bouncing and time your move.
Event Tasks
The type of event tasks included in the Seasonal Adventure event:
Personal Event Goals
Please note: Rewards are being updated during game play. Shown below are possible rewards; keep in mind that prizes can vary among players and town levels.

Points and reward amounts are different for all town levels.
Check the Comments section below for additional information.
There are a few versions of this event - with Win Streak and without Win Streak.
Complete stage 1 to join into the Competition.
No

Points
Reward
Amount
1.
100
Coins
500-5000
2.
500/ 950/ 1750
Slabs
2
3.
350/ 550 /1050
Lives
5
4.
1200/ 1300/ 2450
Coins
1500-11000
5.
1200/ 2250/ 4200
Red Paint
1
6.
1000/ 1850/ 3500
Lives
10
7.
1500/ 2450/ 4550
Coins
2500-17000
8.
2000/ 3350/ 6300
Glass
3-5
9.
1700/ 2800/ 5250
Nail
2
10.
2200/ 3700/ 7000
Coins
3500-23000
11.
2700/ 4700/ 8750
Load Coupon
5
12.
2400/ 4100/ 7700
Hammer, Nail or Paint
3
13.
2900/ 5050/ 9500
Coins
4500-29000
14.
3750/ 6240/ 11600
Load Coupon
7
15.
5100/ 7960/ 15700

Christmas on Wheels
Decoration
OR 100 T-cash (if you have already played
this mini game and won the decoration)
1
Stages repeat T-Cash
100
Possible Total
28100/ 47350/ 89400
Event Competition
The Competition unlocks when you have completed your personal goals.
Go to the Competition tab and compete against 29 players of the same level.
If you place in the top three by the end of the event, you will receive greater rewards.
For town levels above 100 you are grouped with players approx. +/- 10 levels.
You may get slightly different prizes depending on what is (still) available in your town and your level. Prizes known to be substituted include gems, boosters, zoo decks, train/factory/island upgrade coupons, land expansion coupons. The substitute prize is usually either T-cash or building/expansion materials.

For example lower level players who haven't restored the airport, yet, may receive building/expansion materials instead of gems.
Lower level players who don't have many zoo animals might also get boosters or materials instead of zoo decks. Higher level players with all zoo animals may receive boosters/coupons or mining/barn equipment.

If profile pictures are repeated, players who already have the profile picture may receive more T-cash instead. Not relevant for Mayor's Competitions ie Transport Magnate or Mine Time.
The amount of coins for the lower ranks depend on the town level and range from 270/220/45 coins for lowest levels to 6000/5500/1000 for levels 100 and higher.
Event History
December 13, 2021
December 30, 2021
January 6, 2022
Contributions to the Township Wiki
The Township Wiki is maintained and edited by players. We are all volunteers.
This Wiki and Discussions are not affiliated with Playrix. Please be respectful to all parties.
The Township Wiki grows due to the contributions and feedback from players.
Thank you to the players and editors of this wiki.