This page is an archive.

This page contains information about outdated content in Township, but Playrix has not announced its removal. Please do not edit the contents of this page unless there are major changes in the game, but you can still comment on it.
December 2020
Character
Discussion
Hello there! I have some exciting news. I think I've found the answer to one of life's biggest questions!
I just need to conduct a few experiments to test my hypothesis. Can you help me with that?
In exchange for your help, I'll share some of my latest inventions that will help you develop your town.
Professor Verne's experiments is a recurring special Township event, where you complete regular tasks to earn electric charge

.
When you earn a certain amount of charge, you can get rewards.
You have to collect the rewards and perks after you gain enough

to earn that reward or perk. They are not automatically added to your inventory.
Rewards last beyond the event and Perks expire at the conclusion of the event. You do not regain perks when a new event starts; a new event brings new rewards and perks.
Rewards include coins, Township cash, gems, materials, co-op chat stickers, skins, expansion coupons and many others.
From v7.8, some rewards are themed and safes are given with additional rewards if players have 3,350

or more. They can open unlimited safes but they need more

to open them. All rewards in current and past events can be found in the reward tables below.
Gold Pass
To get additional rewards and perks, you can also purchase the Gold Pass

, using real money (typically about $4.99 Prices vary by country i.e $7.45AU).
Earned rewards and perks can be obtained by purchasing the Gold Pass at any point during the event.
You get the best value for your money by purchasing the Gold Pass at the beginning of the event because you will have the Perks for the longest period of time.
Gold Pass Gifts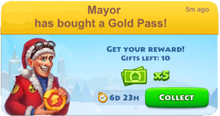 A notification is posted in your co-op chat when you purchase a Gold Pass which allows 11 co-op members (not you) to claim a T-cash gift. This notification will remain in your co-op chat until all of the gifts are claimed, for a maximum of 7 days. It will move to the bottom of the co-op chat until it expires or all the gifts have been claimed.
If a co-op member purchases a Gold Pass you will have the opportunity to claim one of the 11 T-cash gifts in your co-op chat.
Tasks
You complete two kinds of tasks to earn

. They are daily tasks and ongoing tasks.
Daily Tasks
There are 3 daily tasks each day. They give

10 and they expire after 24 hours. The daily tasks will be replaced with new daily tasks, even if they are not completed.
Examples are:
Ongoing Tasks
Ongoing tasks are released weekly. These are more complicated tasks which expire when the event ends. They give more points when they are released if the event is nearly ending. Press on an upcoming task to see when it unlocks.

Examples are:

25-75 Tasks:
Harvest a certain number of Crops (increasing as your level increases from 600 +)
Earn a certain number of Coins (amount depends on your level)
Use 40+ Units of Cream to make other items
Use 40+ Units of Butter to make other items
Use 40+ Units of Cheese to make other items
Use 40+ Units of Milk to make other items
Feed 60+ Animals
Collect 30+ Bricks from any source
Complete 12-25 Zoo Orders (amount depends on your level)
Feed 60 Animals
Send 15 ships using Ingots
Play 15-35 times at the House of Luck
Spend 3000 coins at the market
Use 30 Units of Syrup to make other items
Share 50 goods at the co-op
Excavate 300 units of ore in the Mine
Upgrade the Barn x1
Send 25 gifts to friends

100-125 Tasks:
Send any combination of 75 Trains, Full Airplanes, Ships or Helicopters
Smelt 35 Ingots
Upgrade the Barn 2-4 times
Help other players, in the Zoo, Airport and Train 100 Times
Activate 10 Boosters at the lab
Harvest 900 crops
Collect 50+ Glass from any source
Collect 50+ Red Paint from any source
Open 15 Hot air balloon chests
Perks
All perks expire at the conclusion of an event. Perks vary by event. Current (with a
icon) and previous (with a

icon) perks for events are listed in the event reward tables.
Perk
Image
Description
Range
Spacious Barn
Increases Barn storage space ( % varies )
See additional notes below the table.
+10% to +20%
Speedy Construction
Reduce construction time.
( % varies )
-30% to -60%
Generous Customer
Gain more coins from customer orders.
( % varies )
+10% to +40%
Airbonus
Get bonus chests (may contain coins, ingots, tools, building materials, etc.) for filling all crates in two cargo holds.
Conveyor Belt Master
Change the order of your production slots at your factories.
Materials request in the co-op chat
Possibility to make daily requests for materials and tools from co-op members.
Range: 1-2 depend on material.
Generous Market
Market and Dealer have more goods for sale.
Rich Fields
Reduce crop growing times.
(% varies)
-10% to -30%
Spacious Railcars
Train cars bring twice as many materials.
Starts with 1 car per train and increases
by 1 with each level.
1 to 3
Double Luck
Receive twice as many clovers.
Clover storage increases from 50 to 100.
Dear Dairy
Reduces Dairy Factory times.
(% varies)
-15% to -50%
Flash Flight
Reduces plane return time.
(% varies)
-20% to -60%
Helping Hands
Fill help requests by paying 1 T-cash.
Two Minutes
Complete anything early for free when there is only two minutes left (later for wheat and bread) for a product or crop to be finished.
Helicopter Help
Ask for help with 1 to 3 orders at the helicopter pad. Your friends can choose which to help in case the order requires 2 or more goods. You can immediately request help for a new one when the older one is fully helped, sent or dumped.
+1 to +3
Farm Bonus
Farms (i.e. animals and mushroom farm) produce goods faster.
-10% to -30%
Notes
Regarding Spacious Barn

- If you are over the capacity of your barn at the end of the event, your inventory remains in the barn. You won't be able to add any further items to your barn until you've used up or sold off enough inventory to have your barn below your normal capacity level. One option is to turn on the Generous Customer helicopter booster and complete helicopter orders.
Skins
Each professor's experiment follows a sequence of giving a helicopter, train or plane skin for gold pass players, and their station skins for all players. Skins change the appearance of your transport buildings and vehicles. More information is available on the Skins page.
Rewards and Perks for Each Event
Dec 2020 Rewards
To get all the rewards before it ends, you need to get 80

daily. Remember this means you need to complete pretty much every task (daily and weekly) to finish.
However, if the double point offer called High Voltage is introduced you might not choose to complete tasks until that day - then you won't have to do nearly as many tasks. Please note that the High Voltage offer may only be offered to a limited number of players.
Stage
Energy Required
Reward
(All Players)

Gold Pass Reward

1
0
500 - 12,000
2
25
x3
Township Cash
3
50

Coupon for Loading Goods
4
100
x3
Shovel
x2
Dealer Coupon
5
150

Regular Deck
(10 Zoo Cards)
6
200
1,000 to 21,000
x5
7
275
x3
8
350

Dealer Coupon

Speedy Construction +30%
9
425
x3

Coupon for Loading Goods
10
500

Airbonus
11
600
x5

Generous Customer +20%
12
700

Factory Upgrade Coupon
13
800

Dealer Coupon

Spacious Barn +15%
14
900
x3

Speedy Construction +60%
15
1000
2,000 to 37,000

Coupon for Loading Goods
16
1100
x3
17
1200
x3

Generous Customer +30%
18
1300
x2
Coupon for Loading Goods
19
1400
x3

Super Harvest x2
20
1500
x3
21
1600
x5

Coupon for Barn Upgrade
22
1700

Dealer Coupon
x5
23
1800

(approximately x28,000)
24
1900
x3

Dealer Coupon x2
25
2000
x3

Coupon for Loading Goods
26
2100

Rare Deck (20 cards)
x5
27
2200
x15
28
2300

Coupon for Loading Goods x2
x5
29
2400
x3

Coupon for Loading Goods x5
30
2500
x3
x20
31
2600
x3

Santa's Sleigh Upgrade
32
2700
x3
33
2850
x2
x3
34
3000
x20
Barn upgrade coupon
35
3200
Town Expansion Coupon
x75
36+
3350
(+50 per safe)
-

Safe
Past Versions
To see professor's experiment event information in the past, see these pages.