Contributions to the Township Wiki
The Township Wiki is maintained and edited by players. We are all volunteers.
This Wiki and Discussions are not affiliated with Playrix. Please be respectful to all parties.
The Township Wiki grows due to the contributions and feedback from players.
Thank you to the players and editors of this wiki.
Race Of Champions Overview
Expand this table if you would like to see the event guide images
What is Race of Champions?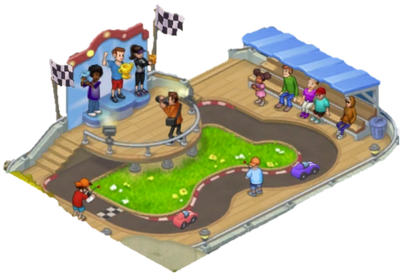 Race of Champions, also known as "RoC", is a Co-op competition (regatta) event where co-op members work together to complete tasks and race against other co-op teams. The race can be accessed via the race track area located near the Co-op and Regatta buildings.
How Often Do Races Occur?
RoC takes place every 5 weeks after the Regatta Season ends.
Races begin on Tuesday @ 8 AM UTC, the same as Regatta.
The race lasts for 6 days and end the following Monday @ 8 AM UTC.
You are given 24 hours on Monday to view results, collect rewards and prepare for the next Regatta Season.
How Do I Participate or Opt Out?
To join the race, be a member of a co-op AND ensure that "take part in co-op competitions" is toggled on in Additional Settings before the race starts.
To opt out of the race you must toggle off the "take part in co-op competitions" box in Additional Settings. Don't forget to toggle it back on if you want to race in the next Regatta.
If all members in the co-op opt out of the race, then your co-op will not participate in the event and your Regatta league level will not be affected.
Leaving a Co-op After the Race Starts
If players leave during a race while their status was 'racing' your co-op will not lose any points earned; however, your co-op will be left with fewer players to complete team tasks and the player who left will not be able to continue to compete if they return. They will also not be able to compete in any other team's race.
Any end of event rewards are forfeited for players who leave or are kicked out of the co-op.
When Do We Enter the Race?
When an action matches a task on the board a little progress bar appears temporarily on the upper right side of the screen.
Your co-op will be matched up with other co-op teams after completing the first event task. All teams in your group will consist of the same number of racers (players who are opted in) and not necessarily the same number of co-op members.
Tasks and Points
Your co-op works together as a team to complete tasks and earn points.

Completed tasks increase your team's racing score and determine your final place in the race (1st through to 8th).
Complete as many tasks as you can before the event ends to maximize your points.

There are 5 tasks on the racing board with varying point values. When a task is completed it refreshes and is replaced with a new task after 1 minute.

You cannot pay T-cash to speed up a task refresh interval.
Tasks cannot be dumped from the board.

Tasks are completed concurrently by all co-op racing members. You do not have to claim or start a task.

If your gameplay activity meets a task's criteria, then it counts toward completing that task, i.e. sending trains counts toward a train task, or harvesting crops counts toward an associated task.

There are both regular tasks and timed tasks. Tasks are similar to regular Regatta tasks excluding special seasonal tasks like mystery tasks and smelting. The difficulty level of tasks scales based on the number of racers.
Task Types
| | |
| --- | --- |
| | Regular tasks provide points for you and your team when completed and do not expire. Individual points are allocated proportionally based on the percentage of the task you complete. If you contribute 25% of the progress in completing a 100 task, then you get 25 added to your individual score. |
| | Gift tasks with timers provide points just like regular tasks and also provide additional rewards if completed before the timer expires. The countdown timer starts as soon as the task displays on the board; timers vary in duration (9-16 hours reported so far). Each participating co-op member receives a gift even if they do not contribute toward the task. If the timer expires, then the task converts to a regular task and no reward is earned. You can earn a maximum of 7 gifts (confirm) each event, and these tasks stop appearing on the task board when the maximum is reached. |
Rewards
End of Race Rewards
Each racing member of the winning co-op team receives 100

, 75

for each of the second place team racers and, 50

for 3rd place. Racers on the 4th through 8th place teams receive other rewards, which may vary. Initially, there were no individual rewards based on how many points a player earned. However now, occasional race of champions events provide additional rewards to the top 3 players of the winning team also. Most end of race rewards are based on co-op team performance.
Position
Name
Reward
1st
-
100
2nd
75
3rd
50
4th
Renowned Racer
3 to 6 materials/mine tools/ingots
5th
6th
Future Champion
9,000 - 30,000
7th
8th
Gift Task Rewards
As far as timed gift tasks are concerned during the event, a team can earn a maximum of 7 gifts by completing those tasks.
Insights and Commentary on Tentative Rules
This is just speculation, but in order to be able to come up with a strategy, this are some of the possible rules that are rumored that will apply to the Race of Champions:
You begin the race with 5 tasks
The tasks have no time limits, you can do them up until the end of the race on Monday. Occasionally you will see a timed task with 🎁 icon. The countdown for such tasks starts as soon as they appear on board. Once the time is up, 🎁 icon will disappear and the task will turn into a normal one. If you complete the 🎁 task before the timer runs out, ALL racers will get a gift.
The co-op can complete 7 🎁 tasks in total and get 7 rewards for it. Once you completed 7 gift tasks, they stop appearing on the board. If you don't manage to complete a gift task within its time limits, another one will appear some time after until you collect all 7.
The co-op starts competing against other co-ops when the first task is completed
Tasks can be completed by all the co-op members and each one can contribute, i.e. if the task requires the harvest of 600 wheat, one player can harvest 200 and another player can harvest 400 to complete the task
Each co-op competes against 7 other coops
At the end of the Race on Monday top 3 co-ops get T-cash rewards:

100 T-cash for the winner
75 T-cash for the second
50 T-cash for the third

Rewards for 4th-8th positions can be different (mine tools, expansion or barn tools, ingots etc.). All competition rewards are for each racer.
Tasks cannot be dumped but they can be ignored if you do not wish to complete them. This will leave them on the board, limiting the number of replacement tasks.
During beta testing, after tasks were completed, the new ones refreshed in 1 minutes, and you couldn't refresh them for T-cash.
You do not need to select a task to participate; anything you do will contribute to the task's completion. If there is a task for mining 500 ore and you mine 10 ore, it will be counted.
The difficulty of the tasks depends on the amount of members in the co-op, e.g.: in a one-person co-op you may get as a task to harvest 400 wheat, but in a coop with 30 members you might get a task to harvest 20,000 wheat.
Gameplay Footage
History
Race of Champions was a new Township Co-op Competition (regatta) event introduced in v7.6 and first started on 30 June 2020 where co-op members work together to complete tasks and race against other co-op teams.