Regatta SeasonsEdit
Regatta Seasons last 4 weeks .
Each Regatta Season features a new theme, 3 seasonal tasks, and themed decorations at the Yacht Club.
2019 Regatta SeasonEdit
No.
Theme
Start Date
Finish Date
Regatta Seasonal Tasks
25
Land of Snow and Ice 2
December 10
January 7
24
Enchanting Oasis 2
November 5
December 3
23
Ancient Legends 2
October 1
October 29
22
Treasure of the Nile 2
August 27
Sept. 23
21
Music Voyage 2
July 23
August 18
20
Art Voyage 2
June 16
July 15
19
Wild West 2
May 14
June 10
18
Age of Knights 2
April 9
May 6
17
Treasure Hunt 2
Mar. 5
Apr. 1
16
Search for Atlantis
Jan. 29
Feb. 25
2018 Regatta SeasonEdit
No.
Theme
Start Date
Finish Date
Regatta Seasonal Tasks
15
Land of snow and ice
Dec. 25
Jan. 21
14
Jungle Regatta
Nov. 20
Dec. 17
13
Space Race
Oct. 16
Nov. 12
12
Paranormal Season
Sept. 11
Oct. 8
11
Prehistoric World
Aug. 7
Sept. 3
10
Beach Adventures
July 3
July 30
9
Enchanting Oasis
May 28
June 25
8
Ancient Legends
Apr.24
May 21
7
Treasure of the Nile
Mar.20
Apr.16
6
The World of Cinema
Feb.13
Mar.12
5
Music Voyage
Jan.9
Feb.5
2017 Regatta SeasonEdit
No.
Theme
Start Date
Finish Date
Regatta Seasonal Tasks
4
Art Voyage
Dec.5
Jan.1
(2018)
3
Wild West
Oct.31
Nov.27
2
Age of Knights
Sept.26
Oct.23
1
Treasure Hunt
Aug.22
July 18
​​​​​​
Regatta Seasonal TasksEdit
No.
Preview
Task
Description
1
Smelt Ingots
Smelt # amount of any ingots.
2
Send Ships
Send # amount of boats to Frutus Isle.
3
Send Ships
Send # amount of boats to Olivia Isle.
4
Send Ships
Send # amount of boats to Fishermen's Isle.
5
Send Ships
Send # amount of boats to Tropica Isle.
6
Fill Plane Crates
Fill # amount of plane crates.
7
Fill Train Carts
Fill # amount of train carts.
8
Mystery Task
Random 135 Task with less amount needed than regular 135 task.
Task is only revealed after picking it.
9
Mine Clay
Mine # amount of clay
10
Use Mine Tools
Use # amount of mining tools.
11
Combo Task
A combination of 3 random tasks
with less amounts than regular 135 tasks.
12
Zoo Popularity
Earn # amount of popularity points by selling items in Zoo Buildings.
(Deprecated as of Version 6.3.5 due to the new zoo mechanics)
13
Earn Coins
Earn # amount of coins.
14
Simplified Task
Any task with less amount than a regular task.
Unlike mystery task this task is known beforehand.
15
Relay Task
The task stays on the board after completion and increases value (130-135-140-145) with each player finishing the task.
Tutorials on Regatta Seasons Edit
Have a look at the REGATTA TUTORIAL(s) to stay on track with Regatta Seasons:
Regatta Season starts every 5 weeks;
Seasonal tasks are flagged;
Complete them and earn more tokens than usual;
Spend tokens at any time;
Get thematic prizes at the Yacht Club at the end of the season until the interseasonal regatta ends.
The prizes' amount depends on the tokens' amount and the co-op's position.
Note:- Zoo Popularity Tasks, have been removed from the Game, on Jan 15 2019
INTER-SEASONAL RegattaEdit
Interseasonal Regattas or regular Regattas take place once a Regatta Season finishes. They last for 1 week or 6 days, and you can participate in them to get chests and win rewards. You have time until the next season starts to spend your tokens on the last season's offers at the Yacht Club. Interseasonal Regatta results don't count towards your Leaderboard position.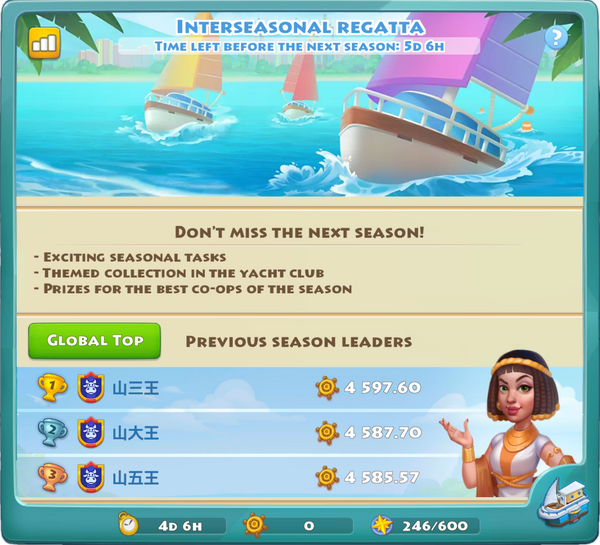 You can press the yellow graph button in the top left to view your co-ops results of the last season.
The bottom right button opens the Yacht Club to spend Tokens before the new season begins.
The Global Top button shows the highest scoring co-ops that season, and where your co-op placed.
Community content is available under
CC-BY-SA
unless otherwise noted.