Contributions to the Township Wiki
The Township Wiki is maintained and edited by players. We are all volunteers.
This Wiki and its Discussion Board are not affiliated with Playrix. Please be respectful to all parties.
The Township Wiki grows due to the contributions and feedback from players.
Thank you to the players and editors of this wiki.
This page may contain information from a previous version of the event, i.e. the rewards.


😊 Thank you to the players who are updating this page while the event is on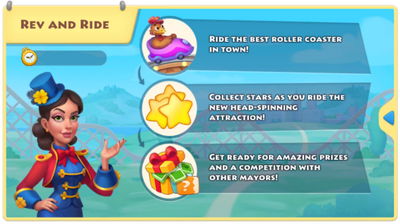 Ride the best roller coaster in town!
Collect stars as you ride the new head-spinning attraction!
Get ready for amazing prizes and a competition with other mayors!
The special offer, Points Aplenty, may occur during this event for 2 days.
This offer gives 3x the amount of stars to earn.
It's most likely to appear twice, firstly on the second day and then on the 2nd last day.
Event Guide
You need Lives to play. One (1) Life refills automatically every 20 minutes. You are able to continue to play until you lose a life.
Tap and drag up and down to even out the track and avoid falling off or colliding with obstacles.
If you fall, you have to spend 5 T-cash to continue your ride.
Collect special bonuses on the track.
| Bonus | Description |
| --- | --- |
| | Attracts stars and bonuses for several seconds |
| | Increases the number of stars you collect for several seconds |
| | Contains surprise items |
Event Tips
Swipe up to raise the track for a jump, above the tree tops or obstacles.
Swipe down to lower the track for a fall or below hot air balloons.
You can keep swiping to collect stars but you need to avoid crashing or falling off the track.
Diagonal or sloping rails may confuse you.
Crashing will cause you to lose the round and will result in less stars earned. You can use 5 T-cash to continue. This increases each subsequent go i.e 10 T-cash then 15 T-cash.
You may be lucky to get a Roller Coaster task in the regatta.
You can practice it on a similar game called Surfingers where you can get on App Store or Play Store.
If you are right handed, try swipe the screen on the far right of the screen.
Don't bother trying for the reward chest unless it's in the way that you will get naturally. (I had 4 chests so far and I got 1 silver ingot, 1 topaz, 4000 coins and 1 brick. I fall each time I got the chest and have to pay T-Cash to continue.)
Try to get the magnet if you can. This is because you can get all the stars while only focusing on just moving up or down. You can also collect items behind the cart, as long as they are still on screen.
Have any other tips? Please add or leave a comment.
Try focusing on the ride and stars will get collected on the way.
A late start helps, you can start playing two-three days later after the event starts which will give lesser competitors.
Rewards
Earn stars to get rewards and get the grand prize
After winning decoration you can keep earning stars to win the next grand prize- 200-Tcash
Check the Comments section below for additional information.
Note: Only for a test group
Please note: Rewards are being updated during game play. Shown below are possible rewards; keep in mind that prizes can vary among players and town levels.

Stage №

Points
Reward
Quantity
Item Name
1.
50
500 to 5,000
Coins
2.
150
x2
Glass, Slabs or Bricks
3.
80
x5
Lives
4.
170
1,500 to 11,000
Coins
5.
300
x2
Hammer, Nail or Paint
6.
220
x10
Lives
7.
300
2,500 to 17,000
Coins
8.
380
X3
Glass, Slabs or Bricks
9.
300
x2
Hammer, Nail or Paint
10.
900
3,500 to 23,000
Coins
11.
1000
x5
Load Coupon
12.
750
x3
Hammer, Nail or Paint
13.
1200
4,500 to 29,000
Coins
14.
1350
x7
Load Coupon
15.
2000
x1
Decoration
x200
T-Cash
Total
9,150
Prize Wheel

Collect stars to spin the prize wheel once and win rewards.
There is no limit on the number of spins you get during the event, but you will need more event points for each subsequent spin of the prize wheel.
There may be a profile picture to win in the prize wheel.
Prize Wheel target amounts may be found in the Comments section at the bottom of the page.
Reward Quantities
The more you spin, the higher the quantities.
Tap the image or link to learn more about the reward.
End of Event
At the end of the event, the event host will appear with a message to purchase your remaining event fuel, and advises the fee amount

.
Note: Only for a test group
Event Tournament
The tournament unlocks once you've completed your personal goal.
Go to the tournament icon/tab and compete against 29 same-level players. If you place in the top three by the end of the event, you will receive greater rewards.
Note on prizes for especially low or high level players (tap "Expand to view"):
You may get slightly different prizes depending on what is (still) available in your town and your level. Prizes known to be substituted include gems, boosters, zoo card packs, train/factory/island upgrade coupons, land expansion coupons. The substitute prize is usually either T-cash or building/expansion materials. For example lower level players who haven't restored the airport, yet, will receive building/expansion materials instead of gems. Lower level players who don't have many animals might also get boosters or materials instead of zoo decks. High level players with all zoo animals will receive boosters or upgrade coupons.
If profile pictures are repeated, players who already have the profile picture may receive more T-cash instead.
The amount of coins for the lower ranks depend on the town level and range from 270/220/45 coins for lowest levels to 6 000/5 500/1 000 for levels 100 and higher.
Event History
October 8, 2020
November 23, 2020
February 22, 2021
May 26, 2021
June 19, 2021
July 15, 2021 (Movie Edition)
August 16, 2021
September 24, 2021 (Western Edition)
Previous Event Versions
Temporary Event Goods
Goods
Level
Material
Made in
Ferris Wheel Cookie
8
3
3
1
40m
64 coins
27xp
12
4
Bakery
Teddy Bear
12
1
3
1h30m

80 coins

34xp

12
4
Tailor Shop
Caramel Popcorn
24
1
2
1h
125 coins
54xp
9
3
Pastry Factory
Rubber Duck Target
34
1
1
1h30m
135

coins

58xp

9
3
Plastics Factory
At the end of the event, the event host will appear with a message that the temporary event goods are sold from your barn, and advises the fee amount

.
Personal Event Goals
Rewards may vary depending on your town level, and town/zoo development progress.
Goal
Amount
Rewards
Preview
1st Goal
160 stars
• 3 T-cash
2nd Goal
450 stars
• 2 Bricks
• Rare Deck (20 Cards)
3rd Goal
1000 stars
• 2 Emeralds
• Favorable Voyage
4th Goal
1800 stars
• 3 Nail
• Epic Deck (40 Cards)
5th Goal
2700 stars
• Waterfall Ride Decoration
• 12 T-cash
• Profile Picture
Profile Picture
6th Goal+
1400 stars
Each subsequent goal
increases by 200 stars.
Treasure Chest
• 3 to 6 Tcash,
• 2, 3, 6 Tools,
• 2 Gold Ingots, etc.