Contributions to the Township Wiki
The Township Wiki is maintained and edited by players. We are all volunteers.
This Wiki and Discussions are not affiliated with Playrix. Please be respectful to all parties.
The Township Wiki grows due to the contributions and feedback from players.
Thank you to the players and editors of this wiki.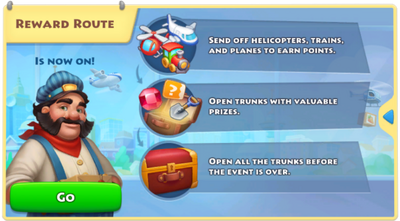 Send off helicopters, trains and planes to earn points.
Open trunks with valuable prizes.
Open all the trunks before the event is over.
Event Introduction
Event Rewards
This is an example of the rewards.
If you have completed your animals zoo cards, you may receive construction materials instead ie. x3 nails.
Your rewards may be different. Let us know if they are, thank you.
Event History
February 2021
Is something missing? Noticed a mistake? You are welcome to comment and edit pages.
You can visit the Community Portal to learn how to contribute. Your help is appreciated!