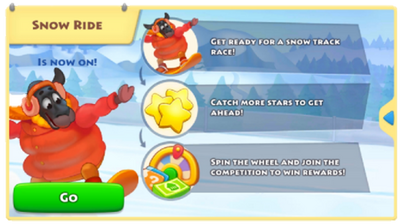 Get ready for a snow track race!
Catch more stars to get ahead!
Spin the wheel and join the competition to win rewards!
Event Guide
You collect stars to be able to spin the Prize Wheel, and you travel (without falling) a distance indicated by markers to compete against other players. If you fall, you can pay T-cash to get up again and not lose your accumulated travelled distance.
You can travel a maximum distance of 200 each try. If you make it to the end, you get the full amount of stars that you've gathered during the run, and 200 units of distance are added to your current travelled distance.
Event score resets if you fall. Starts from zero again!
Each time you fall on the track or quit before you reach the finish line, you lose a life. Lives refill automatically with time.
You can accumulate as many Lives/Snow Flakes as you want by adding to the 5 from daily login bonuses, balloons sent to your town by friends, or rewards from the House of Luck.
Playing the Mini Game
You need 5 snow to play one round. 1 snow generates every 5 minutes. The maximum amount of snow you can have is 25, so it takes a total of 125 minutes (2 hours and 5 minutes) for your snow to be refilled completely.
You can receive more snow from such items as gift balloons from friends and the House of Luck, taking your total above 25.
OR

You need to play. One (1) life refills automatically every 20 minutes. You are able to continue to play until you lose a life. Alternatively, you can buy lives.
Collect Special Bonuses on the Course!
| Bonus | Description |
| --- | --- |
| | Attracts stars and bonuses for several seconds |
| | Time-limited protection from a collision with an obstacle |
| | Doubles the number of stars you collect for several seconds |
Prize Wheel

Collect stars to spin the prize wheel once and win rewards.
There is no limit on the number of spins you get during the event, but you will need more event points for each subsequent spin of the prize wheel.
There may be a profile picture to win in the prize wheel.
Prize Wheel target amounts may be found in the Comments section at the bottom of the page.
Reward Quantities
The more you spin, the higher the quantities.
Tap the image or link to learn more about the reward.
End of Event
At the end of the event, the event host will appear with a message to purchase your remaining event fuel, and advises the fee amount

.
Event Tournament
Become the best snow course racer! Collect as many stars as you can before the tournament ends to get top prizes. The tournament unlocks once you've completed your first personal goal. Go to the Competition tab and compete against 29 real players. If you place in the top three by the end of the event, you will receive special rewards. Go as far as you can without falling to set a record, this distance is your competition score.
Rewards vary based on factors such as your town level, whether you have collected all the zoo cards, or already have a profile picture.
Event History
February 9, 2018
June 15, 2018
November 26, 2018
July 18, 2019
December 5, 2019
July 9, 2020
February 12, 2021
June 11, 2021
Previous Event Versions
If you quit the race with the red cross in the upper right corner, you get only 30% of the stars that you had collected up to that point, but the full distance you've travelled is added to your current travelled distance and it does not reset to zero for the next try.
If you fall and choose to quit the race, you get only 30% of the stars that you had collected up to that point, only the distance you had travelled up to the point where you fell is added to your current travelled distance for the mayor's competition, and your current travelled distance will reset to zero in your next try.
Previous Temporary Event Goods
A

next to an item name indicates that it is not available in the current event. These items were used in the past and may be used again in the future.
Recipes
Material
Made in
Snow
(x1)
Level 8
-
5m
-
-
-
-
Racing Track
Jump Rope
Level 10
1
2
30m
47xp
109 coins
9
2
Plastics Factory

Scarf
Level 10
2

30m

16xp

37 coins

12
3
Textile Factory

Earmuffs
Level 10
1
2
1h15m
54xp
127 coins
9
3
Tailor Shop
Sports Drink
Level 17
1
2
30m
25xp
59 coins
12
4
Sugar Factory
Pennant
Level 18
2
45m
15xp
36 coins
12
3
Paper Factory
Sports Jacket
Level 31
2
1h
9xp
22 coins
12
5
Tailor Shop
At the end of the event, the event host will appear with a message that the temporary event goods are sold from your barn, and advises the fee amount

.