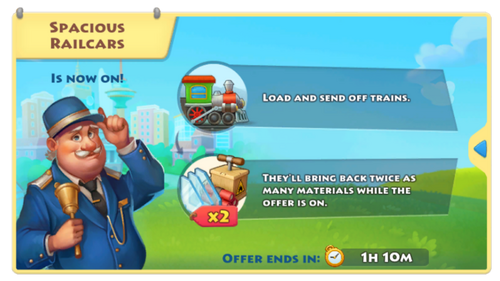 Load and send off trains.
They'll bring back twice as many materials while the offer is on.
Spacious Railcars is a special offer that may last for 1-2 days during the Transport Magnate Event.
Construction materials brought by your trains are doubled during this special offer.
These items appear in your game while this special offer is on:
A green "x2" word appears when you collect each materials, which reminds you it is doubled.
at the train station to show that the materials are doubled.
event icon on the right-hand side of your screen.
Event Tips
View the information on the train page
Unlock all 3 train tracks and trains
Send all trains 2-3 hours before this special offer or don't collect the materials when they arrive, so that you can double the materials when the special offer starts
Upgrade trains in the Academy of Industry to reduce the time the train takes to return