Surprise for Santa
December 2020
This page is an archive.

This page contains information about outdated content in Township, but Playrix has not announced its removal. Please do not edit the contents of this page unless there are major changes in the game, but you can still comment on it.
Renovate Santa's Workshop
Show us what you've got in the Snow Ride
Save Christmas and get a unique location for your collection
The Charmed Tickets offer is expected to start within the event.
Introduction
There are so many good boys and girls this year. It looks like we need to open another production line, but we only have that abandoned workshop.

That old workshop in the north wing? Oh, we can't work in there! It's a complete mess, and I bet the conveyor belt is broken.
Eureka! I hear there's a design studio that specializes in fixing up dusty, abandoned buildings. They might get our workshop up and running again.
Event Guide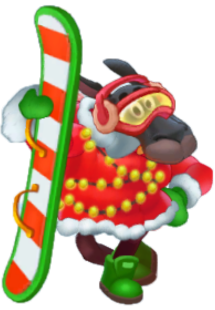 Renovate Santa's workshop! Choose from different interior design options to create your own unique design.
To renovate the room, you'll need special tickets that you can get on the snowboarding track. For information on a similar event see the Snow Ride Event.
Jump over or go around obstacles to avoid bumping into them.
Collect special bonuses on the track!
Use snow on the track. The timer shows how long you have to wait until more snow falls out.
Finish most of the renovations in the room before the event is over to keep it for good. That way you'll be able to change the design of your room anytime you want.
Renovate the room to win rewards! You'll get a special prize if you finish renovations before the event ends.
At the end of the event, the event host will appear with a message that the temporary event goods are sold from your barn, and advises the fee amount

.
| Bonus | Description |
| --- | --- |
| | Attracts stars and bonuses for several seconds |
| | Time-limited protection from a collision with an obstacle |
| | Doubles the number of stars you collect for several seconds |
Santa's Renovations
| No. | Renovation Item | Tickets Required | Image | Conversation |
| --- | --- | --- | --- | --- |
| 1 | Fire for the Fireplace | Free | | That's more like it! Now you're all warm and snuggly, kitty, and it's much nice to work in here. He's purring! It's like he's saying we should keep working. |
| 2 | Window | 40 | | Good thing we have a fireplace! Also, I have great news! The mayor's going to help us restore the workshop so all the kids can get their gifts on time. |
| 3 | Wash the Cat | 50 | | Whoa! Turns out the cat's fur is gray and white, not brown. Well, in that case, little buddy, I think we should call you snowball. |
| 4 | Junk | 80 | | I feel like the room's gotten bigger. I bet we could fit eight thousand toys in here. Or even nine! |
| 5 | New Floor | 100 | | I haven't been in here for almost twenty years, but I still remember the creaking of these floorboards. Good thing we're replacing them. |
| 6 | Area for Train Tracks | 150 | | We've taken the first steps towards fixing the conveyor belt. Soon our little yuletide express will be delivering the Christmas spirit. |
| 7 | Wallpaper | 170 | | Every workshop needs good walls. Especially when they're as pretty these. |
| 8 | Steps | 300 | | My grandpa used to jump over that cracked step all the time. We should've replaced the steps a long time ago. |
| 9 | Train Track and Cart | 400 | | I know who's responsible for our Christmas miracle. The wonderful workers who build the cart and track! Now the kids will get their presents for sure. |
| 10 | Holiday Tunnel | 500 | | Look, kitty, Christmas is at the end of that railway runnel. That's where all the magic begins. |
| 11 | Curtains | 450 | | Curtains add a stylish accent to any room. They're also great at creating a cozy atmosphere and regulating the amount of light that comes in. |
| 12 | Santa's Chair | 660 | | The chair isn't too soft, it's perfect! You can work in it and enjoy some milk and cookies while you're at it. We should turn this place into an office. |
| 13 | Rug by the Fireplace | 610 | | It's so nice to sit by the fire after a long, hard day... What's that, kitty? You like the rug? I knew you would. It's just as furry as you. |
| 14 | Ottoman for the Cat | 500 | | Now that was a loud purr! The cat has really come in handy - we can use him to gauge how cozy the workshop is getting! |
| 15 | Santa's Suit | 520 | | I always keep my suit and boots nearby. It's the holiday season, after all. Who knows when I might need them? |
| 16 | Yuletide Express | 630 | | I dreamed of getting a train set when I was a kid, but all I got was a board game... I still love toy trains though, and the cat seems to be enjoying them too. |
| 17 | Fireplace | 770 | | The fireplace is the heart of any home. It's where you hang your Christmas stockings, and it's the first thing I see when I bring kids their presents. |
| 18 | Wall and Floor Finishing | 820 | | A few more strokes will have these walls looking better than ever. And we can put all kinds of odds and ends on the shelf. |
| 19 | Side Table for Letters | 410 | | A side table for letters is an important thing to have. We have to make sure not to lose any of them, or else someone might not get their present! |
| 20 | Lamp | 480 | | The table looks much better with a lamp. It'll be easy to read the letters from all the boys and girls, and it makes the workshop cozier. |
| 21 | Letters from Kids | 430 | | The children have sent us a ton of letters. We should hurry up with the renovations so we have enough time to start making all those presents. |
| 22 | Shelf Above Fireplace | 1100 | | This is the perfect place to put little mementos and presents that will warm your heart as much as the fireplace is warming the cat. |
| 23 | Conveyor for Presents | 990 | | The conveyor belt is old, but the magic of Christmas keeps it running! Good thing the workers the Mayor hired have magic powers. They were able to fix it. |
| 24 | Little Mementos | 600 | | Sometimes the smallest things can get you into the holiday spirit. A snow globe, a cute figurine, or even a pretty candle can work wonders. |
| 25 | Presents | 720 | | Being surrounded by so many presents is amazing! They create a great work environment and remind me that Christmas is almost here! |
| 26 | Holiday Decorations | 740 | | I love Christmas decorations! Don't worry, kitty, we won't be getting any tinsel. |
| 27 | Record Player | 670 | | Jingle bells, jingle bells! Jingle all the way... I love Christmas songs! You can't have the holidays without them. |
| 28 | Painting | 600 | | Little Vinny Van Gogh sent me that painting as a thank you for bringing him a paint set. He was such a talented tyke. I heard he kept painting... |
| 29 | Tree for Santa | 1400 | | We have a tree now, so Christmas is saved! Well, almost. We still need one last touch to make all the kids happy! |
| 30 | Sack of Toys | 1500 | | I heard that Santa's sack of toys is magical. All those toys for the good boys and girls fit inside, and it doesn't weigh an ounce! |
Rewards
Reward 1
awarded at 6 renovations completed
Reward 2
awarded at 18 renovations completed
Reward 3
awarded at 30 renovations completed
Profile Picture
Decorations
Legend:
Level
Town Level
number of Zoo Animals
Gold League
Silver League
Steel League
Copper League
Wooden League
Obtained
🎁 Prize during an event
🏆 were event personal goal prizes at least once
❤️ could be gifted to friends during a Valentine or Friendship Day event
🛍 were Event Sales at least once
Type
Xp
📐size
★/⭐️ are animated
💧 must be placed on water
⬆/⬆️ are upgradable
♻️ can be changed to other appearances
🚧 are fences or fence-like decorations
🚏 are Town signs
🚫 can't be placed in the zoo
🎄 changes during the winter/Christmas updates
🔼 price increased
🔽 price reduced
Prices are usually the most recent ones.
Press the [Expand] button to expand view the Legend information.
These are the decorations available in store:
Event History
To see the information for the renovations in the past, see these pages:
Hammer Time Event/1: April 23, 2020 (Mayor's Office) (Road Plotting)
Hammer Time Event/2: July 24, 2020 (Mayor's Perfect Bungalow) (Road Plotting)
Hammer Time Event/3: October 22, 2020 (Emma's Castle) (Match-2)
Surprise for Santa Event: December 17, 2020 (Santa's Workshop) (Snow Ride)