Contributions to the Township Wiki

The Township Wiki is maintained and edited by players. We are all volunteers. This Wiki and its Discussion Board are not affiliated with Playrix. Please be respectful to all parties. The Township Wiki grows due to the contributions and feedback from players. Thank you to the players and editors of this wiki.
This page may contain information from a previous version of the event, i.e. the rewards.


😊 Thank you to the players who are updating this page while the event is on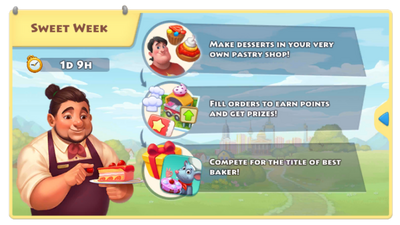 Make Desserts in your very own Pastry Shop
Fill orders to earn points and get prizes
Compete for the title of the Sweet Tooth Idol
Event Guide
Expand this table if you would like to see the event guide images
When you play this event, a short tutorial may take you through the steps and layout of the game screens.
Temporary Event Goods
Temporary event goods are available to be made in your factories to fill orders at Pamela's Supply Factory and the requests at the helicopter.
At the end of the event, the event host will appear with a message that the temporary event goods are sold from your barn, and advises the fee amount

.
Elements
The Elements used in the Sweet Week Event are:-
Image
Name
Maximum Number
(Default+Upgraded)
Function
Sponge Cake
4
Used as a base for making desserts
Waffle
4
Muffin
4
Caramel
3 (Max.- 8)
Topping for Sponge Cake,

Waffle and Muffin

Whipping Cream
3 (Max.- 8)
Chocolate
3 (Max.- 8)
Wafers
3 (Max.- 8)
Candy
3 (Max.- 8)
Peach
3 (Max.- 8)
Make Peach Cream with
blender or as a topping
Kiwi
3 (Max.- 8)
Make Kiwi Cream with
blender or as a topping
Strawberry
3 (Max.- 8)
Make Strawberry Cream with
blender or as a topping
Recipes
Click on "Expand" to see the recipe list.
These are the various recipes asked by customers.
Dessert Image
Ingredients
Dessert Image
Ingredients
Coffee
Coffee
Whipped Cream
Coffee
Whipped Cream
Chocolate
Coffee
Whipped Cream
Wafer
Muffin
Candy
Strawberry
Muffin
Peach
Chocolate
Muffin
Kiwi Cream
Strawberry
Muffin
Kiwi Cream
Caramel
Muffin
Kiwi Cream
Caramel
Wafer
Muffin
Peach
Cream
Muffin
Peach Cream
Candy
Muffin
Peach Cream
Kiwi
Muffin
Peach Cream
Kiwi
Chocolate
Muffin
Strawberry Cream
Wafer
Muffin
Strawberry Cream
Candy
Whipped Cream
Sponge Cake
Kiwi
Whipped Cream
Sponge Cake
Kiwi Cream
Sponge Cake
Kiwi Cream
Strawberry
Sponge Cake
Kiwi Cream
Chocolate
Sponge Cake
Kiwi Cream
Caramel
Chocolate
Sponge Cake
Strawberry
Sponge Cake
Strawberry Cream
Sponge Cake
Strawberry Cream
Wafers
Sponge Cake
Strawberry Cream
Wafer
Whipping Cream
Sponge Cake
Strawberry Cream
Wafer
Peach
Sponge Cake
Peach Cream
Candy
Sponge Cake
Peach Cream
Kiwi
Candy
Waffle
Kiwi Cream
Strawberry
Waffle
Kiwi Cream
Caramel
Strawberry
Waffle
Kiwi Cream
Candy
Chocolate
Waffle
Kiwi Cream
Caramel
Wafer
Waffle
Peach Cream
Kiwi
Waffle
Peach Cream
Whipped Cream
Waffle
Peach Cream
Candy
Chocolate
Waffle
Strawberry Cream
Waffle
Strawberry Cream
Wafer
Waffle
Strawberry Cream
Peach
Waffle
Strawberry Cream
Peach
Whipped Cream
Kitchen Upgrades & Tips
Use Coupons to Upgrade the Kitchen, making improvements to earn more points and prizes in personal rewards and tournament.
There are 4 kinds of upgrades in the groups below:
| Image | Image | Group | Rank | Explanation |
| --- | --- | --- | --- | --- |
| | | Refill and mixer time | 1st | This is nearly all-inclusive, which can serve customers' orders faster |
| | | Number of customers and points | 2nd | Customers benefit for tournament, while points benefit for personal goals. Upgrade depending on which you aim at. For example if the competitors in tournament are very powerful, upgrade points is better. The disadvantage of customer number is it requires many coupons. |
| | | Increase food quantities after each refills | 3rd | There are different kinds of food so you'll need many coupons to upgrade one by one. On the other hand, upgrade the refill time is better because you can quickly get all kinds of food. |
| | | Coffee production time | 4th | Customers seldom request coffee. |
Supply Packs
| Image | Explanation |
| --- | --- |
| | Gift balloons from friends are replaced by Supply Packs during the event |
| | Daily Bonus may include Supply Packs |
| Image | Image | Explanation |
| --- | --- | --- |
| | | The City Market may offer supply crates with event items for the cost of T-cash |
In-game Tips
The better the mood your customers are in, the more points and coupons you get for filling their orders.
Make easy orders first to keep your customers happy.
More complicated orders earn you more coupons.
Keep an eye on your customers' mood, making sure they don't wait too long.
Make coffee in advance to save time when you get an order for it.
You can whip cream in the mixer in advance.
You can put ingredients on the base in any order.
You can toss food into the bin at any time.
Make sure you spend your coupons on kitchen upgrades.
Upgrade the Pastry Shop to get more points.
You can pause the game by tapping the exit button in the Pastry Shop window.
Treat customers to lollipops so they're more patient waiting for their orders.
Improve your customers' mood by treating them to lollipops. You can buy lollipops using T-cash.
Personal Event Rewards
Goal
Need
Reward
Preview
1st Goal
Up to 220 points
• 3 T-cash
2nd Goal
450-500 Points
• Rare Deck (20 Cards)
• 2 Bricks
3rd Goal
1000-1300 Points
• 2 Nail
• 3 Load Coupons
4th Goal
1500-2100 Points
• 3 Coupons
• Epic Deck (40 Cards)
5th Goal
2800 Points
• Robot Cafe
• 12 T-cash
• Profile Picture
Profile Picture
6th Goal+
1000 Points
(+1000 Points
per chest)

Treasure Chest
• 3 to 6 T-cash,
• 2, 3, 6 Tools,
• 2 Gold Ingots, etc.
Event Tournament
The tournament unlocks once you've completed your personal goal.
Go to the tournament icon/tab and compete against 29 same-level players. If you place in the top three by the end of the event, you will receive greater rewards.
Note on prizes for especially low or high level players (tap "Expand to view"):
You may get slightly different prizes depending on what is (still) available in your town and your level. Prizes known to be substituted include gems, boosters, zoo card packs, train/factory/island upgrade coupons, land expansion coupons. The substitute prize is usually either T-cash or building/expansion materials. For example lower level players who haven't restored the airport, yet, will receive building/expansion materials instead of gems. Lower level players who don't have many animals might also get boosters or materials instead of zoo decks. High level players with all zoo animals will receive boosters or upgrade coupons.
If profile pictures are repeated, players who already have the profile picture may receive more T-cash instead.
The amount of coins for the lower ranks depend on the town level and range from 270/220/45 coins for lowest levels to 6 000/5 500/1 000 for levels 100 and higher.
Event History
November 10, 2017
November 9, 2018
June 20, 2019
March 26, 2020
November 13, 2020
Community content is available under
CC-BY-SA
unless otherwise noted.