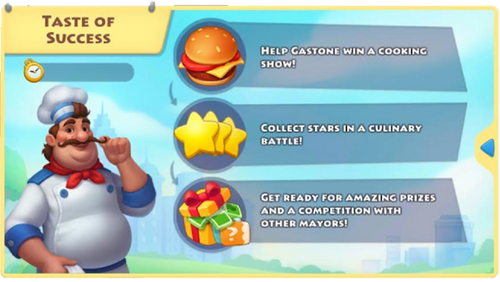 Help Gastone win a cooking show!
Collect stars in a culinary battle!
Get ready for amazing prizes and a competition with other mayors
4 days

This event was called Fast Food Stars Event previously.
Event Guide
Make fast food to serve customers' orders.
Special event lollipops, which can be used to boost customers' moods. can be acquired from House of Luck, daily login rewards or purchase with Tcash. These special lollipops can be used to boost customers' moods.
Race with others by serving the largest amount of customers to earn prizes.
Lives/Hearts
You need Lives to play. One (1) life refills automatically every 20 minutes, until you have 5.
You can receive more lives from such items as Gift Balloons from friends and the House of Luck.
You are able to continue to play until you lose a life. Alternatively, you can buy lives.
Stars
Collect enough stars (event points) to begin competing against other players and to earn your Personal Goal rewards.
Ingredients
Ingredient
Use
Burger Bun
Place the bun on a plate and add the patty to it when its ready
Patty
Grill the patty and take it from the pan before it burns.
Drink
Drinks are poured automatically and can be directly served to customers
Hot Dog Bun
Place the bun on a plate and add the hot dog to it when its ready
Hot Dog
Grill the hot dog and take it from the grill before it burns.
Tomatoes
Used as a topping in burgers
Mustard

Used as a dressing in hot dogs
Gourmet

Cheese

Used as a topping in burgers
Onions
Used in making onion rings
Lollipops

A special booster, to make customers happy and earn more points
Level Goals
Complete level goals to beat a level. A level can have upto three level goals
| Icon | Level Goal | Guide |
| --- | --- | --- |
| | Earn stars | Complete customers' orders to get stars. You get 10 stars per customer |
| | Serve items | Serve a certain number of dishes. Every item from every order is counted seperately |
| | Earn Likes | Earn likes by filling customers' orders within a certain time |
| | No dumping | No dishes can be tossed in the waste basket |
| | No losing customers | All customers' orders must be filled within the time allotted |
| | No burning ingredients | No patties or hot dogs can be burnt |
Event Tasks
The type of event tasks included in the Seasonal Adventure event:
TBA
Personal Event Rewards
Please note: Rewards are being updated during gameplay. Shown below are possible rewards; keep in mind that prizes can vary among players and town levels.
Check the Comments section below for additional information.
Event Competition
The Competition unlocks when you have completed your personal goals.
Go to the Competition tab and compete against 29 players of the same level.
If you place in the top three by the end of the event, you will receive greater rewards.
For town levels above 100 you are grouped with players approx. +/- 10 levels.
You may get slightly different prizes depending on what is (still) available in your town and your level. Prizes known to be substituted include gems, boosters, zoo decks, train/factory/island upgrade coupons, land expansion coupons. The substitute prize is usually either T-cash or building/expansion materials.

For example lower level players who haven't restored the airport, yet, may receive building/expansion materials instead of gems.
Lower level players who don't have many zoo animals might also get boosters or materials instead of zoo decks. Higher level players with all zoo animals may receive boosters/coupons or mining/barn equipment.

If profile pictures are repeated, players who already have the profile picture may receive more T-cash instead. Not relevant for Mayor's Competitions ie Transport Magnate or Mine Time.
The amount of coins for the lower ranks depend on the town level and range from 270/220/45 coins for lowest levels to 6000/5500/1000 for levels 100 and higher.
Event History
May 2, 2022 for some players, other players have Bubble Gum Festival Event or Explosive Puzzle Event
May 12, 2022 for some players, other players have Bubble Gum Festival Event or Explosive Puzzle Event
June 2,2022 for some players, other players have Explosive Puzzle Event