| | Tool Exchange | |
| --- | --- | --- |
Tool Exchange Information
Edit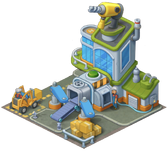 The Tool Exchange helps exchange materials for tools that you need to complete the construction of community buildings. It is the newest Special Building, unlocked at Level 60, requiring 7,100 population and 12,000 coins. The building is run by Ernie, where he allows you to exchange Construction materials such as Bricks, Slabs and Glass for New Tools such as Jackhammers, Drills, and Electric Saws. These tools are used to build community buildings from level 60.
NOTE: These materials cannot be obtained from trains. Only the tool exchange can produce these goods.
Tool Exchange Guide
Edit
You can exchange bricks, slabs, and glass to collect these tools. These tools can't be received from trains, airplanes or daily rewards; only the tool exchange can produce such goods. You can get a maximum of 4 of each good at a time.
For one tool, you need 5-9 building materials.
Tool Slots
Edit
There are 3 tool slots in total and 1 is available for Free after completing the Tool Exchange. The second slot can be purchased for 8,000 coins, and the last slot for 15,000 coins.
Tool Quantities
Edit
Tool Exchange
Sl. no
Goods
Level
Cost at the Barn
Pictures
Community Building
1
Jackhammers
lvl 62
200 Coins

Horse track
Flower shop
Music venue
Car wash
Lighthouse
Skyscrapper
Kindergarden
Canine center
Animal Hospital
Shipyard 
Pool Hall 

2
Drills
lvl 60
200 Coins

Planetarium
Flower shop
Music shop
Dolphinarium
Sky Scrapper
Bike rental
Canine center
Bank
Shipyard 
Computer Store

3
Electric saws
lvl 60
200 Coins

Planetarium
Horse track
Car Wash
Dolphinarium
Lighthouse
Bike rental
Kinder garden
Bank
Animal Hospital
Computer Store
Pool Hall
The tool exchange is useless for those who have already unlocked all community buildings. It can be used to reduce barn space for bricks, slabs, and glass, but that's not practical as you have to unlock zoo enclosures also. Thus its better to use tool exchange only when new community buildings are introduced in the game.
Jack hammers will be only available at Level 62, when you build the Flower Shop. Do not keep dumping orders till you get one.
Never sell materials that you require to build community buildings with tools, in the tool exchange.
Example:-
A Community Building requires 40 Glass, 10 Electric Saws and 10 Drills and you have 46 Glass, 7 Electric Saws and 12 Drills.
If 3 Electric Saws require 20 Glass
If 5 Electric Saws and 1 Jackhammer require 12 Glass, 14 Brick
And 2 Electric Saws require 18 Slabs
Delete the first and second order and buy the third order
Community content is available under
CC-BY-SA
unless otherwise noted.