Tool Exchange Information
The tool exchange is an interactive special building, unlocked at

town level 60, requiring

7100 population and
12000 coins.
This building trades construction materials (bricks, glass, slab) for tools (drill, electric saw, jackhammer) that you will need to complete the construction of community buildings that are available from level 60. The building is run by Ernie.
Note:
These tools cannot be obtained from trains or by any other means. Only the tool exchange can produce these tools.
You are not able to exchange the tools in reverse for obtaining bricks, glass or slab.
Tool Exchange Guide
Tool Slots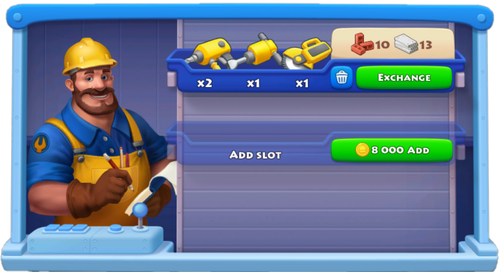 There are three tool slots in total.
The first tool slot is available for FREE.
The second slot can be purchased for  8000 coins.
The last slot for  15000 coins.
Exchanging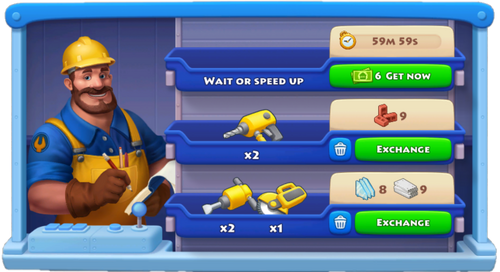 You can get a maximum of 4 tools at a time per slot.
The ratio for 1 tool is approximately 4-6 construction materials.
There is no coin cost to exchange for tools.
Use the blue trash can to dump an exchange.
Refer to the community buildings page to determine what tools you need for the next community building that you are to build. Please note for the Flower Shop that Jackhammers are not available until town level 62.
Collect your tools for at least 2 levels ahead of your upcoming community buildings. This may also assist with your barn quantities.

Jackhammers become available in the tool exchange at town level 62, when you build the Flower Shop. Do not keep dumping orders trying to get one until this time.
Tool Quantities
| Tools | Town Level | Barn Sell Price | Community Building |
| --- | --- | --- | --- |
| | 60 | 200 coins | |
| | 60 | 200 coins | |
| | 62 | 200 coins | |
Example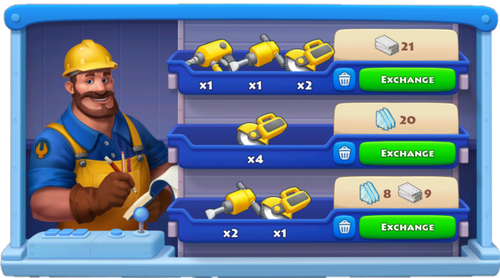 The Flower Shop community building requires 35 Glass, 12 Drills, and 8 Jackhammers.

The tool exchanges is offering:
x1 Drill, x1 Jackhammer, x2 Electric Saw for 21 Slabs
x4 Electric Saw for 20 Glass
x2 Jackhammer, x1 Electric Saw for 8 Glass and 9 Slabs
Let's say that in your barn you have: 47 Glass, 35 Slabs, 12 Drills and 6 Jackhammers, you may take the first offer and the third offer, and delete the second offer.
Not Enough Construction Materials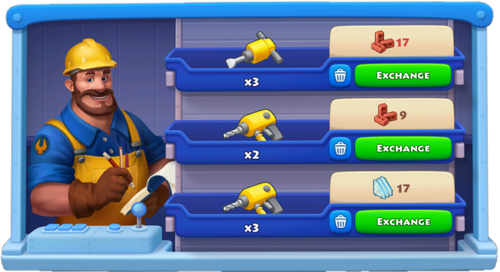 If you have insufficient construction materials in your barn for the exchange the item will come up in red.
Tips
There are several strategies how to collect materials for community buildings that require both tools and constructions materials:

First collect tools, concentrate on which tools are required by your building and drop any offers that contain the not needed tool. Once you have tools you need, start collecting materials.
Collect both tools and construction materials at the same time: trade only unneeded materials, for example if your building needs 50 bricks, accept only trades for bricks when you have more than 50 bricks. While this seems like an obvious strategy, in practice, it often leads to very long delays and keeps you barn full of materials for a long time.

If you have finished a community building, you might start collecting tools and construction materials for the next one, since it takes some time to collect it
If you are progressing through levels slowly, you might want to build zoo enclosures in the meantime
When you have finished building all the community buildings, keep in mind that new community buildings may be released in the game and Tools Exchange will be needed again. In the meantime, you can work on your Zoo or just sell all construction materials you receive in game.
Tool Exchange Playrix Guide