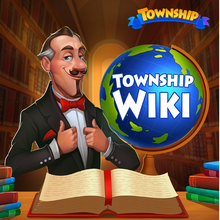 Welcome to the Township Wiki! Here is where you will find information on all aspects of the city-building game developed by Playrix, Township.
---
The Township Wiki is a fan created and developed guide to everything about Township. The wiki is maintained and moderated by admins and moderators and the Township Wiki community at large.
If you're looking for something specific, you can find it by using the top navigation or visiting the Wiki Contents page to see everything here. We have information on the latest Events, Regattas, Decorations, the material requirements for Community Buildings, Zoo Enclosures, Expansions, and so much more!
You can also join into the fun by editing, whether it's answering comments and discussion posts or updating articles, all edits are appreciated. You may also want to look at the Policy page and to-do list to help boost your edits. Our admins and mods are here to help you get started!
---
Township is a unique blend of city building and farming that allows you to design a town how you want it to look. You can harvest crops, process them at your factories and sell goods to develop your town. You also get to trade with distant islands and expand your town by opening new cafes, restaurants and other community buildings to give life to your town's unique look and feel! Explore the mine to get resources and find ancient artifacts. Run your own zoo and collect animals from around the world. Are you ready to build your dream? Let's get started!