This wiki's local navigation is the menu that can be found in the page header at the top of all pages. It provides useful links to the most important and interesting pages on the Township Wiki. Source: Fandom Help Navigation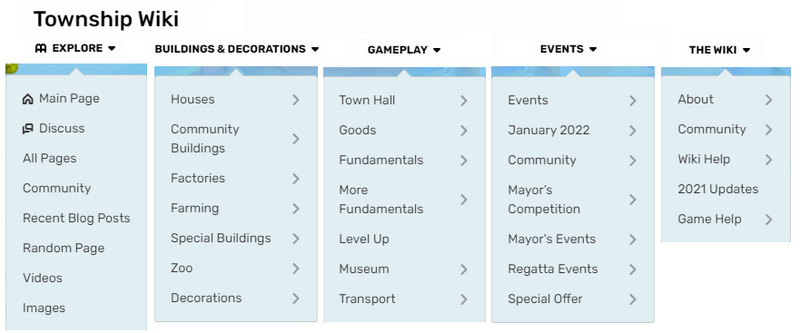 Navigation lists as subject to change

Header shortcuts are the buttons located on the top right side of a wiki's header and in the sticky navigation bar when scrolling down. The header shortcuts are used to access frequently used tools, four of which will always be visible to logged-in users, with the option to see more when hoovering over the button with the three vertical dots. Logged-out users will only see three icons. Source: Fandom Help Header Shortcuts
Hello Townshippers ~ welcome to the Township Wiki 😊 We really appreciate you visiting.
If you have any questions or information to give about Township, please feel free to leave a comment at the bottom of most article pages and in the Discussions area (for logged-in users), and we will update any changes as soon as possible. You are most welcome to make the changes yourself on the article pages.
To search for something there is a search button on the top right (magnifying glass).
Enjoy your time here on the Township Wiki and have a great day 😎
| | |
| --- | --- |
| Township Home | The home page may show details of the current version of Township, an event calendar list, What's Hot 🔥 in Discussions, recent blog posts and other links to help you on your journey here on the wiki. |
| Recent Changes | View the latest changes in detail for the Wiki Activity, Social Activity and Image Activity. |
Buildings
★ BUILDINGS ★
Community Buildings
Details and tips on building all the community buildings, including levels, added population, cost, experience, construction materials required, rewards and time to build.
Factories
Information on building all the factories, including levels, population, cost, time to build and experience. details on production boxes and costs for speeding up factory goods.
Farm Buildings
Information on the animal farms and their goods produced:
Cowshed, Chicken Coop, Sheep Farm, Apiary, Pig Farm, Duck Feeder, Otter Pond and Mushroom Farm.
Houses
Information on building all the different houses, including levels, population, cost and time to build.
Start Up Buildings and Restoration Projects
Barn
Information and materials required for barn upgrades.
Also some tips on saving storage space in the barn.
Co-op
Frequently asked questions and information on everything about joining or starting and maintaining your own Co-op.
Event Center
The Event Center is available at level 8 and is located in front of the train station and the zoo entry. Time-limited events are held here.
Mine
Everything you need to know about the mine from the first moment excavating a platinum ore with a pickaxe, to destroying clay with a chain reaction of explosives.
Tips on tools, tiles, rewards, and more.


This area combines the Co-op, Regatta, Yacht Club, and Race of Champions.
Port
Information on levels and cost for up to 4 ships, unlocking the 4 isles, gaining profile pictures, upgrading isles and travel time, ingot and island probabilities and island goods.
Regatta
Learn about Regattas, tips to make Regattas easier, and everything there is to know about mastering Regattas and climbing to the top of the Golden League Leaderboards with your co-op. Including all Regatta rewards.
Town Hall
Information on the purpose, icons that appear on the Town Hall, the Achievements you can earn, what you see in yours and your friend's Town Hall.
Special Buildings
Information on all of the unique special buildings, including levels, population, cost, time to build and description.
Academy of Industry*
Information on how to build and use one of the key buildings in Township. How to upgrade Factories, Trains and Isles, what's available to be upgraded and recommendations on where to begin upgrading. Tables for each of these items are available to be viewed.
Central Museum*
Information on the museums purpose, and a showcase of all artifacts and rewards available at the mine and islands.
City Market*
Information on building and using the City Market.
How to hire and use the dealer effectively, information on special crates, and discounts/sales at the market.
Foundry*
Information on the cost and requirements to build the foundry. How to make ingots and what they are used for.
House of Luck*
The first special building in Township. Learn how to earn clovers to play and win rewards. Even use it to earn T-cash!
Laboratory*
Information on boosters available to activate with gems at the Laboratory as well as how to earn or buy gems.
Ships*
Goods brought by ships, information and tips about sending ships off. Also upgrades and effects on ships using ingots.
Tool Exchange*
Information on the Tool Exchange, the Special tools used to build Community Buildings and Tips on buying these Tools.
Transport
Zoo
Decorations
★ DECORATIONS ★
Decorations
Introduction to roads, landscapes, pavement and unique decorations, such as the BFF Fountain.
Decorations in Store
Galleries of all standard decorations including regular coin, walk of fame, town signs and gem decor.
Event Decorations
Decorations gained in Events. They are grouped by events or event type.
Upgradable Decorations
Provides links to upgradable town decorations ~ Snowman, Biggest Cake, Classical Car Collection, Land of the Dinosaurs, Spaceport and limited edition upgradable event decorations.
Yacht Club Decorations
Introduces the Yacht Club and the decorations available during the Regatta for purchase with tokens.
Decoration Table by name
Hopefully, lists all decorations from store, events and sales.
Gameplay
★ GAMEPLAY ★
Achievements
Information on all Achievements at the Town Hall and the T-cash rewards for completing them from 1-4 stars.
Cash
Tips on how to earn T-cash to develop your Township.
Coin
Tips on how to earn coins to develop your Township.
Gems
Tips on how to earn Gems to buy decorations and develop your Township.
Crops
All the crops in Township and what they are used for.
Goods
All the goods and products in the game.
Find details and where any goods are used or come from.
Expansions
All the requirements, materials and costs for town and zoo expansions. Also view information on population requirements for all Fields available in your Town.
Construction Materials
All the information and history about construction materials used now and construction materials used before and costs for buying them Also view tips on on how to get more of them
Friends
Information on adding friends in-game, through Facebook, or Google Play Games. Interacting with friends and the benefits of having in-game friends. Share your codes here!
Level Up
All rewards and unlocked items from leveling up.
Profile
Pictures
Level up, construct buildings, complete achievements and more to earn unique profile pictures! View your available profile pictures at the Town Hall and how to unlock them.
Events and Updates
★ MORE CONTENT ★
Events
A page with all of the details on previous and the latest Community Events in Township from Oct. 2015 onward.
Game Updates
Posts about new updates and content in Township.
Discussions and Blogs
★ COMMUNITY ★
Discussions and Blogs
Blog Posts
Blog posts from users. You can use your blog to post about anything Township related.
What do you want to show or tell other Townshippers?
General
All conversations about Township.
Lounge
Have fun discussions with Township Wiki friends!
Co-op & Friends Ads
Post an Ad for your Co-op here!
Designing your Town
Tell the story behind your towns design, and find inspiration for new ideas!
Events
Talk about Events and ask any related questions.
Regatta and RoC
Share your Regatta experiences and strategies.
Wiki Discussion
Leave feedback and suggestions for the Wiki.
Technical Support
Some technical support queries may be able to be answered by the community.
Explore
★ EXPLORE ★
Random page
Be inspired by surfing through random pages.
Images
Add or view uploaded images on Township Wiki.
Videos
Upload or view Township Wiki's videos.
Discussions
The best place to start discussions about Township (for logged-in users).
Help
★ HELP ★


Add Content
A list of to-do's anyone can help contribute to, to help the Township Wiki including missing information, images, etc.
Table Information
Learn how to edit and understand tables.
Sandbox
A page that exists so that you can practice editing or formatting (see Help:Editing) without changing content on the Wiki. Feel free to try wiki editing out here first.
Transfer Township
Learn how to transfer game progress from your old device to your new one following the steps on this page.
Contact Playrix
If your issue isn't resolved using in-game help topics follow these instructions on this page to contact Playrix's customer support.
All Help Contents
Everything you need to know about helping to make the Wiki better.
Getting Started
Information to get started on your exciting editing adventure!
Help Contribute
Learn to format/edit, use wiki tools, add content and advice to teach you how to become a great contributor.
Welcome to the Township Wiki and thank you for stopping by, the following is a list of rules set out by administrators and top contributors of the community. We would like to make sure that the Township Wiki remains a friendly place to gather information and contribute. If you have any questions or concerns, please contact an administrator.
We may amend these rules at any time.
Each rule is measured in 1st, 2nd, or 3rd, Degrees. Check the block table below.
Please be kind to other users at all times, even if they have a different opinion than you. (1st Degree)

No spamming, vandalizing, trolling the wiki, or badge gaming (where you make unconstructive edits to get badges) will get you banned. Also, do not delete any content from the wiki without approval from an administrator or community moderator. (1st degree)

If you encounter a troll, limit your contact with it. If you respond to these trolls, you're giving them attention, which is what they're looking for. (1st degree)

No Profanity, kids play and probably visit Township Wiki, so keep it clean. (2nd degree)

Editing Wars (Where one user reverts another's edit and vice versa) are not permitted on this wiki. If this happens, you can approach an administrator or moderator and ask them to combine or choose which the best version for the page. If you continue, you can get banned for two weeks and the page will be locked as a "cool off" period. (2nd degree)

Please do not share personal information such as email, phone number, or social media accounts as this information will be removed.

These rules, in addition to the Discussions Guidelines, apply to the Discussion Board.

Make sure all images that you upload here are pertaining to Township. We do make exceptions for images on your profile page, but we will delete any images that are not in use or we do not feel are appropriate on this wiki.

Any user can revert poor or bad-faith edits, however if it's not vandalism, spam, or gibberish please let an administrator know why you would like to revert an edit. (1st degree)

Please DO NOT copy information from another site, as it is plagiarism and will be acted upon by administrators. The use of information from game miners and hacker sites is not allowed. The wiki is more suitable for the real information from current playing the game and the accompanying pictures.

If you use information from this wiki, please give credit including a link back to this site.
Violated the policy for
First Degree
Second Degree
Third Degree (see below)
First time
Cannot edit
for 1 day up to
1 week
Cannot edit
for 2-3 weeks
Blocked for 2 week
or up to 30 days
More than one time
Cannot edit for
two weeks up to
20 days
Cannot edit
for a month
Blocked for three months,
or forever
The third degree means your account, IP address, and additional accounts created will be blocked for some months or forever. If you break multiple rules, you will be blocked for a longer period of time. In some cases we may block an account permanently without warning. Please Note:
Warnings are messages left by administrators on message walls. They should not be removed by administrators. If you believe you got an unfair warning, leave a message on an administrator's message wall.

Blocks are issued by bureaucrats, administrators, community moderators, and in certain cases Fandom themselves. This is where a user cannot edit usually for a few weeks or months and sometimes indefinitely.

Contact administrators if you have any questions or concerns, if a user is not available to answer a question visit CC and they will likely have an answer for you.
Go to https://township.fandom.com/d/g to update the Discussions Guidelines
Discussions Guidelines
The Discussions are a place for people to ask questions and get answers from other players. We want to make sure this community is a friendly, useful and fun place to gather information and contribute to the wiki. With that said, we have a few rules of conduct for you before you begin posting.
Please take a moment to sift through the Discussions categories to see if a discussion already exists about the question you have. If you can't find the answer you're looking for, go ahead and create a new post! This is to prevent multiple threads about one topic, we want it to be easy to gather information.
Be nice and treat people with respect.
People from all around the world read and edit this wiki and contribute to Discussions. Like any other collaborative project, not everyone will agree all the time. Keep conversations civil and be open minded about differing opinions. We're all here because we love the same topic.
It's important to treat everyone here with kindness & respect. Remember, everything you say affects other users and those who manage the wiki and discussions each day.
Asking for help?
Please make the title as specific as possible. Titles such as "Help" give others no indication of what might be going on.
Provide a link to the wiki you need help with in your post.
Try to be as specific as possible in your post. Even vague context is better than no context.
Have a look through recent posts to see if your question has already been asked on another thread or post.
Use the appropriate discussions category
Please ensure that you are posting your threads in the appropriate discussion. Otherwise your thread may be deleted or moved to another category.
Spam & vandalism
All posts containing spam, vandalism, hate speech, threats, and foul or offensive language will not be tolerated and will be deleted once discovered. Do not respond to these post as they more than likely trolls (that will be banned) looking for attention.
This is not a place for trolling, such posts will be deleted and users involved will be banned. If you can identify that the user is a troll, it is best not to respond to the post, as they are looking for attention.
Personal information
Please do not disclose any personal information including email, phone number, address, or bank and billing information. This is for your benefit. All such information will be removed, the user will be notified. If a user asks for information, report it to an admin, and they will be banned!
Do not re-start a thread
If an administrator or moderator has closed a thread, it's best not to start it again.
Township Wiki: Community Portal
This is where the Township Wiki Community can organize and discuss projects for the Wiki.

New to Wikis?
How to Contribute
You can improve various article stubs by adding content.
Update and/or add missing information to the tables found on pages.
To view changes to this Wiki, see new users, and view all edits visit recent changes.
If you need help editing you can visit Help:Editing or Help:Contents.
Contributing to the Wiki
Here's a list of some helpful activities you can do on the Wiki to improve it.
Help expand some article stubs or any pages that are missing information.
Add missing information to tables or proofread some pages.
Want to see how you've helped contribute?
Visit your contributions page.
Community To Do List
These are tasks the admin(s) or community can help complete by contributing.
Update goods, dealer quantities, or co-op quantities on the Goods page.
If you are a Regatta or Race of Champions pro - have a look at the regatta pages
Check and correct the build times and XP received for zoo enclosures, factories, houses, community buildings, land expansions and zoo expansions.
Events

You can help the wiki by checking the content on the Events pages are correct and up to date. There may be slight changes to an event or large ones which means that even repeating events need their pages reviewed and updated.
Missing Screenshots

You can help the wiki by adding missing images to the comments section on the page.
Add images of missing or updated designs for Characters, including their name, what level they appear, what building or zoo enclosure they introduce and what events they are hosts for.
Profile Pictures - add images of missing or updated designs, including the event and how to achieve it.
When taking a screenshot of any decoration please make sure to surround it in snow and zoom in as much as possible, so it's easier to edit and add to the wiki. Screenshots directly from the Store are fine as well.
Add to the Community To-Do-List
You can suggest things you want to add to the Community To-Do-List by posting a new message on the Wiki Discussions.
Want to Discuss a Topic?
For general discussions, questions, and more you can visit the Wikis Discussion Board
Township Wiki has some pages with missing information which players like you can help contribute to.
You can help by making sure data shown in tables or anywhere on the wiki is correct and up to date.
Missing data is marked with a '?' , '-' or sometimes left blank. You can view information about tables here.
General Table Information
Order №
The number and/or order of Community Buildings, Factories, Houses, etc. available.
Materials
Materials needed to make the product. If you tap and hold a product in a factory you can see the materials for the product, and how many you have in the barn.
Level Needed Your level to be able to make the product or build the factory.
The sale price of the product in your barn or at the Zoo.


You can sell products in your barn, and see the price per unit if you set the quantity to 1.
If you upgrade coins earned for a factory at the Academy of Industry it will be applied to products when selling them via helicopter, train, and plane. (Not including the barn).

Cost. What it will cost to purchase the product/building/item.
Visit the Coin page to find out ways to earn coins.
Materials required to complete Community Buildings.
Materials are earned from train or plane orders as well as gift boxes or cash chests.

Tools required for land and zoo expansions.
Tools are earned from train or plane orders as well as gift boxes or cash chests.
Experience is earned for leveling up when collecting a finished product from a factories shelf or when you complete a building/task. You'll see the amount of xp earned for a short time after collecting products, harvesting crops from fields, or completing a new building for example. If you upgrade factory xp at Academy of Industry it will be applied to the products when selling them via the helicopter, train, and plane. (Not including factories).
Time it will take to produce or get the product/item/building without any factory upgrades.
Upgrades at the Academy of Industry will reduce the time of factories, trains, and ships.
Maximum quantity to buy for goods searched using the Dealer at the City Market.
Maximum quantity for requests available every 3 hours in your Co-op.

Max population or population cap added from Community Buildings
The highest population available in your Town.

Population or population required.
Additional population added from Houses.
Additional houses will unlock fields and more land expansions.
Maximum amount of a house available to add additional population.
Size of Buildings placed anywhere in your town using the editor.
Some buildings and decorations can range from 1 x 1 to 3 x 3.

The amount of Tcash earned from completing various tasks.
Visit the Cash page to find out ways to earn Tcash.
Factories
Factory attributes can be upgraded in the Academy of Industry 5% at a time. Only time will affect the factories. Experience and coin upgrades will apply when selling the products to townspeople (via helicopter, train, or plane). The tables on the wiki are listed without upgrades because all players factory upgrades are different, so you need to calculate what the reduced production time will be using your upgrades in the Academy of Industry if it's 5%, 10%, 50%, etc.
Help Contribute
If you see missing or incorrect information anywhere please edit if you can. Simply click the Edit button to start editing and fix the mistake, or add the missing information. Don't be afraid that you will mess something up. An Admin can always undo or change any edits if there were any problems. You're also welcome to leave a comment if you prefer not to edit. You can view more ways to help at the Community Portal.
Your contributions are greatly appreciated!