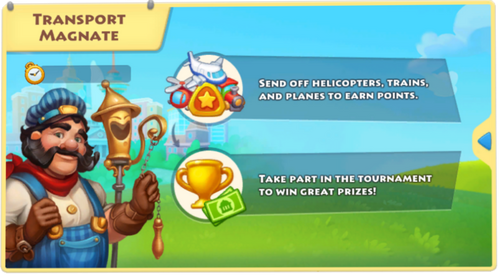 Send off helicopters, trains, and planes to earn points
Take part in the tournament to win great prizes
Transport Magnate Event is a Mayor's Competitions which qualifies for the Champion Mayor achievement.

The event may last for 3 to 4 days.
Spacious Railcars is a special offer that may last for 1-2 days during the Transport Magnate Event.
Unlocks at level 8.
Please note that sending off ships won't get you any tournament points.
Introduction
Send off helicopters, trains and fully-loaded planes to earn tournament points.
Earn a higher position on the tournament leaderboard to receive better rewards.
Complete helicopter orders to earn 1 Point
Send a train to earn 3 Points
Send a fully loaded airplane to earn 10 Points
Event Guide
Event Tips
Laboratory Boosters that may assist with this event:
Boosters

Image
Cost
Days
Description
Vibrant Market
6
4
3
The items at the Market are updated twice as often. New refreshes will only take 3 hours instead of 6, and the current refresh will take 50% less time.
Record Demand
Free
(Event reward)
1
New orders at the helipad appear 80% faster.
Save 2 boosters to use with Generous Customer and Vibrant Market to maximize coin earnings.
Shortcut
Free
(Event reward)
1
Trains arrive twice as fast.
Upgrade trains to -50% time for maximum effect (1 hr 15 mins fastest time).
Busy Trade
Free
(Event reward)
1
Dealer's break time cut in half.
The dealer will be available every 30 mins instead of 1 hr.
Tip: Make sure you've got the day off to buy ores or whatever you need.
High-Speed Production
8
2
2
2
Goods at your factories take 30% less time to produce. The booster is an additional -30% time to your factories upgrades at the Academy of Industry.
Personal Event Goals

Complete your personal goal by earning the required points to compete against 29 same-level players to see who can send more helicopters, trains and fully loaded planes.
The players will be the same level as you when they join the tournament. All players will stay in this competition group even if you or they level up.

Event Competition
The Competition unlocks when you have completed your personal goals.
Go to the Competition tab and compete against 29 players of the same level.
If you place in the top three by the end of the event, you will receive greater rewards.
For town levels above 100 you are grouped with players approx. +/- 10 levels.
You may get slightly different prizes depending on what is (still) available in your town and your level. Prizes known to be substituted include gems, boosters, zoo decks, train/factory/island upgrade coupons, land expansion coupons. The substitute prize is usually either T-cash or building/expansion materials.

For example lower level players who haven't restored the airport, yet, may receive building/expansion materials instead of gems.
Lower level players who don't have many zoo animals might also get boosters or materials instead of zoo decks. Higher level players with all zoo animals may receive boosters/coupons or mining/barn equipment.

If profile pictures are repeated, players who already have the profile picture may receive more T-cash instead. Not relevant for Mayor's Competitions ie Transport Magnate or Mine Time.
The amount of coins for the lower ranks depend on the town level and range from 270/220/45 coins for lowest levels to 6000/5500/1000 for levels 100 and higher.
Spacious Railcars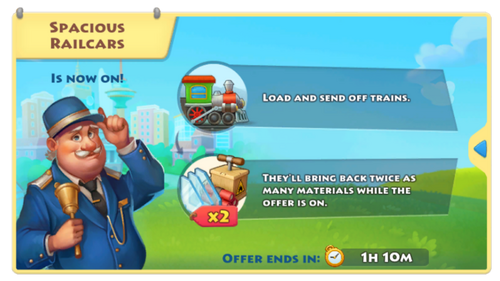 Load and send off trains.
They'll bring back twice as many materials while the offer is on.
Spacious Railcars is a special offer that may last for 1-2 days during the Transport Magnate Event.
Construction materials brought by your trains are doubled during this special offer.
These items appear in your game while this special offer is on:
A green "x2" word appears when you collect each materials, which reminds you it is doubled.
at the train station to show that the materials are doubled.
event icon on the right-hand side of your screen.
Event Tips
View the information on the train page
Unlock all 3 train tracks and trains
Send all trains 2-3 hours before this special offer or don't collect the materials when they arrive, so that you can double the materials when the special offer starts
Upgrade trains in the Academy of Industry to reduce the time the train takes to return
Playrix Guide
Sending fully-loaded planes is worth 10 points
This is a guide by Playrix, that requires updating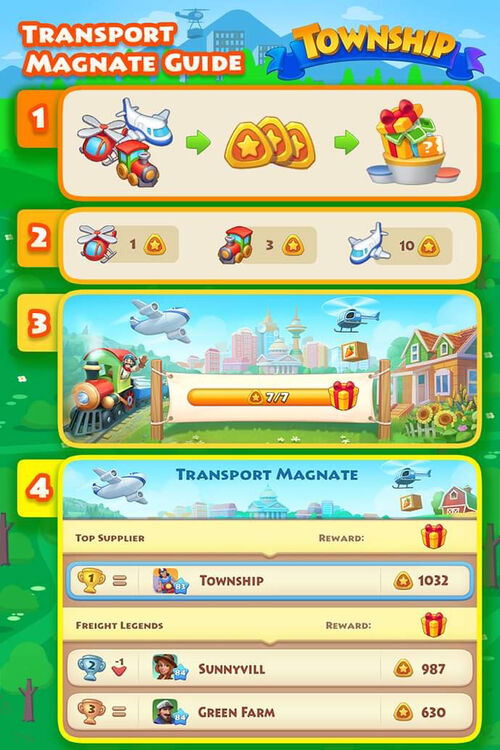 Event History
July 26 ~ 29, 2019 (first held)
August 3 ~ 6, 2020
November 7 ~ 10, 2020
December 2020 (for some platforms/players)
May 2021
June 11, 2021 (+ Spacious Railcars June 13, 2021)
June 24, 2021 (+ Spacious Railcars June 27, 2021)
July 30, 2021 (+ Spacious Railcars August 1, 2021)
September 9, 2021 (+ Spacious Railcars September 12, 2021)
November 11, 2021 (+ Spacious Railcars November 14, 2021)
December 9, 2021 (+ Spacious Railcars December 12, 2021)
January 6, 2022 (+ Spacious Railcars January 9, 2022)
February 3, 2022 (+ Spacious Railcars February 6, 2022)
March 3, 2022 (+ Spacious Railcars March 6, 2022)
March 31, 2022 (+ Spacious Railcars April 3, 2022)
Is something missing? Noticed a mistake? You are welcome to comment and edit pages.
You can visit the Community Portal to learn how to contribute. Your help is appreciated!
Contributions to the Township Wiki
The Township Wiki is maintained and edited by players. We are all volunteers.
This Wiki and Discussions are not affiliated with Playrix. Please be respectful to all parties.
The Township Wiki grows due to the contributions and feedback from players.
Thank you to the players and editors of this wiki.