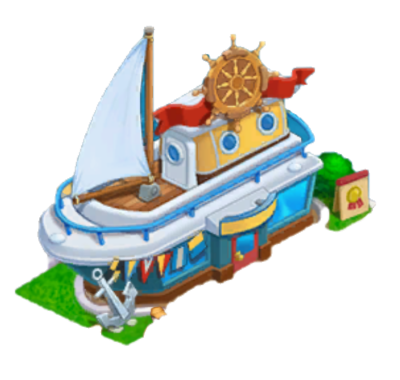 Yacht Club Decorations Category:Yacht Club Decorations
Completing Regatta tasks allow you to earn tokens

, which you can spend in the Yacht Club on yacht club decorations (shown below), mining tools, construction materials, lab boosters, gems, or coupons.
Themed decorations and items are available to purchase for the duration of the Regatta Season (4 weeks) and the off week that follows.
Tokens do not expire, so you can save them up by completing tasks in any season.
The maximum amount of tokens you can hold at once is 600. You get a warning message when taking a task that would get you above the limit of 600 tokens (see an image below).
At the end of the event if you place in the top 3 and receive extra tokens, you will not exceed 600.
Offers at the Yacht Club reset with each new season.
You can spend tokens on decorations or items in the current season, or you can wait until the next season if the decorations are not to your taste.
You can buy as many decorations as you like, but you can buy materials only once.
If you leave your co-op, you take your tokens with you.
Tokens and Task Points
The number of tokens you get for completing a task depend on the task points. Seasonal tasks give more tokens than regular tasks, except for "Relay" tasks (which give always 14 tokens).
Task Points
Tokens for
regular task
Tokens for
seasonal task
75-84
8
11
85-94
9
12
95-104
10
13
105-114
11
14
115-124
12
15
125-133*
13
16
135
14
17
140**
18
-
150**
19
-
*There is no task for 134 points.
#Combo tasks are always worth 135 points and 20 tokens. Mystery tasks are always worth 135 points and 25 tokens.
**Tasks for 140 and 150 points are Event tasks
Yacht Club Decorations
Decorations with stars (★) are animated.
The 2nd-5th decorations require your co-op to reach a specific league during the season to purchase them.

2nd Decoration: Copper League and above
3rd Decoration: Steel League and above
4th Decoration: Silver League and above
5th Decoration: Golden League only
Once unlocked, higher level decorations are available for the remainder of the regatta season even if your co-op is demoted to a lower league. If you start the season in the Golden League and fall to a lower level, then your co-op would still have access to everything in the Yacht Club all season. It is also possible to join a co-op in a higher league to buy the desired decoration during the rest day (Monday/Wednesday).
Materials
You may be offered different items depending on what is (still) available in your town. Items known to be substituted include gems, boosters, ingots, zoo card packs, train/factory/island upgrade coupons, land expansion coupons. Substitute items are random for each player.
For example, lower level players who haven't restored the airport yet will receive building/expansion materials instead of gems. High level players with all zoo animals will receive building materials or gems.
2022 Yacht Club
Details to be confirmed after the start of each Regatta

Yacht Club Decorations Category:Yacht Club Decorations
Treasure Hunt 4
May. 3 ~ May. 29, 2022
• Decorations: 660 Tokens • Items:735 Tokens • Total:1,395 Tokens
| No. | 1 | 2 - Copper | 3 - Steel | 4 - Silver | 5 - Golden | 6 | 7 | 8 | 9 | 10 |
| --- | --- | --- | --- | --- | --- | --- | --- | --- | --- | --- |
| Item: | Naval Cannon | Legendary Captain | Sacred Chest | ★ Raging Sea Ride ★ | ★ Pirate Camp ★ | Pick(x20) | Emerald(x4) | Hammer(x4) | Gold Ingot(x5) | Spacious Barn |
| | | | | | | | | | | |
| Cost: | 75 | 100 | 125 | 160 | 200 | 80 | 120 | 140 | 175 | 220 |
Search for Atlantis 4
Previous details for this theme - see all Search for Atlantis decorations on the Yacht Club Decorations page

March 29, 2022 ~ April 2022
• Decorations: 685 Tokens • Items: 765 Tokens • Total: 1,450 Tokens
No.
1
2 - Copper
3 - Steel
4 - Silver
5 - Golden
6
7
8
9
10
Item:
★ Atlantean Rest ★
💧 Atlantis Hotel 💧
💧 Sunken City 💧
★ Atlantean Aquarium ★
★ Atlantean Museum ★
Bricks (x5)
Vibrant Market (x1)
Nail (x4)
Zoo Deck (25 cards)
or Emerald (x6)
Factory Upgrade (x1)

or
Cost:
80
110
135
160
200
90
105
140
180
250
Music Voyage 4
February 21 ~ March 21, 2022
• Decorations: 655 Tokens • Items: 715 Tokens • Total: 1370 Tokens
The World of Cinema 3
January 18 ~ February 14, 2022
• Decorations: 640 Tokens • Items: 725 Tokens • Total: 1,365 Tokens
| No. | 1 - Wooden | 2 - Copper | 3 - Steel | 4 - Silver | 5 - Golden | 6 | 7 | 8 | 9 | 10 |
| --- | --- | --- | --- | --- | --- | --- | --- | --- | --- | --- |
| Item: | ★ Camera Platform ★ | Lights, Camera, Action | ★ Film Fountain ★ | ★ Movie Set ★ | ★ Movie Museum ★ | Slabs (x5) | Rich Fields Booster | Smart Navigation Booster | Ruby (x5) | Large Request |
| | | | | | | | | | | |
| Cost: | 70 | 100 | 130 | 150 | 190 | 90 | 115 | 120 | 190 | 210 |
2021 Yacht Club
Art Voyage 4
December 14, 2021 ~ January 10, 2022
• Decorations: 675 Tokens • Items:695 Tokens • Total:1,370 Tokens
| No. | 1 - Wooden | 2 - Copper | 3 - Steel | 4 - Silver | 5 - Golden | 6 | 7 | 8 | 9 | 10 |
| --- | --- | --- | --- | --- | --- | --- | --- | --- | --- | --- |
| Item: | Street Artist | ★ Natural Wonder Installation ★ | ★ Art Show ★ | ★ Art Hub ★ | ★ Eco-Friendly Exhibition ★ | Dynamite (x10) | Rich Fields | Ruby (x3) | Dealers Coupon | Spacious Barn |
| | | | | | | | | | | |
| Cost: | 80 | 100 | 135 | 160 | 200 | 90 | 115 | 120 | 150 | 220 |
Age of Knights 4
November 9 ~ December 6, 2021
• Decorations: 675 Tokens • Items: 770 Tokens • Total: 1,445 Tokens
| No. | 1 - Wooden | 2 - Copper | 3 - Steel | 4 - Silver | 5 - Golden | 6 | 7 | 8 | 9 | 10 |
| --- | --- | --- | --- | --- | --- | --- | --- | --- | --- | --- |
| Item: | Tavern | Scribe's Workshop | ★ Roving Minstels ★ | ★ Ancient Throne ★ | ★ Treasure Keeper ★ | TNT (x9) | Smart Navigation | Paint (x1) | Zoo Cards | Factory Coupon |
| | | | | | | | | | | |
| Cost: | 80 | 115 | 130 | 155 | 190 | 90 | 115 | 150 | 165 | 290 |
Space Race 2
October 5 ~ November 1, 2021
• Decorations: 630 Tokens • Items: 690 Tokens • Total: 1320 Tokens
| No. | 1 - Wooden | 2 - Copper | 3 - Steel | 4 - Silver | 5 - Golden | 6 | 7 | 8 | 9 | 10 |
| --- | --- | --- | --- | --- | --- | --- | --- | --- | --- | --- |
| Item: | ★ Betsy the Astronaut ★ | ★ Astronomical Tower ★ | ★ Shuttle Cafe ★ | ★ Mars Rover ★ | ★ Open-Air Planetarium ★ | Pick (x15) | Topaz (x5) | Paint (x4) | Platinum Ingot (x4) | Spacious Barn |
| | | | | | | | | | | |
| Cost: | 55 | 90 | 150 | 180 | 200 | 60 | 100 | 140 | 170 | 220 |
Wild West 4
August 31 ~ September 27, 2021
• Decorations: 650 Tokens • Items: 730 Tokens • Total: 1,380 Tokens
| No. | 1 | 2 - Copper | 3 - Steel | 4 - Silver | 5 - Golden | 6 | 7 | 8 | 9 | 10 |
| --- | --- | --- | --- | --- | --- | --- | --- | --- | --- | --- |
| Item: | Farmer's Totem | ★ Saloon ★ | Jaunty Rider | ★ Western Movie Set ★ | ★ Campfire Fun ★ | Topaz (x4 | Hammer (x3) | Glass (x7) | Coupon for Loading Goods | Train Upgrade Coupon |
| | | | | | | | | | | |
| Cost: | 75 | 100 | 130 | 160 | 200 | 80 | 105 | 125 | 190 | 230 |
Beach Adventures 2
July 27 ~ August 23, 2021
• Decorations: 445 Tokens • Items: 890 Tokens • Total: 1335 Tokens
Paranormal Season 2
June 22 ~ July 19, 2021
• Decorations: 625 Tokens • Items: 755 Tokens • Total: 1,380 Tokens
| No. | 1 - Wooden | 2 - Copper | 3 - Steel | 4 - Silver | 5 - Golden | 6 | 7 | 8 | 9 | 10 |
| --- | --- | --- | --- | --- | --- | --- | --- | --- | --- | --- |
| Item: | ★ First Contact ★ | ★ Haunted Ship ★ | ★ Yeti ★ | ★ Nessie ★ | ★ Paranormal Town Sign ★ | Bronze ingot (x5) | TNT (x10) | Generous Customer Booster | Ruby (x5) | Large Request Booster |
| | | | | | | | | | | |
| Cost: | 60 | 85 | 120 | 160 | 200 | 95 | 100 | 130 | 190 | 210 |
Prehistoric World 2
May 18 ~ June 14, 2021
• Decorations: 750 Tokens • Items: 750 Tokens • Total: 1,500 Tokens
No.
1
2 - Copper
3 - Steel
4 - Silver
5 - Golden
6
7
8
9
10
Item:
Primeval Painter
The First Rider
★ Diplodocus ★
★ Stonehenge ★
★ Stone Age House ★
Pick
x20
Silver
Ingot
x4
Paint
x4
Ruby
x5
Spacious
Barn
Booster
Cost:
75
120
150
180
200
80
110
140
200
220
Treasure of the Nile 3
April 13 ~ May 10, 2021
• Decorations: 675 Tokens • Items: 750 Tokens • Total: 1,425 Tokens
| No. | 1 | 2 - Copper | 3 - Steel | 4 - Silver | 5 - Golden | 6 | 7 | 8 | 9 | 10 |
| --- | --- | --- | --- | --- | --- | --- | --- | --- | --- | --- |
| Item: | ★ Papyrus Shop ★ | ★ Egyptian House ★ | ★ Pyramid of the Cheops ★ | Scarab Statue | ★ Paradise Tent ★ | Glass x5 | Efficient Smelting Booster x1 | Dealer Coupon x1 | Platinum x1 | Train Upgrade Coupon x1 |
| | | | | | | | | | | |
| Cost: | 80 | 100 | 130 | 165 | 200 | 90 | 110 | 150 | 170 | 230 |
Enchanting Oasis 3
March 9 ~ April 5, 2021
• Decorations: 665 Tokens • Items: 745 Tokens • Total: 1,410 Tokens
| No. | 1 | 2 - Copper | 3 - Steel | 4 - Silver | 5 - Golden | 6 | 7 | 8 | 9 | 10 |
| --- | --- | --- | --- | --- | --- | --- | --- | --- | --- | --- |
| Item: | ★ Falconry ★ | Magic Lamp | Sheikh's Palace | ★ Chess Match ★ | ★ Hanging Gardens ★ | Dynamite (x10) | Lab Booster (x1) | Dealer Coupon (x1) | Epic Deck (x1) | Large Request Booster (x1) |
| | | | | | | | | | | |
| Cost: | 85 | 100 | 125 | 160 | 195 | 90 | 130 | 150 | 165 | 210 |
Jungle Regatta 3
February 2 - March 1, 2021
• Decorations: 695 Tokens • Items:745 Tokens • Total:1,440 Tokens
| No. | 1 | 2 - Copper | 3 - Steel | 4 - Silver | 5 - Golden | 6 | 7 | 8 | 9 | 10 |
| --- | --- | --- | --- | --- | --- | --- | --- | --- | --- | --- |
| Item: | ★ Book of Nature ★ | Lost City | ★ Wildlife Reserve ★ | ★ Jungle Village ★ 💧 | ★ Primeval Settlement ★ | Topaz (x4) | See the Light Booster(x1) | Epic Desk(x1) | Coupon for Loading Goods(x3) | Spacious Barn Booster(x1) |
| | | | | | | | | | | |
| Cost: | 80 | 120 | 135 | 170 | 190 | 80 | 115 | 140 | 190 | 220 |
2020 Yacht Club
Search for Atlantis 3
December 29, 2020 ~ January 25, 2021
• Decorations: 685 Tokens • Items: 750 Tokens • Total: 1,435 Tokens
| No. | 1 | 2 - Copper | 3 - Steel | 4 - Silver | 5 - Golden | 6 | 7 | 8 | 9 | 10 |
| --- | --- | --- | --- | --- | --- | --- | --- | --- | --- | --- |
| Item: | ★ Atlantean Rest ★ | Hotel Atlantis | Sunken City | ★ Atlantean Aquarium ★ | ★ Atlantean Museum ★ | Bricks (x5) | Vibrant Market (x1) | Nail (x4) | Zoo Deck (25 cards) | Factory Upgrade (x1) |
| | | | | | | | | | | |
| Cost: | 80 | 110 | 135 | 160 | 200 | 90 | 105 | 140 | 165 | 250 |
Land of Snow and Ice 3
November 24 - December 28, 2020
• Decorations: 665 Tokens • Items: 740 Tokens • Total: 1,405 Tokens
| No. | 1 | 2 - Copper | 3 - Steel | 4 - Silver | 5 - Golden | 6 | 7 | 8 | 9 | 10 |
| --- | --- | --- | --- | --- | --- | --- | --- | --- | --- | --- |
| Item: | Polar Explorer | ★ Dogsled ★ | ★ Penguin Skating Rink ★ | ★ Ice Gate ★ | ★ Polar Station ★ | Bronze Ingot(x5) | Emerald (x4) | Epic Deck (x1) | Gold Ingot (x5) | Lab Booster (x1) |
| | | | | | | | | | | |
| Cost: | 90 | 105 | 125 | 155 | 190 | 95 | 120 | 140 | 175 | 210 |
Ancient Legends 3
October 20 - November 23, 2020
• Decorations: 675 Tokens • Items: 680 Tokens • Total: 1,355 Tokens
| No. | 1 | 2 - Copper | 3 - Steel | 4 - Silver | 5 - Golden | 6 | 7 | 8 | 9 | 10 |
| --- | --- | --- | --- | --- | --- | --- | --- | --- | --- | --- |
| Item: | Amphitheater | Sea Herald | Minotaur | ★ Sculpture's Workshop ★ | ★ Greek Aquarium ★ | Gold Ingot(x2) | Glass (x5) | Load Coupon (x2) | Dealer Coupon (x1) | Spacious Barn |
| | | | | | | | | | | |
| Cost: | 80 | 110 | 135 | 160 | 190 | 90 | 90 | 130 | 150 | 220 |
Music Voyage 3
September 15 - October 19, 2020
• Decorations: 670 Tokens • Items: 752 Tokens • Total: 1,422 Tokens
| No. | 1 | 2 - Copper | 3 - Steel | 4 - Silver | 5 - Golden | 6 | 7 | 8 | 9 | 10 |
| --- | --- | --- | --- | --- | --- | --- | --- | --- | --- | --- |
| Item: | ★ Gramophone Carousel ★ | Kitty Rock | ★ Music District ★ | ★ Organist ★ | ★ Disco Forever ★ | Slabs (x3) | Load Coupon (x2) | Epic Deck (x3) | Dealer Coupon (x1) | Island Coupon |
| | | | | | | | | | | |
| Cost: | 75 | 100 | 125 | 170 | 200 | 75 | 130 | 165 | 150 | 230 |
The World of Cinema 2
Aug. 11 ~ Sep. 14, 2020
• Decorations: 640 Tokens • Items:705 Tokens • Total:1,345 Tokens
| No. | 1 | 2 - Copper | 3 - Steel | 4 - Silver | 5 - Golden | 6 | 7 | 8 | 9 | 10 |
| --- | --- | --- | --- | --- | --- | --- | --- | --- | --- | --- |
| Item: | ★ Camera Platform ★ | Lights, Camera, Action | ★ Movie Set ★ | ★ Big Screen Town Sign ★ | ★ Movie Museum ★ | Slabs (x5) | Smart Navigation | Emerald (x6) | Ruby (x5) | Large Request |
| | | | | | | | | | | |
| Cost: | 70 | 100 | 130 | 150 | 190 | 90 | 125 | 180 | 190 | 210 |
Art Voyage 3
Jul. 7 ~ Aug. 10, 2020
• Decorations: 675 Tokens • Items:695 Tokens • Total:1,370 Tokens
| No. | 1 | 2 - Copper | 3 - Steel | 4 - Silver | 5 - Golden | 6 | 7 | 8 | 9 | 10 |
| --- | --- | --- | --- | --- | --- | --- | --- | --- | --- | --- |
| Item: | Street Artist | ★ Natural Wonder Installation ★ | ★ Art Show ★ | ★ Art Hub ★ | ★ Eco-Friendly Exhibition ★ | Dynamite(x10) | Rich Fields | Ruby(x3) | Dealers Coupon | Spacious Barn |
| | | | | | | | | | | |
| Cost: | 80 | 100 | 135 | 160 | 200 | 90 | 115 | 120 | 150 | 220 |
Wild West 3
Jun. 2~ Jul. 6, 2020
• Decorations: 650 Tokens • Items: 710 Tokens • Total: 1,360 Tokens
| No. | 1 | 2 - Copper | 3 - Steel | 4 - Silver | 5 - Golden | 6 | 7 | 8 | 9 | 10 |
| --- | --- | --- | --- | --- | --- | --- | --- | --- | --- | --- |
| Item: | ★ Good Old Rancho Sign ★ | ★ Saloon ★ | Jaunty Rider | ★ Western Movie Set ★ | ★ Campfire Fun ★ | Silver Ingot (x3) | Nail (x3) | Zoo Deck (20 Cards) | Ruby (x4) | Spacious Barn |
| | | | | | | | | | | |
| Cost: | 75 | 100 | 130 | 160 | 200 | 85 | 105 | 140 | 160 | 220 |
Age of Knights 3
April 27 ~ Jun 1, 2020
• Decorations: 675 Tokens • Items: 770 Tokens • Total: 1,445 Tokens
| No. | 1 | 2 - Copper | 3 - Steel | 4 - Silver | 5 - Golden | 6 | 7 | 8 | 9 | 10 |
| --- | --- | --- | --- | --- | --- | --- | --- | --- | --- | --- |
| Item: | Tavern | Scribe's Workshop | ★ Roving Minstels ★ | ★ Ancient Throne ★ | ★ Treasure Keeper ★ | TNT (x9) | Smart Navigation | Paint (x1) | Zoo Cards | Factory Coupon |
| | | | | | | | | | | |
| Cost: | 80 | 115 | 130 | 155 | 210 | 90 | 115 | 150 | 165 | 290 |
Treasure Hunt 3
Mar. 24 ~ Apr. 27, 2020
• Decorations: 655 Tokens • Items:735 Tokens • Total:1,390 Tokens
| No. | 1 | 2 - Copper | 3 - Steel | 4 - Silver | 5 - Golden | 6 | 7 | 8 | 9 | 10 |
| --- | --- | --- | --- | --- | --- | --- | --- | --- | --- | --- |
| Item: | Pirate Tavern | Sea Rovers | ★ Pirate Playground ★ | ★ Pirate Camp ★ | ★ Raging Sea Ride ★ | Pick(x20) | Emerald(x4) | Nail(x4) | Gold Ingot(x5) | Spacious Barn |
| | | | | | | | | | | |
| Cost: | 75 | 110 | 130 | 150 | 190 | 80 | 120 | 140 | 175 | 220 |
Jungle Regatta 2
Feb. 18 ~ March. 23, 2020
• Decorations: 695 Tokens • Items:770 Tokens • Total:1,465 Tokens
| No. | 1 | 2 - Copper | 3 - Steel | 4 - Silver | 5 - Golden | 6 | 7 | 8 | 9 | 10 |
| --- | --- | --- | --- | --- | --- | --- | --- | --- | --- | --- |
| Item: | Book of Nature | ★ Lost City ★ | ★ Wildlife Reserve ★ | ★ Jungle Village ★ | ★ Primeval Settlement ★ | Bronze Ingot(x5) | Smelting Booster(x1) | Dealer's Coupon(x1) | Epic Deck | Factory Upgrade Coupon |
| | | | | | | | | | | |
| Cost: | 80 | 120 | 135 | 170 | 190 | 95 | 110 | 150 | 165 | 250 |
Search for Atlantis 2
Jan. 13 2020 ~ Feb. 9, 2020
• Decorations: 685 Tokens • Items: 820 Tokens • Total: 1,505 Tokens
| No. | 1 | 2 - Copper | 3 - Steel | 4 - Silver | 5 - Golden | 6 | 7 | 8 | 9 | 10 |
| --- | --- | --- | --- | --- | --- | --- | --- | --- | --- | --- |
| Item: | ★ Atlantean Rest ★ | Hotel Atlantis | Sunken City | ★ Atlantean Aquarium ★ | ★ Atlantean Museum ★ | TNT (x9) | Co-op Request | Island Upgrade Coupons | Platinum Ingot (x4) | High Speed Production |
| | | | | | | | | | | |
| Cost: | 80 | 110 | 135 | 160 | 200 | 90 | 210 | 220 | 170 | 130 |
2019 Yacht Club
Land of Snow and Ice 2
Dec 10, 2019 ~ Jan 2020
• Decorations: 665 Tokens • Items: 735 Tokens • Total: 1400 Tokens
| No. | 1 | 2 - Copper | 3 - Steel | 4 - Silver | 5 - Golden | 6 | 7 | 8 | 9 | 10 |
| --- | --- | --- | --- | --- | --- | --- | --- | --- | --- | --- |
| Item: | Polar Explorer | ★ Dogsled ★ | ★ Penguin Skating Rink ★ | ★ Ice Gate ★ | ★ Polar Station ★ | Topaz (x4) | Load Coupon (x2) | Nail (x4) | Spacious Barn | Epic Deck |
| | | | | | | | | | | |
| Cost: | 90 | 105 | 125 | 155 | 190 | 80 | 130 | 140 | 225 | 165 |
Enchanting Oasis 2
Nov 5 ~ Dec 3, 2019
• Decorations: 685 Tokens • Items: 670 Tokens • Total: 1355 Tokens
| No. | 1 | 2 - Copper | 3 - Steel | 4 - Silver | 5 - Golden | 6 | 7 | 8 | 9 | 10 |
| --- | --- | --- | --- | --- | --- | --- | --- | --- | --- | --- |
| Item: | ★ Falconry ★ | Magic Lamp | Sheikh's Palace | ★ Chess Matches ★ | ★ Hanging Gardens ★ | Glass (x5) | TNT (x10) | Island Upgrade Coupon | Vibrant Market | Epic Deck |
| | | | | | | | | | | |
| Cost: | 85 | 100 | 125 | 160 | 195 | 90 | 100 | 220 | 105 | 160 |
Ancient Legends 2
October 1 ~ October 29, 2019
• Decorations: 700 Tokens • Items: 795 Tokens • Total: 1495 Tokens
| No. | 1 | 2 - Copper | 3 - Steel | 4 - Silver | 5 - Golden | 6 | 7 | 8 | 9 | 10 |
| --- | --- | --- | --- | --- | --- | --- | --- | --- | --- | --- |
| Item: | ★ Chariot ★ | ★ Trojan Horse ★ | Amphitheater | Minotaur | ★ Sculpture's Workshop ★ | Bronze Ingot(x5) | Emerald (x4) | Rare Deck (x1) | Hammer (x4) | Large Request |
| | | | | | | | | | | |
| Cost: | 80 | 100 | 130 | 170 | 200 | 95 | 120 | 120 | 140 | 210 |
Treasure of the Nile 2
August 27 ~ August 17, 2019
• Decorations: 650 Tokens • Items: 755 Tokens • Total: 1405 Tokens
| No. | 1 | 2 - Copper | 3 - Steel | 4 - Silver | 5 - Golden | 6 | 7 | 8 | 9 | 10 |
| --- | --- | --- | --- | --- | --- | --- | --- | --- | --- | --- |
| Item: | ★ Papyrus Shop ★ | ★ Egyptian House ★ | ★ Pyramid of the Cheops ★ | Scarab Statue | ★ Oasis ★ | Dynamite (x10) | Lab Booster (x1) | Rare Deck (x1) | Ruby (x3) | Lab Booster (x1) |
| | | | | | | | | | | |
| Cost: | 60 | 100 | 120 | 170 | 200 | 90 | 115 | 140 | 190 | 220 |
Music Voyage 2
July, 23 - Aug. 18 2019
• Decorations: 650 Tokens • Items: 725 Tokens • Total: 1375 Tokens
| No. | 1 | 2 - Copper | 3 - Steel | 4 - Silver | 5 - Golden | 6 | 7 | 8 | 9 | 10 |
| --- | --- | --- | --- | --- | --- | --- | --- | --- | --- | --- |
| Item: | ★ Music Shop ★ | ★ Jazz Club ★ | ★ Gramophone Carousel ★ | ★ Music District ★ | ★ Organist ★ | Slabs (x3) | Load Coupon (x2) | Epic Deck (x3) | Dealer Coupon (x1) | Train Coupon |
| | | | | | | | | | | |
| Cost: | 60 | 100 | 120 | 170 | 200 | 75 | 130 | 165 | 150 | 230 |
Art Voyage 2
June 18, 2019 ~ July 16, 2019
• Decorations: 650 Tokens • Items: 735 Tokens • Total: 1385 Tokens
| No. | 1 | 2 - Copper | 3 - Steel | 4 - Silver | 5 - Golden | 6 | 7 | 8 | 9 | 10 |
| --- | --- | --- | --- | --- | --- | --- | --- | --- | --- | --- |
| Item: | Clothespin Art Object | ★ Magic Tap ★ | Street Artist | ★ Natural Wonder Installation ★ | ★ Art Show ★ | Bricks (x5) | Paint (x3) | Zoo Cards | Load coupon (x2) | Large Request |
| | | | | | | | | | | |
| Cost: | 80 | 100 | 120 | 150 | 200 | 90 | 105 | 140 | 190 | 210 |
Wild West 2
May. 14 ~ Jun. 4 , 2019
• Decorations: 650 Tokens • Items: 710 Tokens • Total: 1360 Tokens
| No. | 1 | 2 - Copper | 3 - Steel | 4 - Silver | 5 - Golden | 6 | 7 | 8 | 9 | 10 |
| --- | --- | --- | --- | --- | --- | --- | --- | --- | --- | --- |
| Item: | ★ Campsite ★ | ★ Mechanical Bull ★ | ★ Good Old Rancho Sign ★ | ★ Saloon ★ | ★ Western Movie Set ★ | Silver Ingot (x3) | Nail (x3) | Zoo Deck (20 Cards) | Ruby (x4) | Spacious Barn |
| | | | | | | | | | | |
| Cost: | 75 | 95 | 130 | 150 | 200 | 85 | 105 | 140 | 160 | 220 |
Age of Knights 2
April 9 ~ May 6, 2019
• Decorations: 675 Tokens • Items: 770 Tokens • Total: 1445 Tokens
| No. | 1 | 2 - Copper | 3 - Steel | 4 - Silver | 5 - Golden | 6 | 7 | 8 | 9 | 10 |
| --- | --- | --- | --- | --- | --- | --- | --- | --- | --- | --- |
| Item: | Royal Carriage | His Majesty's Throne | Tavern | Scribe's Workshop | ★ Treasure Keeper ★ | TNT (x9) | Smart Navigation | Paint (x1) | Zoo Cards | Factory Coupon |
| | | | | | | | | | | |
| Cost: | 75 | 100 | 130 | 160 | 210 | 90 | 115 | 150 | 165 | 290 |
Treasure Hunt 2
Jan. 05 ~ April 01, 2019
• Decorations: 630 Tokens • Items: 755 Tokens • Total: 1385 Tokens
| No. | 1 | 2 - Copper | 3 - Steel | 4 - Silver | 5 - Golden | 6 | 7 | 8 | 9 | 10 |
| --- | --- | --- | --- | --- | --- | --- | --- | --- | --- | --- |
| Item: | Sacred Chest | Legendary Captain | Pirate Tavern | ★ Pirate Playground ★ | ★ Pirate Camp ★ | Glass (x5) | Zoo Cards | Emerald (x4) | Platinum Ingot (x4) | Large Request |
| | | | | | | | | | | |
| Cost: | 60 | 100 | 130 | 150 | 190 | 90 | 165 | 120 | 170 | 210 |
Search for Atlantis
Jan. 29 ~ Feb. 25, 2019
• Decorations: 650 Tokens • Items: 715 Tokens • Total: 1365 Tokens
| No. | 1 | 2 - Copper | 3 - Steel | 4 - Silver | 5 - Golden | 6 | 7 | 8 | 9 | 10 |
| --- | --- | --- | --- | --- | --- | --- | --- | --- | --- | --- |
| Item: | Riches of the Seas Statue | Atlantean Trident | ★ Atlantean Rest ★ | Hotel Atlantis | ★ Atlantean Aquarium ★ | Topaz (x4) | Hammer (x4) | Zoo Cards | Platinum Ingot (x4) | Spacious Barn |
| | | | | | | | | | | |
| Cost: | 65 | 95 | 130 | 150 | 210 | 80 | 140 | 165 | 170 | 220 |
2018 Yacht Club
Land of Snow and Ice
Dec. 25 2018 ~ Jan. 21, 2019
• Decorations: 655 Tokens • Items: 715 Tokens • Total: 1370 Tokens
| No. | 1 | 2 - Copper | 3 - Steel | 4 - Silver | 5 - Golden | 6 | 7 | 8 | 9 | 10 |
| --- | --- | --- | --- | --- | --- | --- | --- | --- | --- | --- |
| Item: | Ice Sculpture Reindeer | Icebreaker | ★ Dogsled ★ | ★ Penguin Skating Rink ★ | ★ Polar Station ★ | Bronze Ingot (x4) | Train or plane coupon (x2) | Nail (x4) | Ruby (x4) | Island Upgrade coupon |
| | | | | | | | | | | |
| Cost: | 60 | 90 | 125 | 180 | 200 | 75 | 130 | 140 | 160 | 210 |
Jungle Season
Nov. 25 ~ Dec. 17, 2018
• Decorations: 720 Tokens • Items: Tokens • Total: Tokens
| No. | 1 | 2 - Copper | 3 - Steel | 4 - Silver | 5 - Golden | 6 | 7 | 8 | 9 | 10 |
| --- | --- | --- | --- | --- | --- | --- | --- | --- | --- | --- |
| Item: | Ancient Statue | ★ Banana Break ★ | ★ Lost City ★ | ★ Wildlife Reserve ★ | ★ Jungle Village ★ | Slabs(x5) | Hammer(x3) | Emerald(x5) | Gold Ingot (x5) | Large Request |
| | | | | | | | | | | |
| Cost: | 80 | 120 | 140 | 180 | 200 | | | 150 | | 210 |
Space Race 1
Oct. 15 ~ Nov. 12, 2018
• Decorations: 630 Tokens • Items: 690 Tokens • Total: 1320 Tokens
| No. | 1 | 2 - Copper | 3 - Steel | 4 - Silver | 5 - Golden | 6 | 7 | 8 | 9 | 10 |
| --- | --- | --- | --- | --- | --- | --- | --- | --- | --- | --- |
| Item: | ★ Betsy the Astronaut ★ | ★ Astronomical Tower ★ | ★ Shuttle Cafe ★ | ★ Mars Rover ★ | ★ Open-Air Planetarium ★ | Pick (x15) | Topaz (x5) | Paint (x4) | Platinum Ingot (x4) | Spacious Barn |
| | | | | | | | | | | |
| Cost: | 55 | 90 | 150 | 180 | 200 | 60 | 100 | 140 | 170 | 220 |
Paranormal Season
Sep. 11 ~ Oct. 8, 2018
• Decorations: 625 Tokens • Items: 740 Tokens • Total: 1365 Tokens
| No. | 1 | 2 - Copper | 3 - Steel | 4 - Silver | 5 - Golden | 6 | 7 | 8 | 9 | 10 |
| --- | --- | --- | --- | --- | --- | --- | --- | --- | --- | --- |
| Item: | ★ First Contact ★ | ★ Haunted Ship ★ | ★ Yeti ★ | ★ Nessie ★ | ★ Paranormal Town Sign ★ | Dynamite (x8) | Nail (x3) | Gold Ingot (x4) | Coupon (x3) | Train Upgrade Coupon |
| | | | | | | | | | | |
| Cost: | 60 | 85 | 120 | 160 | 200 | 75 | 105 | 140 | 190 | 200 |
Prehistoric World
Aug. 7 ~ Sep 3, 2018
• Decorations: 740 Tokens • Items: 710 Tokens • Total: 1450 Tokens
| No. | 1 | 2 - Copper | 3 - Steel | 4 - Silver | 5 - Golden | 6 | 7 | 8 | 9 | 10 |
| --- | --- | --- | --- | --- | --- | --- | --- | --- | --- | --- |
| Item: | Primeval Painter | The First Rider | ★ Diplodocus ★ | ★ Stonehenge ★ | ★ Stone Age House ★ | Bricks (x5) | Silver Ingot (x4) | Hammer (x4) | Ruby (x4) | Large Request |
| | | | | | | | | | | |
| Cost: | 80 | 120 | 150 | 190 | 200 | 90 | 110 | 140 | 160 | 210 |
Beach Adventures
July 3 ~ July 30, 2018
• Decorations: 635 Tokens • Items: 730 Tokens • Total: 1365 Tokens
| No. | 1 | 2 - Copper | 3 - Steel | 4 - Silver | 5 - Golden | 6 | 7 | 8 | 9 | 10 |
| --- | --- | --- | --- | --- | --- | --- | --- | --- | --- | --- |
| Item: | ★ Beach Swing ★ | Bungalow | ★ Coconut Paradise Juice Bar ★ | ★ Catch the Wave Ride ★ | Aloha Town Sign | Glass (x5) | Emerald (x4) | Coupon (x2) | Platinum Ingot (x4) | Spacious Barn |
| | | | | | | | | | | |
| Cost: | 70 | 100 | 125 | 150 | 190 | 90 | 120 | 130 | 170 | 220 |
Enchanting Oasis
May 28 ~ June 25, 2018
• Decorations: 685 Tokens • Items: 670 Tokens • Total: 1355 Tokens
| No. | 1 | 2 - Copper | 3 - Steel | 4 - Silver | 5 - Golden | 6 | 7 | 8 | 9 | 10 |
| --- | --- | --- | --- | --- | --- | --- | --- | --- | --- | --- |
| Item: | Arabian Horses | Oasis | ★ Falconry ★ | Magic Lamp | Sheikh's Palace | Topaz (x4) | Red Paint (x3) | Silver Ingot (x4) | High-Speed Production | Factory Upgrade Coupon |
| | | | | | | | | | | |
| Cost: | 70 | 120 | 140 | 165 | 190 | 80 | 100 | 110 | 130 | 250 |
Ancient Legends
Apr. 24 ~ May 21, 2018
• Decorations: 730 Tokens • Items: 715 Tokens • Total: 1445 Tokens
| No. | 1 | 2 - Copper | 3 - Steel | 4 - Silver | 5 - Golden | 6 | 7 | 8 | 9 | 10 |
| --- | --- | --- | --- | --- | --- | --- | --- | --- | --- | --- |
| Item: | Discobolus | Odysseus' Ship | ★ Chariot ★ | ★ Trojan Horse ★ | Amphitheater | Slabs (x4) | TNT (x10) | Gold Ingot (x4) | Load Coupon (x3) | Large Request |
| | | | | | | | | | | |
| Cost: | 85 | 115 | 150 | 180 | 200 | 70 | 100 | 140 | 195 | 210 |
Treasure of the Nile
Mar. 20 ~ Apr. 16, 2018
• Decorations: 800 Tokens • Items: 555 Tokens • Total: 1355 Tokens
| No. | 1 | 2 - Copper | 3 - Steel | 4 - Silver | 5 - Golden | 6 | 7 | 8 | 9 | 10 |
| --- | --- | --- | --- | --- | --- | --- | --- | --- | --- | --- |
| Item: | Papyrus Boat | Pharaoh Statue | ★ Papyrus Shop ★ | ★ Egyptian House ★ | Pyramid of Cheops | Load Coupon (x1) | Hammer (x3) | Amethyst (x2) | Platinum Ingot (x4) | Spacious Barn |
| | | | | | | | | | | |
| Cost: | 100 | 120 | 160 | 190 | 230 | 50 | 90 | 110 | 130 | 175 |
The World of Cinema
Feb. 13 ~ Mar. 12, 2018
• Decorations: 865 Tokens • Items: 600 Tokens • Total: 1465 Tokens
| No. | 1 | 2 - Copper | 3 - Steel | 4 - Silver | 5 - Golden | 6 | 7 | 8 | 9 | 10 |
| --- | --- | --- | --- | --- | --- | --- | --- | --- | --- | --- |
| Item: | Famous Director Statue | ★ Film Fountain ★ | ★ Camera Platform ★ | ★ Movie Set ★ | ★ Big Screen Town Sign ★ | Bronze Ingot (x4) | Emerald (x3) | Efficient Smelting | Load Coupon (x3) | Island Coupon |
| | | | | | | | | | | |
| Cost: | 110 | 130 | 175 | 200 | 250 | 60 | 80 | 100 | 150 | 210 |
Music Voyage
Jan. 9 ~ Feb. 5, 2018
• Decorations: 820 Tokens • Items: 540 Tokens • Total: 1360 Tokens
| No. | 1 | 2 - Copper | 3 - Steel | 4 - Silver | 5 - Golden | 6 | 7 | 8 | 9 | 10 |
| --- | --- | --- | --- | --- | --- | --- | --- | --- | --- | --- |
| Item: | Magnificent Trio | ★ Fountain Melody ★ | ★ Music Shop ★ | ★ Jazz Club ★ | ★ Gramophone Carousel ★ | Pick (x15) | Red Paint (x3) | Load Coupon (x2) | Ruby (x3) | Factory Coupon |
| | | | | | | | | | | |
| Cost: | 100 | 120 | 160 | 200 | 240 | 45 | 75 | 90 | 110 | 220 |
2017 Yacht Club
Art Voyage
Dec. 5, 2017 ~ Jan. 1, 2018
• Decorations: 860 Tokens • Items: 610 Tokens • Total: 1470 Tokens
| No. | 1 | 2 - Copper - Silver | 3 - Steel | 4 - Silver | 5 - Golden | 6 | 7 | 8 | 9 | 10 |
| --- | --- | --- | --- | --- | --- | --- | --- | --- | --- | --- |
| Item: | Palette Flowerbed | Glass Bridge | Clothespin Art Object | ★ Magic Tap ★ | Street Artist | Bricks (x5) | Dynamite (x10) | Smart Navigation | Gold Ingot (x6) | Train Coupon |
| | | | | | | | | | | |